Nix's debut rekindles memories of Jones
Notes on Hedges, Hosmer, Galvis and Stammen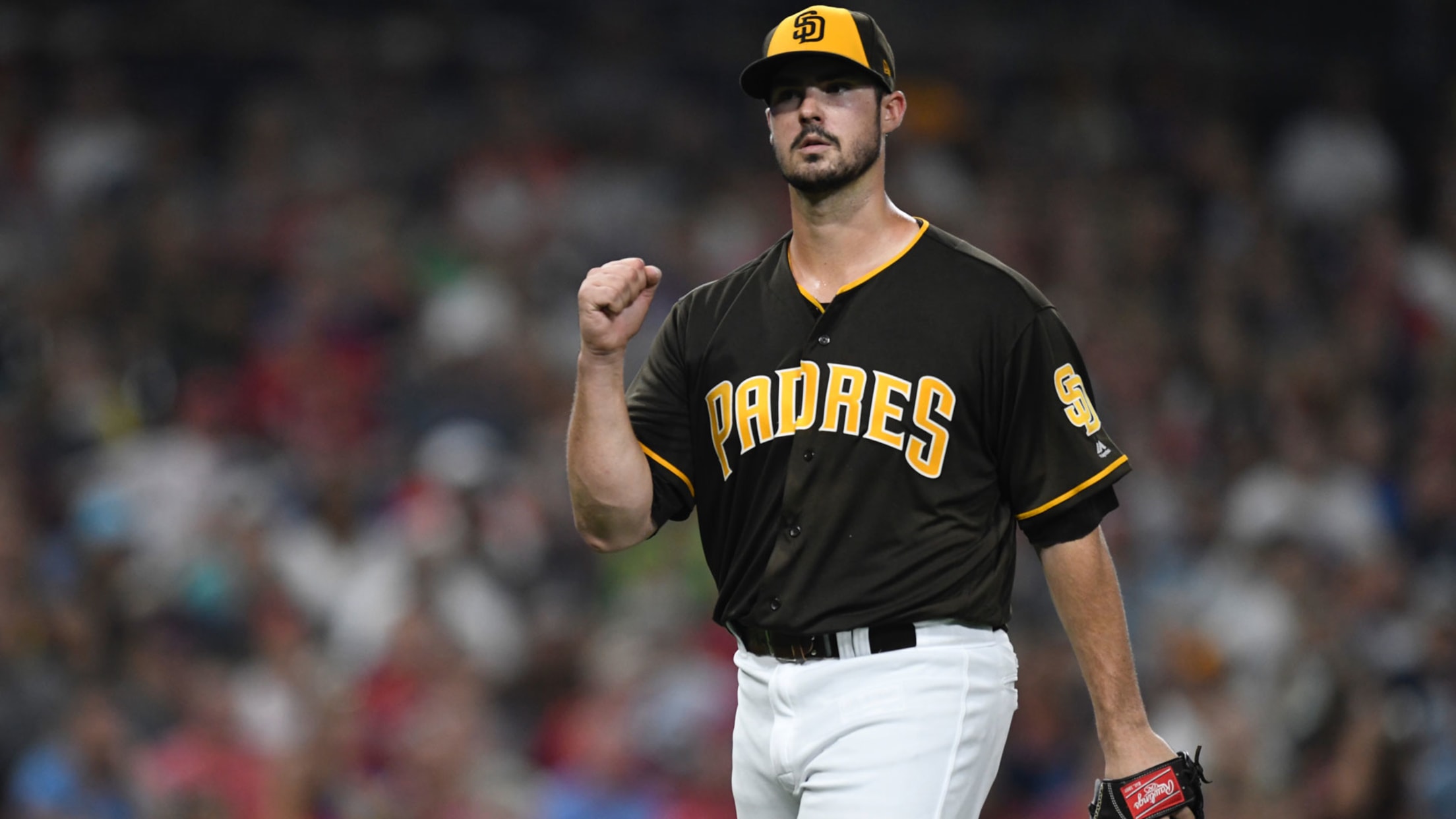 Bill Center, longtime sportswriter for U-T San Diego, is an employee of the Padres.Friday night at Petco Park was special.If you are a Padres fan -- or any baseball fan -- you live for games like Jacob Nix delivered.The 22-year-old right-hander pitched six scoreless innings against the Phillies to get
Bill Center, longtime sportswriter for U-T San Diego, is an employee of the Padres.
Friday night at Petco Park was special.
If you are a Padres fan -- or any baseball fan -- you live for games like Jacob Nix delivered.
The 22-year-old right-hander pitched six scoreless innings against the Phillies to get the win in his Major League debut. Nix allowed four hits and two walks while recording four strikeouts.
As great as it was to watch Nix, it was almost as fun watching his family and friends who drove down from Los Alamitos. It seemed like every one of the 63 strikes Nix threw brought a standing ovation from the group.
His entourage went bonkers. It was great. When Nix threw strike three past Nick Williams for his first Major League strikeout in the third inning, it seemed like he had just passed Nolan Ryan.
Special? You betcha.
Nix became only the seventh pitcher in Padres history to throw six or more scoreless innings in his Major League debut -- and the first since Odrisamer Despaigne worked seven scoreless innings on June 23, 2014, in San Francisco.
Nix was also the first Padres pitcher to pick up a win in his Major League debut since Dinelson Lamet on May 25, 2017.
But as I watched Nix, I was reminded of the greatest Major League debut by a Padres pitcher.
The date was Sept. 21, 1986, and the pitcher was Jimmy Jones -- the Padres' first-round Draft pick in 1982 (third overall).
Jones pitched a one-hit shutout in his Major League debut against the Astros in his native Texas. Jones didn't walk a hitter and had five strikeouts. The only hit off Jones was a two-out, third-inning triple by pitching rival Bob Knepper.
At the time, the 5-0 victory was the 11th one-hitter in Padres history.
But whenever I think about Jones, who is now the pitching coach for the Padres' Double-A affiliate in San Antonio, Tex., I can't help but also think about one game he pitched while in high school. During the state playoffs in 1982, the 18-year-old Jones threw 251 pitches while pitching 16 innings and getting 28 strikeouts.
Besides Nix, Jones and Despaigne, the other Padres pitchers who have worked at least six scoreless innings in their Major League debuts were Casey Kelly (2012), Frank Seminara (1992), Ricky Bones ('91) and Eric Nolte ('87).
Notebook
&149; Catcher Austin Hedges scored both Padres runs on Friday night and hit his fifth homer in his last 12 games. Hedges has 10 hits in his last 24 at-bats (.417) with a double, three homers, two walks, six RBIs and six runs scored for a .462 on-base percentage, a .833 slugging percentage and a 1.295 OPS. Hedges has raised his season batting average from .225 to a season-high .256 since July 25.
&149; First baseman Eric Hosmer went 3-for-4 on Friday and has hit safely in 14 of his last 16 games, going 20-for-64 (.313). He leads the Padres with 34 multi-hit games.
&149; Shortstop Freddy Galvis was 2-for-3 on Friday with a RBI and a stolen base. In four games against his former team, Galvis is 8-for-14 (.571) with a double and five RBIs.
&149; Righty Craig Stammen made his 11th straight scoreless appearance on Friday night. During the run, he has given up seven hits and two walks with 20 strikeouts in 13 2/3 innings, while lowering his earned run average from 3.05 to 2.33.