White Sox prospect Burger reinjures Achilles
Third baseman expected to be sidelined a year by second injury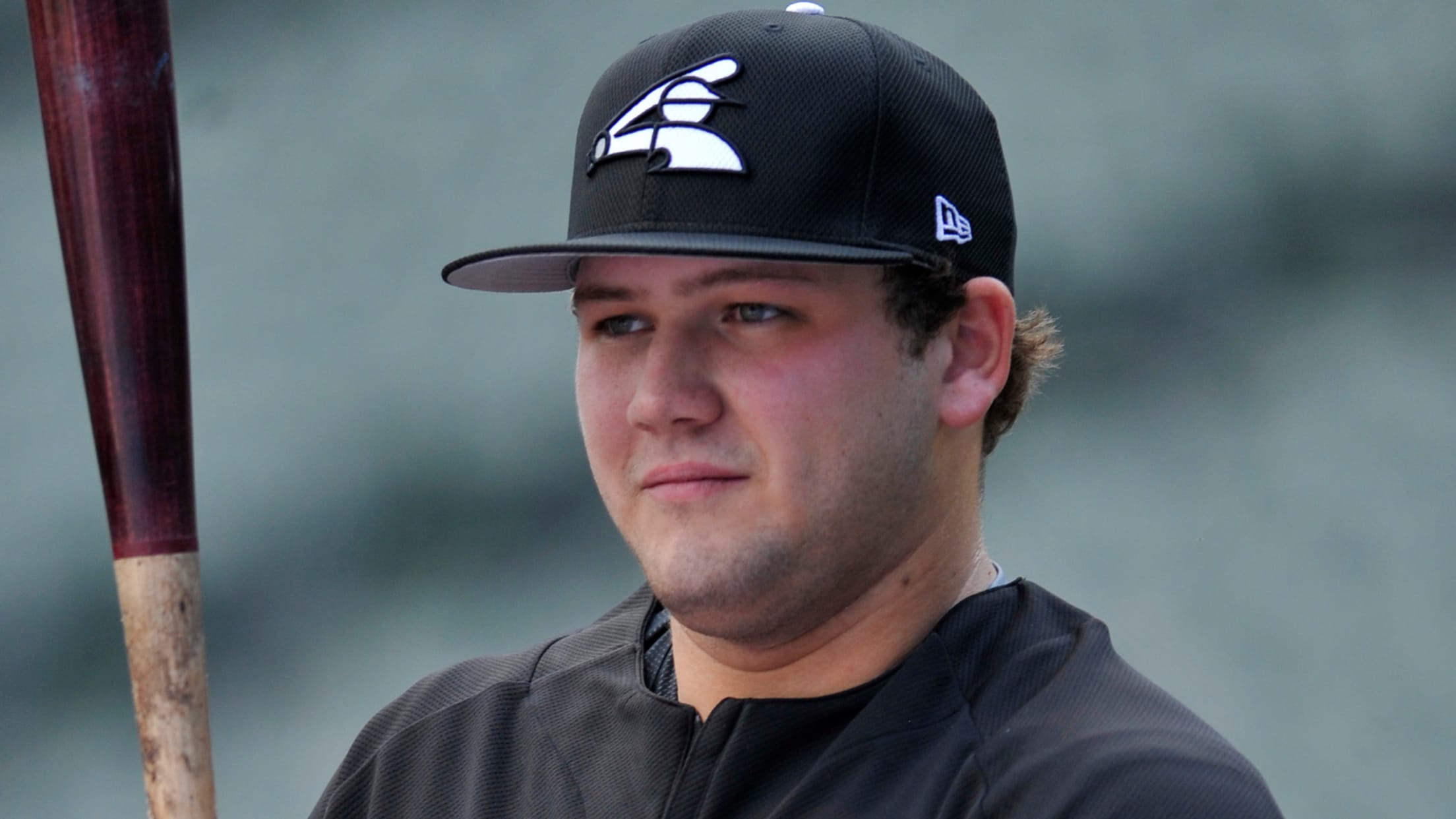 CHICAGO -- Jake Burger, the White Sox top selection in the 2017 Draft and their No. 8 prospect as ranked by MLB Pipeline, re-tore his left Achilles tendon, according to general manager Rick Hahn.Burger originally ruptured the Achilles while running to first base during Cactus League action at the end
CHICAGO -- Jake Burger, the White Sox top selection in the 2017 Draft and their No. 8 prospect as ranked by MLB Pipeline, re-tore his left Achilles tendon, according to general manager Rick Hahn.
Burger originally ruptured the Achilles while running to first base during Cactus League action at the end of February. The second injury occurred at his Arizona home last week.
"He was walking in his backyard and took a step and unfortunately felt a pop," said Hahn on Wednesday at Guaranteed Rate Field prior to Chicago's game against the Pirates. "It appears nothing could've been done to prevent this, much like the first one, just something that happens.
"Doctors are very optimistic that this repair, the second repair, will take, especially with the graft tissue attachment. It's a step that's made to help solidify the strength of the tendon and the repair."
Burger had what is called a repair-revision of the tendon, and unfortunately for Burger, the latest tear sets him back to square one and erases the 10 weeks of progress made since the first injury. The 22-year-old third baseman batted .263 with five home runs and 29 RBIs over Minor League stops in the Rookie-level Arizona League and at Class A Kannapolis last season but the popular and outgoing young player will be sidelined for at least a year.
"Lousy setback for a great kid who's been working hard," Hahn said. "But as was the case with the first repair, the expectation is there's to be no long-term effect on his baseball career.
"We expect him to have no restrictions in the future. Nothing the kid did wrong, no issue with anything along the path of his rehabilitation. Unfortunately this apparently happens in a relatively small percentage of Achilles repairs. Despite his hard work, Jake suffered this reinjury."
Third to first
• Right-handed starter Miguel Gonzalez is nearing a rehabilitation assignment, per Hahn, to test the right rotator cuff inflammation which resulted in a trip to the disabled list.
• Carlos Rodon, on the rehab trail from last September's arthroscopic shoulder surgery, made another start in extended spring camp and is nearing a rehab assignment with a White Sox affiliate.
• Right fielder Avisail Garcia (Grade 2 right hamstring strain) is also progressing toward a rehab assignment in the next week or so.
• Second baseman Yoan Moncada tested his tight left hamstring by taking ground balls and running on Wednesday morning and still hopes to return next week.
• Outfielder Luis Robert (sprained ligament in left thumb) is ramping up baseball activities and will be part of extended spring games in the coming weeks.
• Right-hander hurler Alec Hansen is "clinically fine" from his forearm strain and was scheduled to throw off the mound for the first time Tuesday.
White Sox honorary bat girl named
Esther E. Sciammarella, of Chicago, was named the White Sox honorary bat girl as part of Mother's Day and Breast Cancer Awareness Recognitions in MLB ballparks. She will be honored on May 20 at Guaranteed Rate Field with the White Sox on the road this weekend.
Sciammarella, a two-time breast cancer survivor, has been working with the city of Chicago on the breast cancer campaign "Your Life is in Your Hands" from 1998 to present day. She is also a member of Chicago Cancer Health Equity Collaborative, a partnership between Northwestern University and the University of Illinois at Chicago. She serves as the executive director of the Chicago Hispanic Health Coalition, a not-for-profit organization she helped establish in June 1991, as a multi-disciplinary membership organization.
The organization promotes healthy behavior and prevents chronic disease in the Hispanic community. In addition to being on the board of the Chicago Hispanic Health Coalition, she is currently community co-chair of Partnerships and Community Engagement for Healthy Chicago 2.0, board member for the Catholic Charities' Latino Advisory Board, Community Engagement for Early Recognition and Immediate Action in Stroke (CEERIAS), Health Alternative Systems (HAS), the Hispanic Community Health Study / Study of Latinos (HCHS/SOL), the Illinois Alliance to Prevent Obesity (IAPO), the Telligen Learning and Action Network (LAN), the UIC Latino Community Advisory Council, and the UIC Urban Health Program.
On Sunday, players will wear newly designed pink caps and pink ribbons on their chest. Some will also use pink gear, including socks and bats and hoodies. Louisville Slugger will donate proceeds from the sale of their pink bats, which will be stamped with the MLB breast cancer awareness logo, to Susan G. Komen and Stand Up To Cancer. Additionally, MLB will again donate its licensed uniform royalties through Mother's Day apparel to Susan G. Komen and Stand Up To Cancer.