Diekman on '20: 'I want to play no matter what'
A's lefty realizes challenges as high-risk player, developing changeup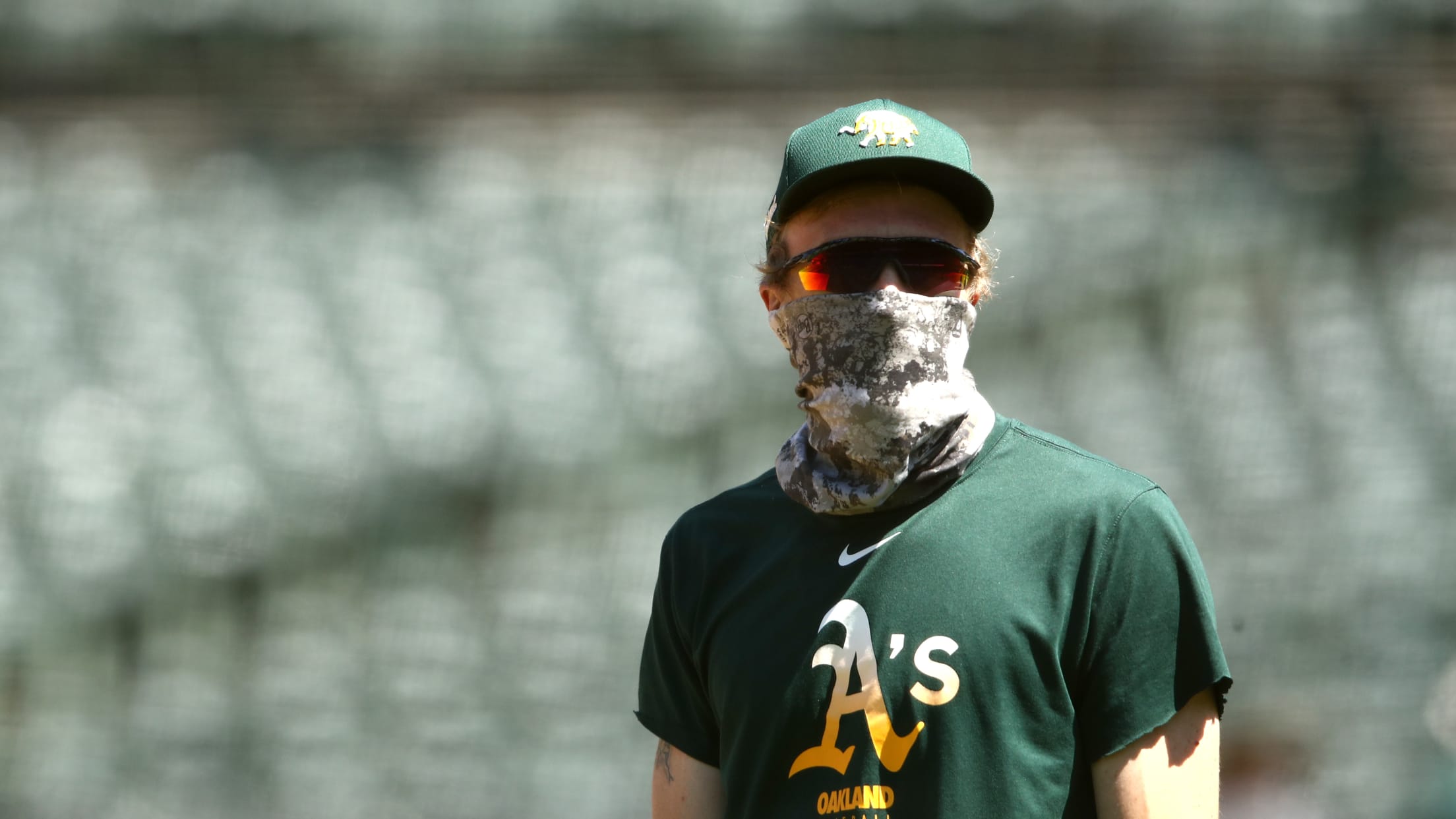 OAKLAND -- A's reliever Jake Diekman kept his arm in good shape during the baseball shutdown due to the COVID-19 pandemic. But for the first time in his career, he took on a new role: housekeeper. Watering the plants and mowing the lawn around his home in Beatrice, Neb., was
OAKLAND -- A's reliever Jake Diekman kept his arm in good shape during the baseball shutdown due to the COVID-19 pandemic. But for the first time in his career, he took on a new role: housekeeper.
Watering the plants and mowing the lawn around his home in Beatrice, Neb., was often the highlight of Diekman's day over the past few months. More importantly, though, being back home allowed him to spend more time with his 1-year-old daughter, Palmer.
"I was able to just be her dad, but I'm not ever used to that," Diekman said. "That was the first time I'd ever been home for that long in about 13 years. Just to spend time with everyone, this is going to sound weird, but it was kind of like a glimpse into retirement. Super fun, but I would rather be playing."
Like most players who have returned to the Oakland Coliseum in recent days to open Summer Camp, Diekman is itching to get the season underway. But at the same time, the growing family he shares with his wife, Amanda, brings a feeling of unease regarding the upcoming season.
The A's have been very understanding of the concerns of Diekman, who is an at-risk player due to his history of ulcerative colitis. The left-hander has been keeping his distance from other players as much as he can during workouts, often throwing bullpen sessions in the visitors' bullpen while the rest of the pitchers throw in the home bullpen.
The issue might be a bit easier to control during Summer Camp, but once the regular season begins and teams start going on road trips, Diekman sees the potential challenges arising.
"The second you go out, you can not feel anything for four days and then all of a sudden get it. You might not feel anything and pass it on to someone and take it home," Diekman said. "Honestly, if you can't live in this bubble -- you can get every essential item delivered to your house -- if you can't do it for 90 days, I honestly don't know if I really want to talk to you."
The process of testing for COVID-19 is also something Diekman would like to see improved in order to feel more comfortable. The A's recently had to postpone a practice due to a delay in receiving results, and Diekman brought up other teams that have recently had to cancel practices due to similar issues.
"I hope they get the testing figured out. I'm high-risk, so I feel like I have to speak out on this," Diekman said. "I don't want to get sick."
When asked if opting out is something he's considering, Diekman said it is very unlikely he'd do so at this point now that the club is together again gearing up for the season.
"I want to play no matter what. The only way I won't play is if this [season] gets shut down," Diekman said. "It's going to be very hard for me to opt out now that I've pitched against hitters and we're here every day throwing bullpens. Everyone's competitive juices are flowing to the max right now, and everyone wants to play."
The competitive vibe during Tuesday's workout reached its apex when Diekman threw a 20-pitch live batting practice to hitters, highlighted by a 10-pitch battle with outfielder Ramón Laureano.
"It was my first time throwing off a dirt mound in four months against hitters. Ramón probably had the best at-bat," Diekman said. "He was locked in, and he knew exactly what I was throwing. That was miserable."
Aside from the battle with Laureano, Diekman was pleased with the overall results of the session. Whenever he was able to throw during the shutdown, he tried to incorporate a changeup into his pitch repertoire, something he's rarely thrown in his career. The integration of the changeup continued on Tuesday, and he expects to gain a better grasp of it as camp rolls along.
"I've never really thrown a changeup in my life," Diekman said. "I think I threw five last year, and I threw five in my 20 pitches today. I want to learn that."
The battles during camp are something Diekman believes will ultimately help the entire bullpen quickly prepare for the upcoming season, with Opening Day set for July 24 against the Angels. From 2019 All-Star closer Liam Hendriks to veterans like Yusmeiro Petit and Joakim Soria and young relievers looking to bounce back like Lou Trivino, Diekman believes the A's have the weapons to give opponents plenty of different looks throughout the shortened season.
"Everybody [in the bullpen] has very nasty stuff. If we get a couple of extra guys at the beginning of the year, it's a sprint now," Diekman said. "You might pitch in 30 to 35 games, I have no idea. But I think there's enough off-days in the schedule where I think the bullpen will be able to shut down games and stay healthy. I really like our chances."