Aguilar trade means Braun will play some 1B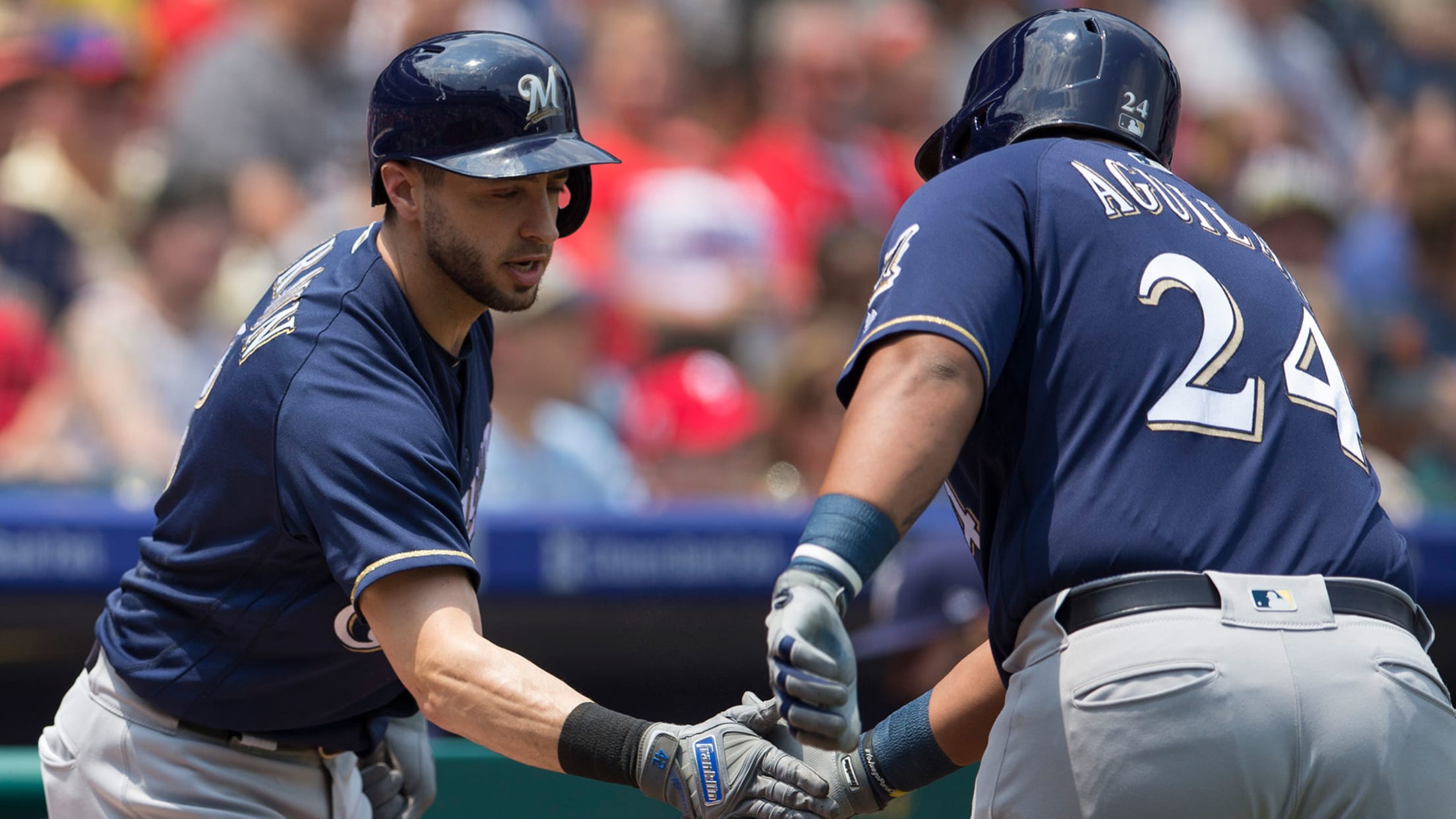 OAKLAND -- The trade that sent Jesús Aguilar to the Rays on Wednesday in the first of two Deadline deals to stockpile pitching not only cost the Brewers a player who was critical to the clubhouse culture, but meant Ryan Braun will be dusting off his first baseman's mitt. Braun
OAKLAND -- The trade that sent Jesús Aguilar to the Rays on Wednesday in the first of two Deadline deals to stockpile pitching not only cost the Brewers a player who was critical to the clubhouse culture, but meant Ryan Braun will be dusting off his first baseman's mitt.
Braun will gradually resume a project begun two years ago, when he was the Brewers' Opening Day first baseman amid a glut of outfielders. The idea was abandoned in relatively short order, but now it makes some sense again with an opening for a right-handed hitter to pair with lefty hitters Eric Thames or Travis Shaw at first base.
"It's not going to happen overnight," Brewers manager Craig Counsell said. "It's not a perfect fit, necessarily, but Ryan's going to play against left-handed pitching. We try to get him in there every day against left-handed pitching."
Counsell didn't put a timeline on Braun appearing at first base in a game, but said it wouldn't be this weekend at Wrigley Field, where the Brewers will face at least one left-hander in Jose Quintana.
Braun indicated he is open to the idea. He also indicated that the Brewers will miss the fun-loving, power-hitting Aguilar, the 2017 waiver claim who won regular playing time in 2018 and made the National League All-Star team before finishing with 35 home runs. This season was not nearly as productive; Aguilar had a .694 OPS and eight home runs when the Brewers sent him to Tampa Bay for pitcher Jake Faria.
"He he was such a part of the clubhouse culture, the atmosphere, the environment that was created in here," Braun said. "He just loved baseball. He showed up in a good place every day. Just positive and optimistic, and he was the same guy this year as he was last year, which is something you rarely see. The guy was literally an All-Star last year, had well-documented struggles at the beginning of this year, and he was the same guy throughout the entire process.
"So he's going to be dearly missed. We all loved him. It's definitely tough to lose somebody who brings so much to the clubhouse every day. It's real. You hear that about so many guys, but it's very real with him. He's a special dude."
You gave us many great memories and were a big part of our historic 2018 season.

We wish you all the best in Tampa Bay, @JAguilarMKE. #ThankYouJesús pic.twitter.com/4cD71SKKPB

— Milwaukee Brewers (@Brewers) August 1, 2019
Said veteran pitcher Gio Gonzalez: "I'm sad about the 'Aggie' thing. That was a huge, big part of this organization and a guy we're definitely going to miss. He definitely added personality to this clubhouse. We had good times. Big presence when we went to someone's house."
Milwaukee had depth at first base since Shaw's return from a demotion to Triple-A, though Shaw was still seeking results at the big league level as of the trade.
"Jesús had a really good run here as a Brewer," Counsell said. "He had an incredible 2018. He literally carried us the month of June last year -- it was the Jesús Aguilar month last year. He's had two really good seasons here, 2017 and '18. This year, he just didn't get off to a good start and it didn't work well, unfortunately. But he was a big part of these three teams. Really good leadership for a young player is rare, and in his way he was a leader. I really thought that, and he did a nice job in that role."