Peavy amazingly gratified by hospital visit
Veteran moved after meeting and performing for sick children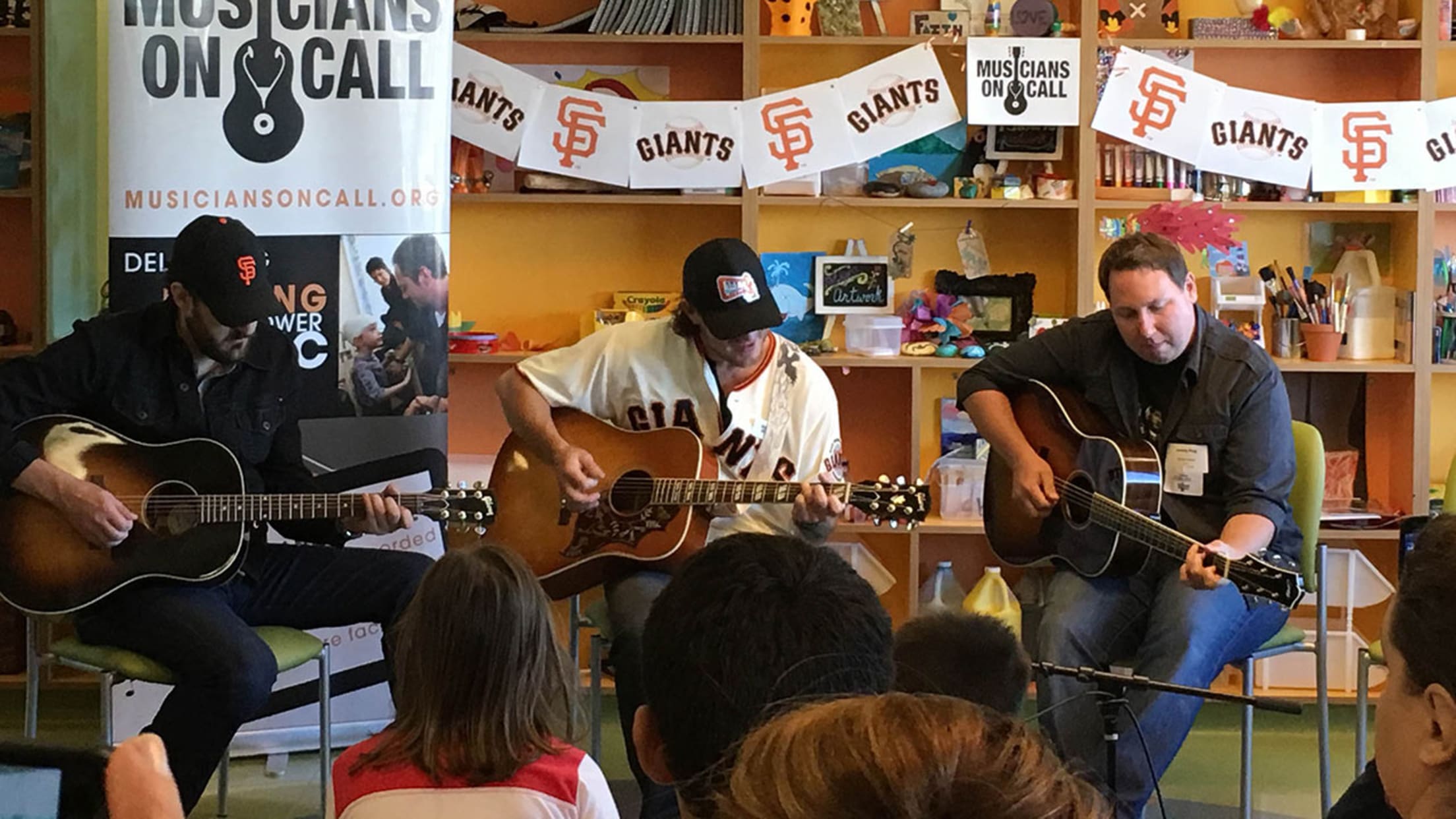 Jake Peavy performed and answered questions at the UCSF Benioff Children's Hospital on Tuesday. (Mark Chiarelli)
SAN FRANCISCO -- Luis Pascual's hand shot into the air as he hurried to ask Jake Peavy a question.Peavy scanned the audience and called on Pascual. Without skipping a beat, the 7-year-old held up a medallion he earned by playing soccer. "Do you have a medal?" he asked Peavy, "Because
SAN FRANCISCO -- Luis Pascual's hand shot into the air as he hurried to ask Jake Peavy a question.
Peavy scanned the audience and called on Pascual. Without skipping a beat, the 7-year-old held up a medallion he earned by playing soccer. "Do you have a medal?" he asked Peavy, "Because I do."
"I don't have a medal," said a chuckling Peavy, "but I did bring a World Series ring."
And with that, the kids were off, peppering the 35-year-old pitcher during a question-and-answer session at UCSF Benioff Children's Hospital in San Francisco. Peavy visited patients at the hospital as a volunteer with Musicians On Call, a non-profit that brings live music to hospital patients, and performed for more than 25 patients and their families Tuesday, marking the first such event at the San Francisco hospital.
"There's nothing any better than coming and having a chance to give a few hours of your time to make people who are going through as awful of an experience as any of us can really imagine," Peavy said.
"It's one thing to raise money and be charitable, but when you get to come put your hands on it firsthand and truly watch the impacts and the smiles -- there's not a dollar count on this. It's just a different kind of gratification that I can't explain. It's what truly makes me happy."
Peavy spoke with the patients, who ranged in age from toddlers to young adults, about keeping a positive attitude even when faced with struggles, took questions, then launched right into a performance, playing and singing Bob Marley's "Every Little Thing" before transitioning into Tom Petty's "I Won't Back Down." He performed alongside two other friends.
His arrival was a special occasion. One young girl presented a "Giants Rule" painting she crafted, while others donned Giants gear. Peavy, an Alabama native and University of Alabama football fan, even found himself surprised. Joe LaBue, a 1970s Alabama running back under Paul "Bear" Bryant, was in the audience along with his 15-year-old granddaughter Victoria Baptiste, who recently underwent a kidney transplant.
The family, who found out Peavy was coming only hours before his performance, had Alabama memorabilia and photos handy, to which he replied, "Roll Tide."
Peavy said he gained a perspective he didn't have coming in after visiting with patients and their families.
"To speak to a family who had been in there every day for three years, it must be monotonous. [A patient] just looked at me and said, 'Thank you for giving me an excuse to get out of my room,'" Peavy said. "That's hard to understand, that a family sits in here every day hoping for a cure, hoping for a cause or surgeries. To come give a little bit of hope and happiness to the situation like that is amazingly gratifying. It's perspective leaving here that you can't really gain anywhere else."
Peavy, who has four sons of his own, added that interacting with the patients was a reminder to not take anything for granted.
"You learn a resilience that's beyond anything you see in sports," Peavy said. "We had a comeback the other night and people are talking about how resilient our team is and how hard we fought. That's all true in what we do. But the true definition of resiliency, a fighter, is when you see a kid having his 10th open-heart surgery at three years old. It's moving."
Peavy signed autographs and interacted with every patient in attendance and planned to conduct bedside visits as well. Pascual, who has been at the hospital for almost six weeks, was one of the first to meet him and left the performance with his parents and younger brother. He sat outside the hospital playroom, his soccer medal to his right and two signed baseballs to his left, a smile on his face.
"It was very cool," he said with a grin.
Mark Chiarelli is a reporter for MLB.com based in Oakland.