Paxton encouraged by latest 'pen session
Gregorius set to play in extended spring; Stanton hoping to play in rehab game soon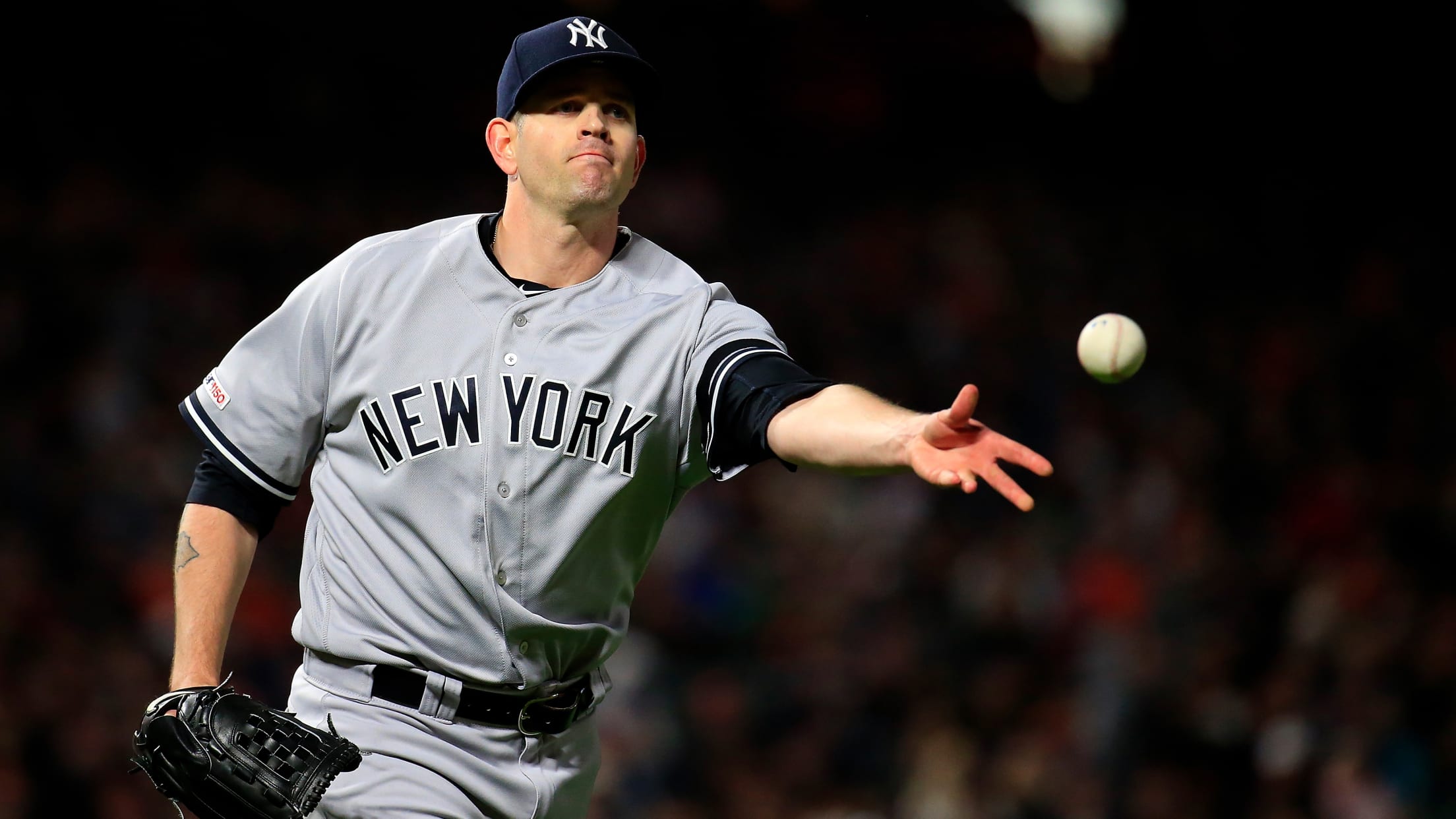 NEW YORK -- James Paxton threw a bullpen session on Friday night as he works to return from his left knee injury. Manager Aaron Boone said Friday that the real test would be to see how Paxton felt on Saturday in the aftermath. Paxton said Saturday that he still felt
NEW YORK -- James Paxton threw a bullpen session on Friday night as he works to return from his left knee injury. Manager Aaron Boone said Friday that the real test would be to see how Paxton felt on Saturday in the aftermath. Paxton said Saturday that he still felt something during the session, but that he did not seem overly concerned by it. He'll throw another on Sunday.
"I'd like to get on the mound on Sunday and not feel anything," Paxton said. "It's been getting less and less every time I throw, every time I throw a bullpen [session]. ... Still felt it a little bit yesterday, but I woke up this morning feeling pretty good, so that's a good sign. So I'll throw another bullpen [session] tomorrow and hopefully not feel anything and keep it going."
The focus of Sunday's session will be working on his fastball inside, Paxton said, "because that's when I have to ride my back side the longest and drive that ball in there."
Despite feeling it, Paxton still said he was encouraged.
"I was definitely hoping not to feel anything [on Friday], and I was aware of it a little bit. But it's encouraging. Today I feel good, so hopefully next time out I won't feel it, especially when I focus on throwing the fastball inside to the righties."
Boone said Saturday that if everything goes well on Sunday, the team can make a decision on what's next for Paxton and when he might return.
"It's gone, I feel like, pretty well, these couple of weeks," Boone said of Paxton's work toward returning. "So far, so good."
Paxton has been on the injured list since May 4 with left knee inflammation. Before his injury, Paxton had a 3.11 ERA in seven starts this season, including two straight starts with 12 strikeouts on April 16 and 21.
Updates on Gregorius and Stanton
Didi Gregorius, who is recovering from Tommy John surgery on Oct. 17, will play in extended spring training on Monday. He'll play shortstop there. Gregorius was initially set to be in the lineup as designated hitter in extended spring, but the fact that he'll be playing the field instead is an indication of his progress, according to Boone.
Asked about Gregorius' timeline once he starts playing in extended spring, Boone said he thought it'd be shorter than a full seven weeks like regular Spring Training.
"Because he's been doing so much already as far as getting live [at-bats], doing all his work, so he's a little further down the road than he would be at the start of Spring Training," Boone said.
Giancarlo Stanton, who's been out since April 1 with a left biceps strain and now a left shoulder strain, has been taking live at-bats the past few days, according to Boone.
"He actually got hit yesterday on the knee, so we [were] wanting to see how he came in today. [He was] OK, nothing serious," Boone said.
Stanton will have more live at-bats Saturday, and the hope is he will be able to start a rehab assignment with the Class A Advanced Tampa Tarpons on Monday.
Steinbrenner happy with Yankees in face of injuries
In attendance at a Yankees extended spring training game in Tampa on Friday, managing general partner Hal Steinbrenner told the Associate Press that he's happy with how the team has handled the myriad of injuries so far this season.
"Considering the adversity we've faced in the first two months of the season, it's phenomenal the job these guys have done," Steinbrenner said.
Steinbrenner spoke particularly highly of the young players who have taken on key roles. Though he said it before the game, Gio Urshela's walk-off hit on Friday night was a perfect example, and it wasn't his first clutch hit this year.
"Young guys are stepping up. They realize this is an opportunity that they might not otherwise have had, and they're making the most of it," Steinbrenner said.
In addition to heralding the young players' performances, stepping up in the face of injuries, Steinbrenner also had positive words about the team's manager.
"He's calm and cool," Steinbrenner said of Boone. "He's kept it all together."