Relive Big Maple's no-hitter in 2018
SEATTLE -- James Paxton's six-year run with the Mariners will no doubt be remembered as one of tremendous potential and glimpses of greatness, interrupted by frustrating injuries that prevented the Canadian lefty from completing the picture. But when Paxton was good, he was very good. And never was he better
SEATTLE -- James Paxton's six-year run with the Mariners will no doubt be remembered as one of tremendous potential and glimpses of greatness, interrupted by frustrating injuries that prevented the Canadian lefty from completing the picture.
But when Paxton was good, he was very good. And never was he better than on May 8, 2018, when "Big Maple" became the fifth Mariner in franchise history to throw a no-hitter as he blanked the Blue Jays in a 5-0 win in his home country at Rogers Centre in Toronto.
Paxton never made an All-Star team and pitched largely in the shadow of Félix Hernández in Seattle before being traded to the Yankees in 2019, but his no-hitter didn't come out of nowhere. The 6-foot-4 southpaw went 12-5 with a 2.98 ERA in 24 starts in '17 and was beginning one of his impressive rolls again the following year as he struck out 16 over seven scoreless innings against the A's on May 2.
Paxton admits his stuff wasn't quite as sharp early when he stepped on the mound six days later in Toronto, but he worked around three walks in the first four innings and kept getting stronger as the game progressed. By the final frame, he'd cranked his heater up to the high 90s and hit 99 mph on his final two pitches to Josh Donaldson, who grounded out to third baseman Kyle Seager for the final out.
• Facts and figures about Paxton's no-no
"I mean, Josh Donaldson, you know? The guy is pretty good," Paxton said. "So I was like, 'I better bring my best stuff right here. I'm just going to rear back and throw it as hard as I can.' Fastball is obviously my best pitch. They know it, I know it. I'm just going to let it rip at the top of the zone and see what happens. He smoked that ball to third base and Seager made an amazing play. That was happening all night long."
Paxton is as low-key as they come, but he let out his emotions after the 99-pitch gem, even flashing the maple leaf tattoo on his right arm to the Blue Jays fans who cheered him on as he became the second Canadian to throw a no-hitter on Canadian soil, joining Dick Fowler of the Philadelphia A's in 1945.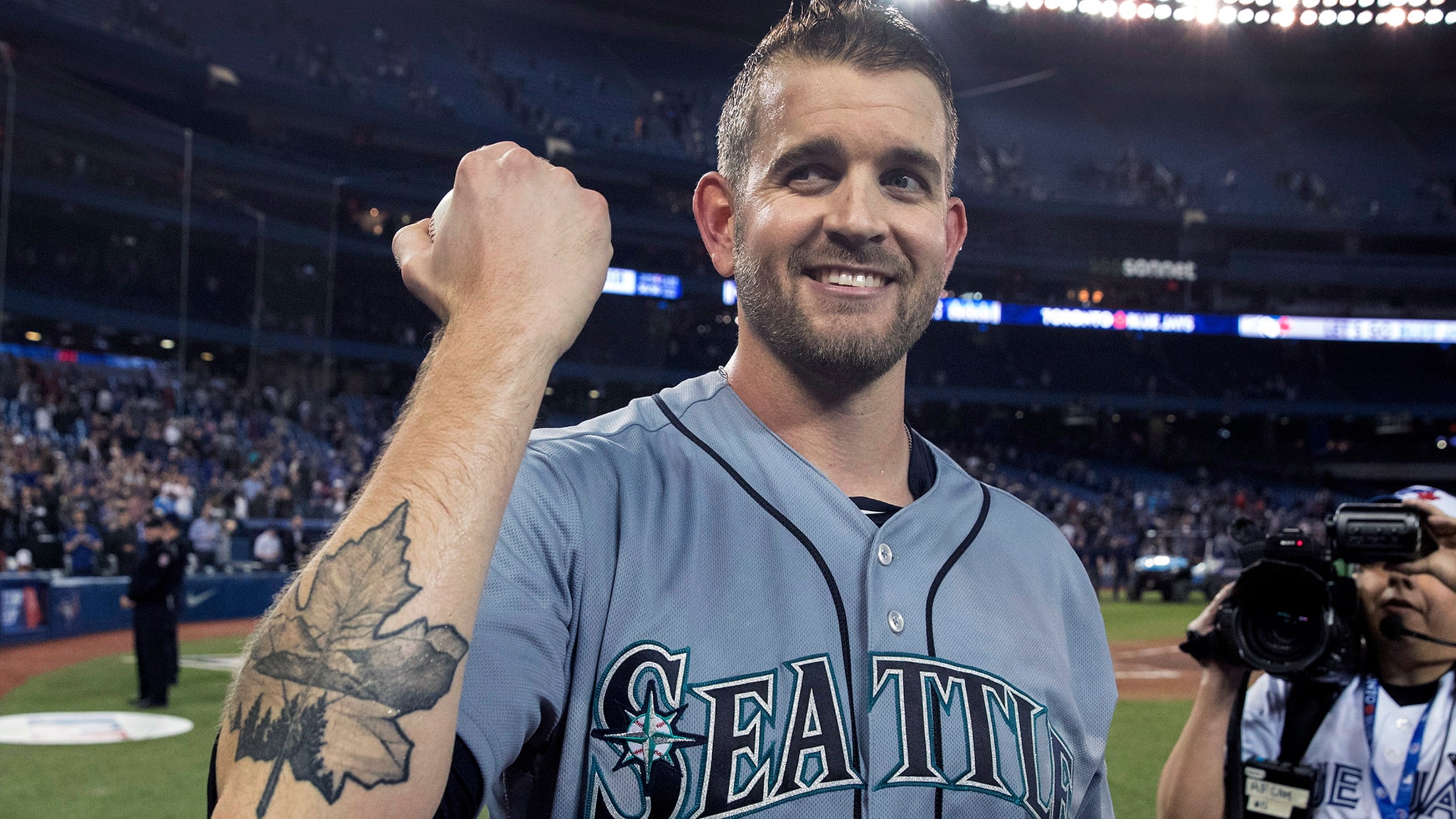 "To have it happen in Canada, what are the odds?" said Paxton, who was drafted by Toronto in 2009 but didn't sign until being selected by Seattle a year later. "It's pretty amazing. Just very special. And against the Blue Jays? You couldn't write this stuff."
The Ladner, British Columbia, native joined Randy Johnson (1990), Chris Bosio ('93), Hernández (perfect game in '12) and Hisashi Iwakuma ('15) as the only pitchers in Mariners history to throw a no-hitter. Seattle also had six pitchers combine for a no-hitter in 2012.
• Breaking down the Mariners' six no-hitters
The historic outing stood as the first complete game of Paxton's career. He threw another 11 days later in a three-hitter against the Tigers, but those are the only complete games he's thrown in 131 big league starts.
"It couldn't have happened to a better guy," said Seager, one of several teammates who made outstanding defensive plays to help Paxton out. "You talk about a guy that just gets in here, puts his head down and is an unbelievably tireless worker and just does everything the right way. I couldn't be happier for him."