Japan seeks 6th Women's World Cup title
Favorites set to play Chinese Taipei; U.S. faces Canada in bronze medal game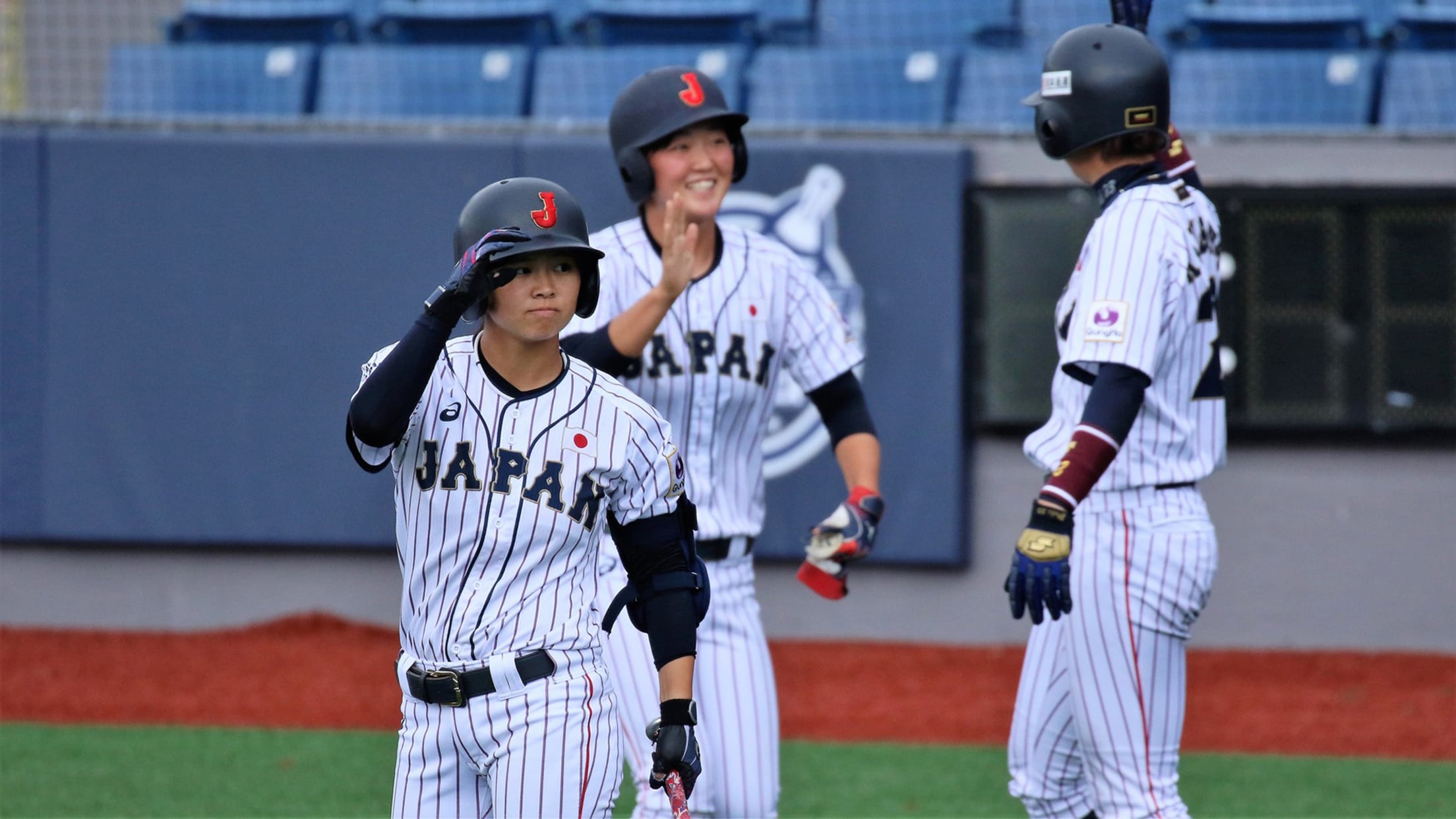 (ATHOS)
VIERA, Fla. -- Megumi Kitta has a tall task on her hands: In her first year managing the Japan women's team, she's expected to extend the long-standing streak of championships produced by many teams that came before her.Many, many teams. Japan beat Venezuela on Thursday, 10-0, and will play in
VIERA, Fla. -- Megumi Kitta has a tall task on her hands: In her first year managing the Japan women's team, she's expected to extend the long-standing streak of championships produced by many teams that came before her.
Many, many teams. Japan beat Venezuela on Thursday, 10-0, and will play in the finals on Friday seeking a sixth straight championship at the WBSC Women's Baseball World Cup, after stringing together a 29-0 run in tournament play.
Japan will face Chinese Taipei in Friday's championship game. The bronze medal game will feature the United States and Canada.
• Live stream the Women's World Cup
"We don't have a lot of power, but we have a lot of skill," Kitta said. "Baseball is not only for big people. Everyone can enjoy."
Kitta's team is not only diverse in individual skill sets. Chronologically, it's all over the map, too. The youngest player is 17. The oldest is 29. Several have not yet reached their 20th birthday. Preparing for this tournament has not always been a smooth process, but Kitta, following Japan's sweeping win over Venezuela in five innings, was happy with how things have come together.
"We have conversations every day, but it's challenging to get everyone together," the affable manager said. "Last night, we had more communication. We talked before to make sure we know what we need to do, before the game starts."
😮😮😮 🇯🇵 2 RBI on a BUNT ???? #WomensBaseball pic.twitter.com/oszrVpYNYS

— WBSC ⚾🥎 (@WBSC) August 30, 2018
In a contest that featured two lightning delays and a thunderstorm, Japan had few issues coasting to the win. Japan broke open the score with a five-run rally in the second, highlighted by an RBI single by Ririka Tabata and an RBI double by Nozomi Abe off Venezuelan reliever Nelsy Rubio.
After more than a week of competition, players are looking forward to Friday's finale. Japan's players, who have an unprecedented winning streak on the line, also understand they're representing something much larger than just their roster -- in Japan, approximately 20,000 women and girls play baseball.
"Tomorrow is the last day where I can play with this team," said 29-year-old infielder Yuki Kawabata, playing in her fourth Cup. "I want to enjoy it but at the same time, make it very special. Also for the players that couldn't make it onto the national team, I want to win for those people and to get the victory."
Anyone interested in future girls' or women's baseball programming and events can send an e-mail to [email protected] to get more information about opportunities through MLB & USA Baseball.
Thursday's competition featured six games that included the four winners who will advance to Friday's championship final and bronze medal games, including:
Chinese Taipei 6, Canada 4
Chinese Taipei recovered from a poor start to stage a dramatic come-from-behind victory, topping Canada, 6-4, to advance to Friday's finals.
Canada jumped to a four-run lead in the first, but Chinese Taipei starting pitcher Huang Chiao-Yun allowed only five more hits the rest of the way, throwing a complete game.
Earlier, the outing looked to be a short one. Huang yielded a leadoff double to Nicole Luchansky, plunked Kelsey Lalor and ended up in a bases-loaded situation when Katherine Psota popped a shallow base hit to right-center. Amanda Asay's ground-rule double drove in two, and two more runs quickly scored when Daphnee Gelinas reached on an error and a pop fly to shallow center by Madison Willan dropped in for a hit.
But those were the only runs Huang allowed, and her teammates wasted no time chipping away at the deficit, answering with three runs in the bottom of the first behind doubles by Chen Yu-Hsuan and Chen Hsiao-Mei and a well-placed ground ball up the middle by Hsieh Yu-Ying.
😎 Chinese Taipei advances to the Final 🤙🤙🤙 #WomensBaseball🌎🏆 @ctba @usssaspacecoast pic.twitter.com/2GWNs6z8NA

— WBSC ⚾🥎 (@WBSC) August 30, 2018
United States 8, Dominican Republic 1
The U.S. scored six runs in the opening frame in an easy win over the Dominican Republic. Michelle Cobb drove in a run with a double down the right-field line, followed by a Kylee Lahners run-scoring single. Anna Kimbrell drove in two more with a base hit.
The run support gave Kelsie Whitmore -- who yielded one unearned run over four innings, plenty to work with en route to the win.
Highlights: 🇩🇴 Dominican Republic v USA 🇺🇸 Super Round #WomensBaseball #WorldCup @usssaspacecoast @fedoberd @usabaseballwnt pic.twitter.com/2mH4L98UN5

— WBSC ⚾🥎 (@WBSC) August 31, 2018
Other news and notes from Space Coast Stadium
Francis Ford Coppola is best-known as an iconic director, producer and screenwriter, but it turns out he has a couple of side hustles as well -- he operates a successful winery, and he's a major advocate of women's baseball.
Coppola's winery is a sponsor of the World Cup, but when it comes to rooting interests, Coppola is more than just a name on a logo. He was spotted in the stands during Thursday's six-game bonanza that will lead into Friday's finals.
Coppola grew up playing baseball with family members of both genders and feels that co-ed baseball -- not softball, but baseball -- is the "better sport."

"Baseball not being a contact sport, each player has an opportunity to come up with the relative strength of men and women," Coppola said. "Women have their own talents that come into play. I think it's more interesting when men and women play together."
In fact, when Coppola's winery signed on as a sponsor of the independent Sonoma Stompers a few years back, it came with a strong recommendation from Coppola to sign women players. Soon after, Stacy Piagno, Whitmore and Kimbrell -- all currently playing for Team USA in the World Cup -- had all committed to play.
"They told me the men welcomed them and were really kind to them in the clubhouse," Coppola said. "With all the social politics, they felt like they were their brothers and uncles, and they felt the men had received them very warmly."
Coppola is hopeful that someday, a league that features co-ed baseball can become a real thing. He believes male ballplayers would embrace the notion.
"The young men are more enlightened today, more woke," Coppola said. "The time for women to take their rightful place shoulder to shoulder with men is here. It's necessary. With all the issues we face as a species, we need the talents of all adults to contribute equally. The beginning is to play together."
Other people of note at the Women's Baseball World Cup
• No women's baseball event would be complete without two of its most loyal fans -- Shirley Burkovich and Maybelle Blair, who, in their day, were elite athletes who played in the All-American Girls Professional Baseball League more than 60 years ago. The league's success was recaptured in the 1992 hit movie "A League of Their Own."
• Jose Cano is the manager of the Dominican Republic Women's team that played the U.S. in the super round on Thursday. He is also the father of Mariners second baseman Robinson Cano.
• Orlando Merced, a 13-year Major League veteran, is the third-base coach for the Puerto Rico women's team. Merced played for the Pirates, Blue Jays, Twins, Red Sox, Cubs, Expos and Astros.