Japanese greats to headline first pitch cast
Sasaki, Yabu tabbed for Japan Opening Series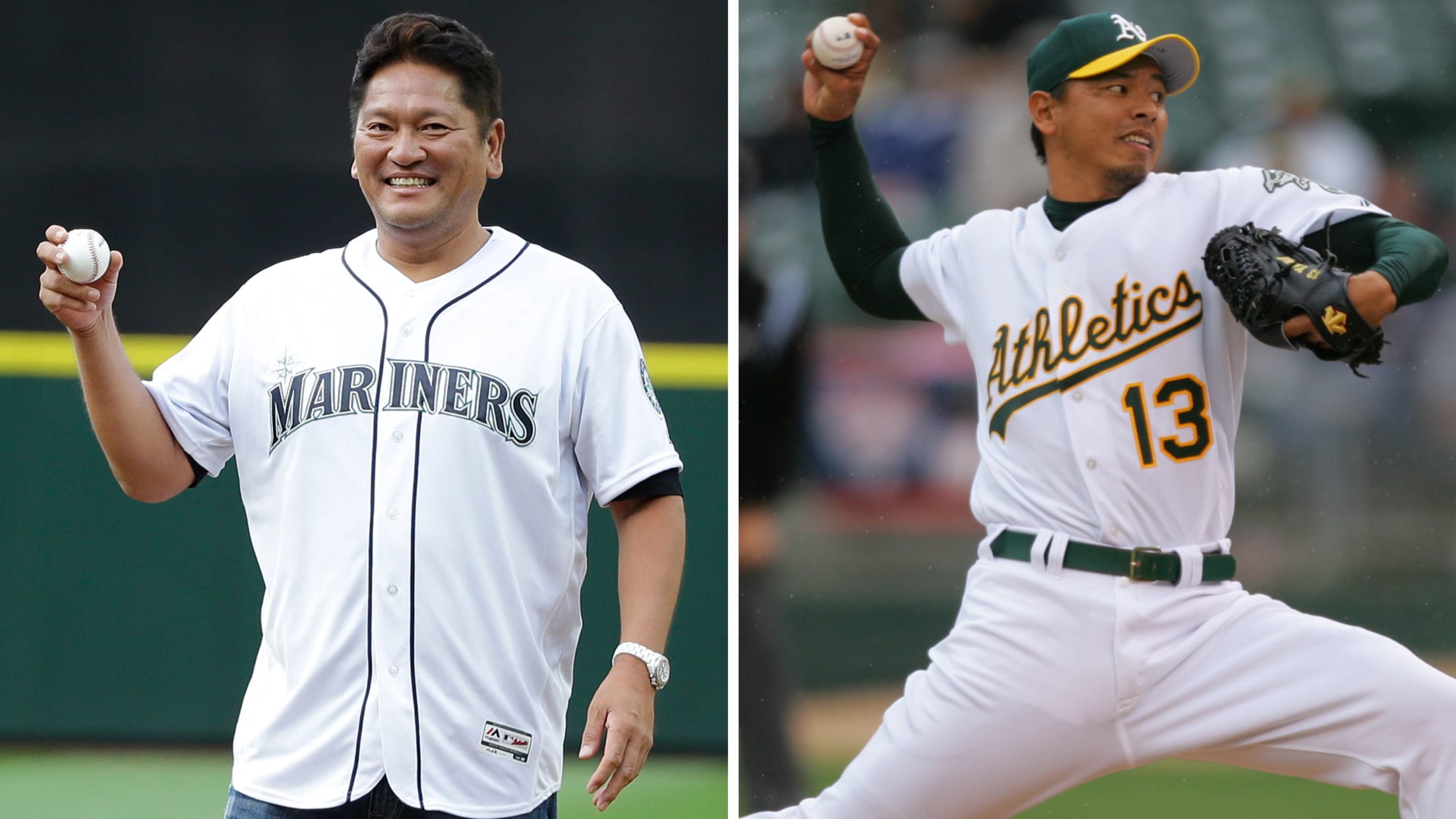 MLB has announced a star-studded cast that will throw out the ceremonial first pitches at the 2019 season-opening series between the Mariners and A's in Tokyo next week. Before the first game on March 20, a battery of Japanese former Mariners will deliver the first pitch with an A's legend
MLB has announced a star-studded cast that will throw out the ceremonial first pitches at the 2019 season-opening series between the Mariners and A's in Tokyo next week.
Before the first game on March 20, a battery of Japanese former Mariners will deliver the first pitch with an A's legend in the batter's box. Two-time All-Star closer and 2000 American League Rookie of the Year Kazuhiro Sasaki will throw out the first pitch to catcher Kenji Johjima, as Hall of Famer Rickey Henderson stands in.
For the second game, on March 21, the teams' roles will be flipped. A pair of Japanese former A's will combine on the pitch -- pitcher Keiichi Yabu throwing it to infielder Akinori Iwamura -- with Mariners Hall of Fame icon Ken Griffey Jr. in the batter's box.
Sasaki pitched four seasons in Seattle from 2000-03, and Johjima played for the Mariners from 2006-09. Yabu pitched the first of his two Major League seasons in Oakland in 2005, while Iwamura wrapped up his four-year MLB career with the A's in 2010.
The exhibition games prior to the regular-season series -- where Seattle and Oakland will face a pair of Nippon Professional Baseball clubs -- will also feature ceremonial first pitches.
For the first game of the Mariners' two-game set against the Yomiuri Giants on March 17-18, the first pitch will be thrown out by former NPB and MLB pitcher Masumi Kuwata, who played two decades for Yomiuri from 1986-1995 and 1997-2006 before pitching one season for the Pirates in 2007. Prior to the second game, the first pitch will be thrown out by Mandy Sekiguchi from the Japanese musical group EXILE.
The A's exhibition game against the Hokkaido Nippon-Ham Fighters on March 17 will have the first pitch thrown out by Masanori Murakami, the first Japanese MLB player. Murakami, now 74 years old, made his MLB debut for the Giants on Sept. 1, 1964, and pitched two seasons in San Francisco. He then returned to Japan for a long career, including spending his final seven seasons with the Fighters.