You won't believe how he got the out at 1st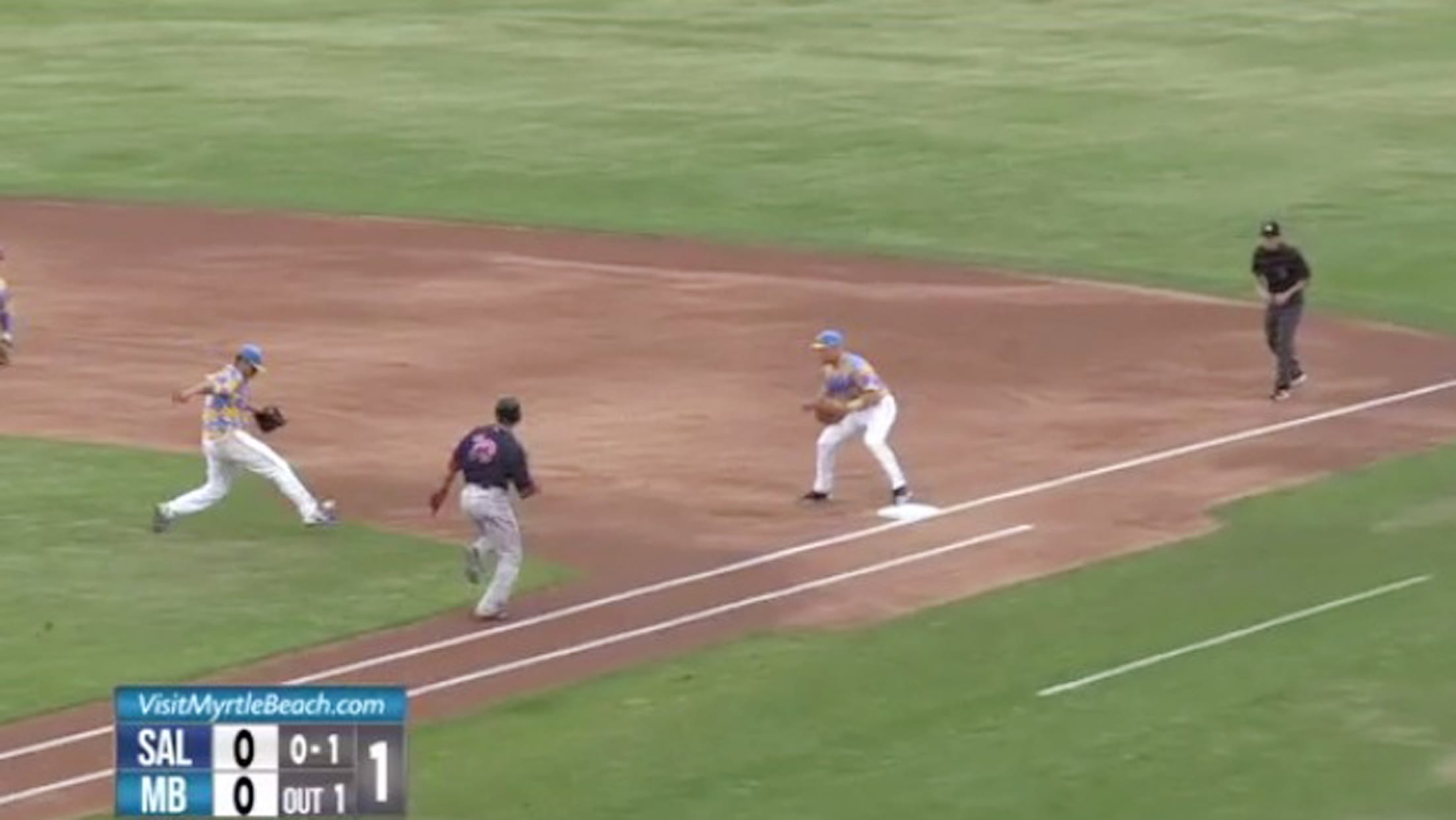 Talk about a kick save. Pitcher Javier Assad used his foot to pull off one of the unlikeliest assists you'll ever see for Class A Advanced Myrtle Beach, a Cubs affiliate, on Friday. On a push bunt to the first-base side of the mound in the first inning, Assad initially
Talk about a kick save. Pitcher Javier Assad used his foot to pull off one of the unlikeliest assists you'll ever see for Class A Advanced Myrtle Beach, a Cubs affiliate, on Friday.
On a push bunt to the first-base side of the mound in the first inning, Assad initially fielded the ball cleanly but dropped it on the transfer. Without stopping his stride, Assad deftly booted the ball to first baseman Cam Balego for the out.
"At first, I saw it fumbled and thought the play was going to be ended," Balego said, according to MiLB.com. "The next thing you know, I have a baseball at my chest and was like, 'Oh, wow,' and kind of processed it, that he kicked it to me. It was kind of crazy, him kicking a baseball. Usually, you'll see if a ball's foul, a guy will kick a ball foul or something like that. Seeing someone kick a ball up to make a play is kind of crazy. It honestly caught me off-guard.
You've seen the play. Now hear what it was like for @Pelicanbaseball first baseman Cam Balego to be on the receiving end of the unlikeliest of putouts.

👟⚾️: https://t.co/bWwcVonX0E pic.twitter.com/feTitKDuO5

— Minor League Baseball (@MiLB) May 4, 2019
"I had a play in college where the ball got stuck in the glove and it was flipped to me, so I've caught a full glove before," he added. "But I think playing Hacky Sack with a baseball is probably the craziest thing that's ever happened to me."
Assad ended the game having allowed just three hits over six scoreless innings to earn his first win of the year, but his performance on the mound was overshadowed by the wild play.
"I think we're going to have to have [pitchers' fielding practice] practicing kicking baseballs after that happened," Balego said. "If a kickball [game] ever happens or we're going to play Hacky Sack or soccer, I know who I'm going to pick. If an NFL team's looking for a kicker, I've got a friend they can call."