Cubs give Baez breather after 5-K game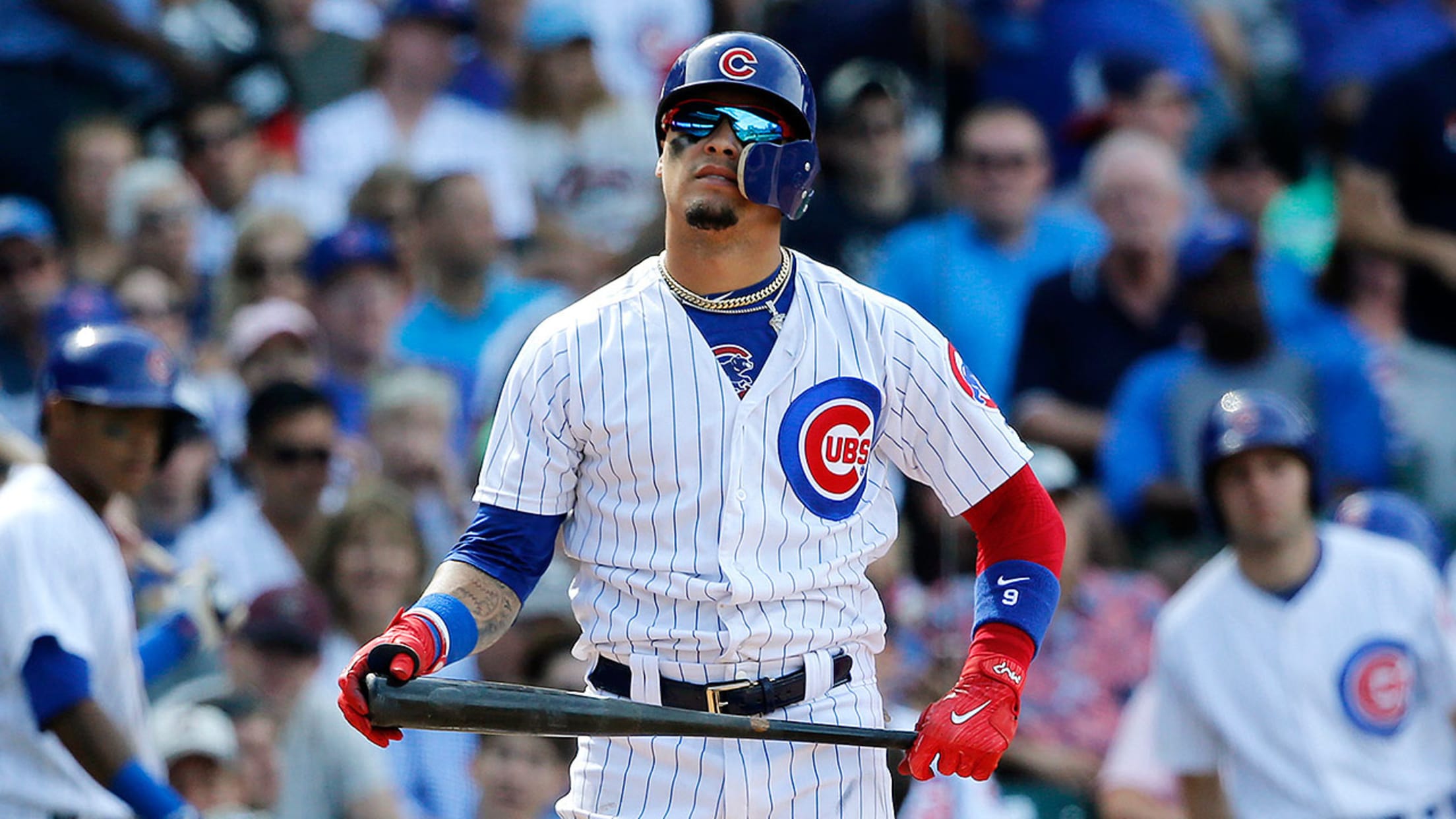 Javier Baez struck out five times in a game Tuesday for the first time in his career. He is the fourth big leaguer to do so this season. (AP)
CHICAGO -- Javier Baez, who struck out five times on Tuesday, was not in Wednesday's lineup, but Cubs manager Joe Maddon had planned on giving the infielder a day off. It might be good timing."He probably needs a day," Maddon said of Baez, who ranks second on the Cubs with
CHICAGO -- Javier Baez, who struck out five times on Tuesday, was not in Wednesday's lineup, but Cubs manager Joe Maddon had planned on giving the infielder a day off. It might be good timing.
"He probably needs a day," Maddon said of Baez, who ranks second on the Cubs with 83 strikeouts, in 88 games. "He'd been playing a lot. Most of the times for me when a guy comes out of a zone a lot, it's because he's a little mentally fatigued.
"He's fine. He's done that a lot in his career. He knows how to bounce back. I watched him run out to defense and he's ready to play. I love that about him. A lot of guys have had that moment, and the difference with Javy is he'll play his defense and he'll bounce back."
Baez had struck out four times in a game five times prior to Tuesday, which was the first time he'd ever done so five times. All five were swinging, too.
"He's his own toughest critic," Maddon said. "I have a lot of faith in him and the hitting coaches. He'll be fine. I'm not concerned. ... He's young, he's done it before and he'll do it again. I promise it will happen again."
Baez is not alone. He's the fourth player to strike out five times in a game this season, and was joined on Tuesday by the Mariners' Nelson Cruz, who did so against the Red Sox. Matt Davidson of the White Sox struck out five times on May 30 against the Red Sox, while the Phillies' Odubel Herrera fanned five times on May 25 against the Rockies.
The Cubs' club record is six, set by Don Hoak, who did so May 2, 1956, in a 17-inning game. The last Cubs player to fan five times was pitcher Ted Lilly (June 30, 2008), and Geovany Soto was the last position player to strike out five times in a game (April 26, 2008). Sammy Sosa did so three times with the Cubs.
• One thing that most likely will not happen again is Kristopher Bryant being ejected. Bryant was tossed on Tuesday after arguing a called third strike. Maddon said the calls were "pretty egregious."
"I'm OK with him standing up for himself," Maddon said. "The language was not awful, the method was not bad. I was surprised he got kicked out. I'm fine with all that stuff. I'm fine with our guys standing up for ourselves. I didn't get out there quickly enough -- I didn't think it would get to that point. It's probably going to be the last time he gets kicked out in his Major League career."
• The non-waiver Trade Deadline is Monday, and Maddon knows Cubs president of baseball operations Theo Epstein and general manager Jed Hoyer are looking into possible additions, which may include adding a backup catcher.
"Our guys know what they're doing -- they read the tea leaves really well," Maddon said. "They're inspired to do what they can to help us further, but I still stand by my comment, I like what we've got here right now."
• Television cameras caught John Lackey and Anthony Rizzo having a discussion in the Cubs' dugout during Tuesday's game. There is no rift between the two.
"It wasn't a big deal at all," Lackey said Wednesday. "It's really none of your business."
Maddon agreed that there was nothing to the incident.
"I've heard about this, and it's really kind of funny because there's really nothing to it," Maddon said.
Rizzo was not around postgame Tuesday to answer questions because he was house-hunting. He also dismissed any problem between the two.
"I was talking to him to make sure he knew we were going to get him some more runs and he didn't have to worry about it," Rizzo said. "I think it's pretty funny I have to talk about this today."
So, it's just Lackey being Lackey?
"I think it's a lot of uneducated speculation, to be honest," Rizzo said. "Lackey is one of my best friends on this team. That's the good part about this team. When you have friends, you can talk to them and it's not going to be anything more than friends talking to friends."
• The Cubs activated Brett Anderson from the 60-day disabled list on Wednesday and the left-hander was then designated for assignment. Anderson made six starts with the Cubs at the beginning of the season and went 2-2 with a 8.18 ERA, giving up 20 earned runs over 22 innings on 34 hits and 12 walks. His last outing on May 6 lasted one-third of an inning when he served up five runs on six hits against the Yankees.
Anderson, 29, was trying to come back from back surgery, which he had in April 2016. He appeared in six games with Double-A Tennessee and made five starts, giving up 14 earned runs on 34 hits and nine walks over 27 1/3 innings with 15 strikeouts.
Bummed it didn't workout but it wasn't from lack of effort I can tell you that. Here's to getting better and being better.

— Brett Anderson (@_BAnderson30_) July 26, 2017
• Brendon Little, the Cubs' 27th pick overall in the 2017 Draft, gave up three runs on three hits over three innings for Class A Eugene in his professional debut on Tuesday night. Michael Cruz had three hits, including two home runs and finished with four RBIs, in Eugene's 7-6 win over Salem-Keizer.