Bruce activated; Mets recall Nido, option Smith
Callaway says veteran will get more reps at first base; Mesoraco's MRI reveals nothing serious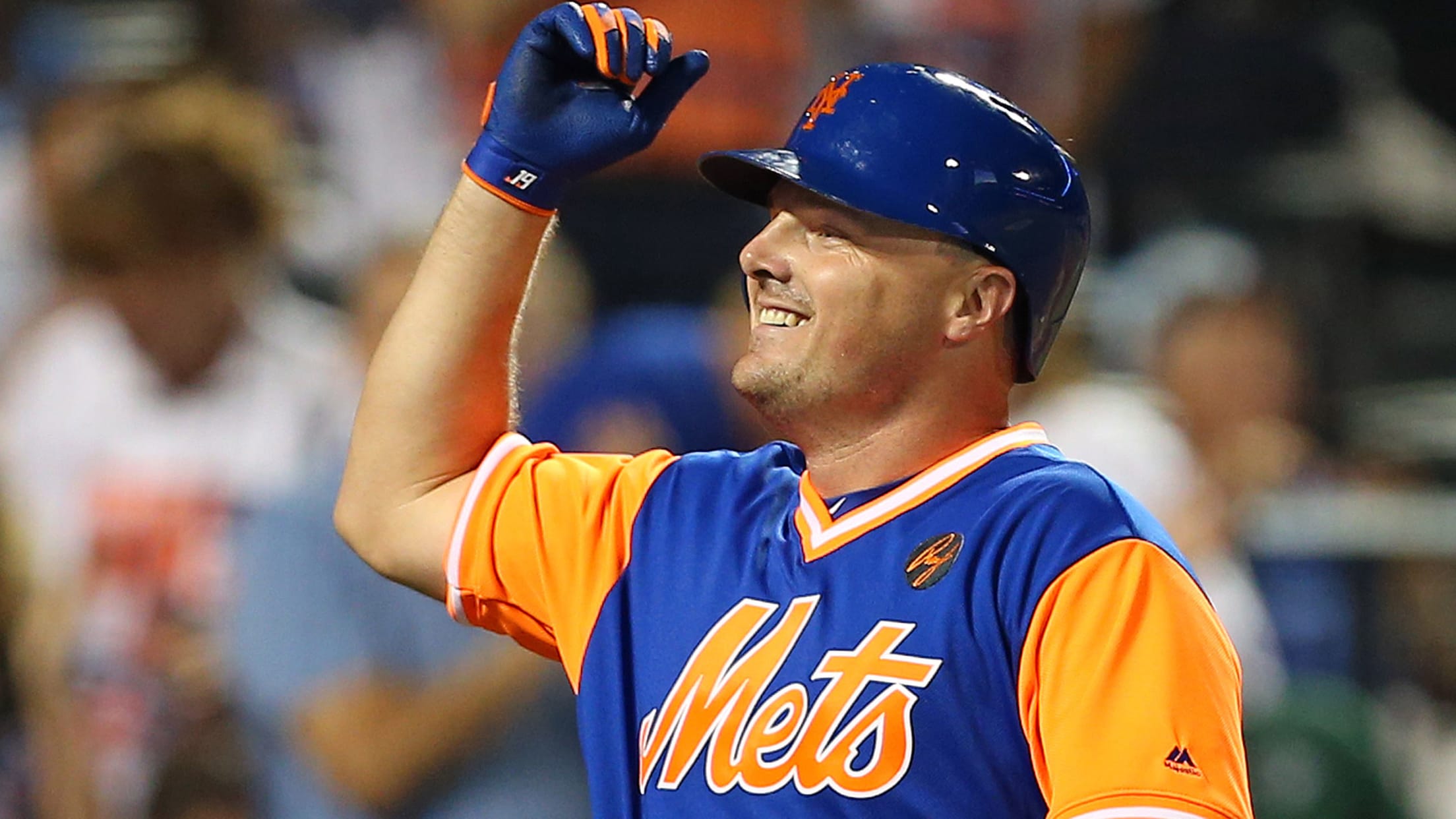 NEW YORK -- Jay Bruce (Bruuuce) belted 36 homers and drove in 101 runs across 146 games while playing for the Mets and the Indians last season, in his final year before free agency. The Mets gave him 39 million reasons to return for three years. But so far, the
NEW YORK -- Jay Bruce (Bruuuce) belted 36 homers and drove in 101 runs across 146 games while playing for the Mets and the Indians last season, in his final year before free agency. The Mets gave him 39 million reasons to return for three years. But so far, the return on that investment has not been great.
But that could change soon. The Mets activated the 31-year-old Bruce before Friday night's 3-0 win against the Nationals at Citi Field. Manager Mickey Callaway put his name right on the lineup card, batting Bruce fifth and playing him in his old spot in right. It marked Bruce's first appearance for the Mets since June 17, as he recovered from a strained right hip.
Bruce made his presence felt in his return, hitting a two-run homer off Tim Collins in the eighth inning -- his first home run of the season at Citi Field.
Callaway said Bruce will also get a lot of looks at first to see how comfortable he is at that spot. In fact, Callaway left open the possibility that if Bruce aces his audition there, he could emerge as the regular first baseman for 2019.
"I definitely think that's a possibility," Callaway said. "I think that's one of the things we need to find out in this last part of the season."
The Mets also have Triple-A Las Vegas first baseman Peter Alonso to consider. He had combined for 32 homers and 109 RBIs in 122 games with Las Vegas and Double-A Binghamton through Thursday.
:: Players' Weekend presented by Valspar Stain ::
Dominic Smith, who has seen time at first and in left, has struggled this season. He was sent back to Las Vegas on Friday for Bruce. Then there's Wilmer Flores, who started his 67th game of the season at first in Friday's series opener.
Bruce split time between right and first during his seven-game rehab assignment with Class A Advanced St. Lucie. He started three games at first for the Mets earlier this season. He isn't opposed to taking over the job at first next season, as long as he is given fair notice.
"If they were planning on me playing pretty much exclusively first base, I would appreciate them letting me know so that I have an offseason to prepare," Bruce said. "And I think they would have every intention to do that. I definitely don't doubt that. They've been pretty transparent with the whole idea so far. So I think that we'll continue to have an open dialogue."
When Bruce went on the DL on June 19, he owned a slash line of just .212/.292/.321 with three homers and 17 RBIs in 62 games. Besides the hip problem, Bruce had an issue with plantar fasciitis in his left foot.
"Obviously, I've been injured and I've underperformed," Bruce said. "Neither of those things were on my list of things to do coming back to New York. So it's not something I'm happy about or proud of, but I can only move forward.
"I have a little over a month this year and I have two more seasons to right the ship and be the player I've been pretty much my whole career. I think people know that and I think people are going to see that."
• Shop for Players' Weekend Gear | Mets' nicknames for Players' Weekend
Bruce batted .360 and homered once during his rehab assignment. He went on the DL with no homers in his past 113 plate appearances dating to May 7. Bruce said he thought the injuries hampered him "a lot" from the start, and that he "wasn't able to really drive the ball." But he said his hip and feet feel good now, and that he's "moving around better.
"Just taking some swings in the cage a minute ago, there were swings and passes with my bat, my barrel, that just wasn't there prior," Bruce said. "I was out there playing. I wasn't performing. Obviously, I'm not a guy who makes excuses, as you know. I look forward to having kind of a full quiver, if you will."
Catching concerns
Devin Mesoraco left in the fifth inning of Thursday's 3-1 loss to the Giants. The catcher had stiffness in his neck. So Kevin Plawecki started in his place for this game against the Nationals.
Mesoraco underwent an MRI. Callaway said that "everything came back muscular in nature.
"He's pretty stiff right now," Callaway said. "He could catch in a pinch if we need [him] to. But in the meantime, we called up Tomas Nido [from Binghamton] to help us out. Mesoraco doesn't need to be a DL because he can catch in a pinch.
"Another thing we're kind of battling is Plawecki's wife is due at any moment. So it would be tough not to have three catchers at this moment because he could be gone in a matter of hours."
Infielder/outfielder Jack Reinheimer was optioned to Las Vegas to make room on the roster for Nido.
Brian Heyman is a contributor for MLB.com based in New York.