Bruce will return to Mets' roster Friday vs. Nats
Callaway could utilize McNeil's versatility in September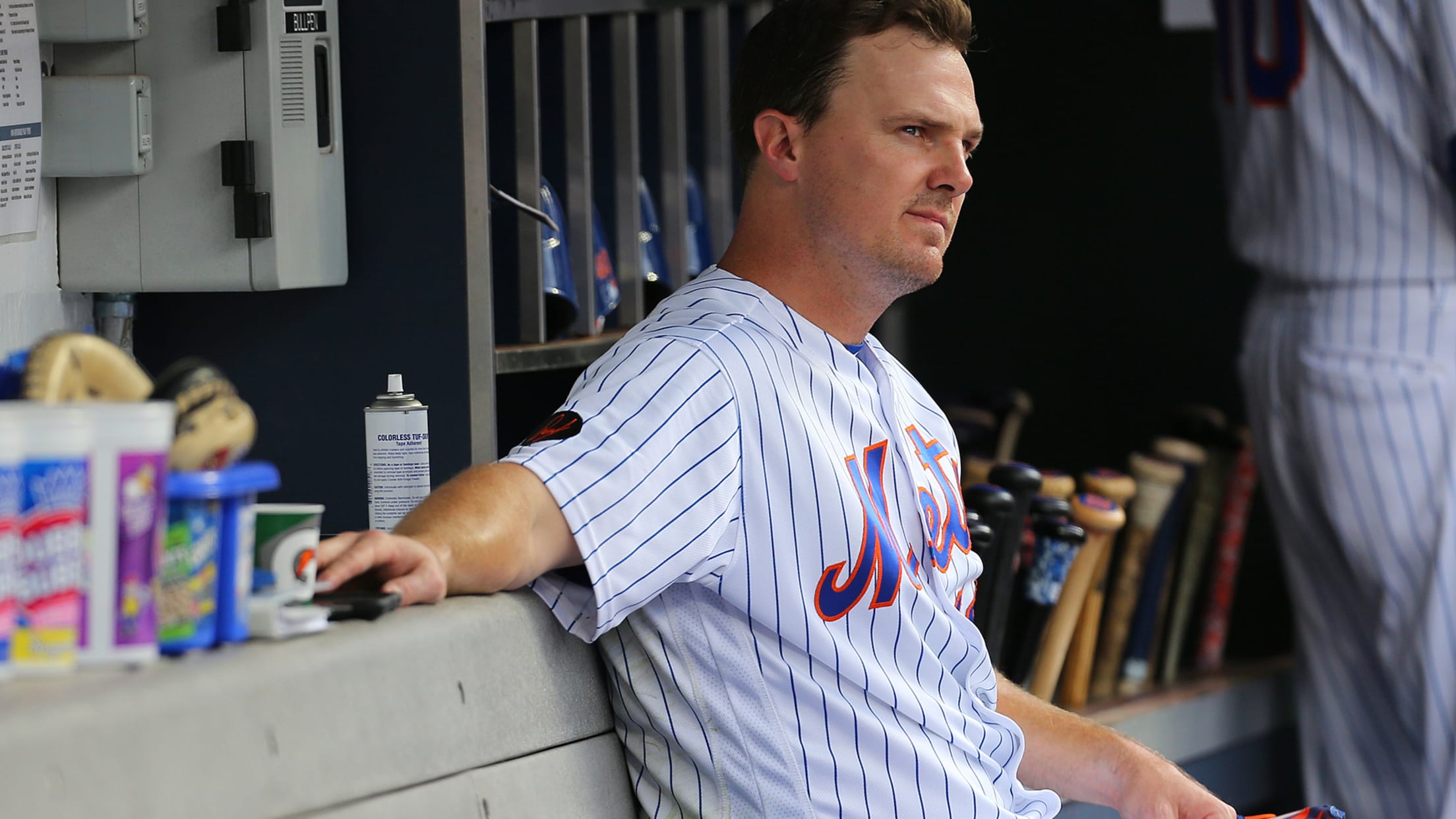 NEW YORK -- Jay Bruce will return to the Mets' roster on Friday against the Nationals. Bruce has been on the disabled list since June 19 with a sore right hip, but he took the time to rehab various other injuries as well, including plantar fasciitis in his left foot
NEW YORK -- Jay Bruce will return to the Mets' roster on Friday against the Nationals. Bruce has been on the disabled list since June 19 with a sore right hip, but he took the time to rehab various other injuries as well, including plantar fasciitis in his left foot and lower back spasms.
On Monday, Mets assistant general manager John Ricco said that the club has been patient with Bruce during his absence, so the left-handed-hitting slugger can get his timing back at the plate.
"I talked to him this morning," Mets manager Mickey Callaway said before Wednesday's 5-3 win over the Giants. "He feels like his timing is getting there. His feet feel great. His back feels great. So he's in a really good spot, physically."
Bruce played nine innings at first base on Wednesday for Class A Advanced St. Lucie and went 2-for-3 with a home run, a single, a walk, two RBIs and a run scored. Callaway says once Bruce is back up, depending on what the team needs that day, he will see time at both right field and first base moving forward.
When Bruce originally started feeling pain in his hip, he attributed it to the different movements at first base and said it could have something to do with the injury because it was a different position than he was used to playing.
"I think that's going to have a lot to do with Jay himself," Callaway said on Thursday. "We're going to talk to him, make sure he's comfortable. I think initially it'd be tough to just start playing him every day, so we're going to definitely have to monitor his playing time when he comes back initially."
In his first seven Minor League rehab games, Bruce hit .360 (9-for-25).
Multifaceted McNeil
Jeff McNeil is a natural second baseman, but he has played every position except pitcher and catcher in his Minor League career. The Mets are planning to keep McNeil at second base for the time being to keep working out some kinks defensively, but Callaway didn't rule out moving him around the diamond later in the season.
"There might be a time in September where we feel, 'He looks really good at second, he's doing a great job turning two, let's start moving him around and see how that goes,'" Callaway said. "Because we want the option to have him as a second basemen or maybe a utility guy at some point."
World champion connection
Ken Eriksen, the head coach of the U.S. women's softball team, was in attendance for the Mets' batting practice on Wednesday. Earlier this month, Team USA won the 2018 Women's Softball World Championship by beating Japan on an extra-inning walk-off single, which qualified the team for the 2020 Tokyo Olympics. The games in Tokyo will mark softball's return to the Olympics after being cut following the 2008 games.
Eriksen graduated from Ward Melville High School -- which is in East Setauket, N.Y., about 50 miles east of Citi Field -- the same high school Mets pitcher Steven Matz attended. He also was the softball coach at the University of South Florida when Mets pitching coach Dave Eiland was there as the baseball team's pitching coach.
Erin Fish is a reporter for MLB.com based in New York.