Ramirez (TJ surgery) set for long-awaited return
Angels righty to take on long-relief role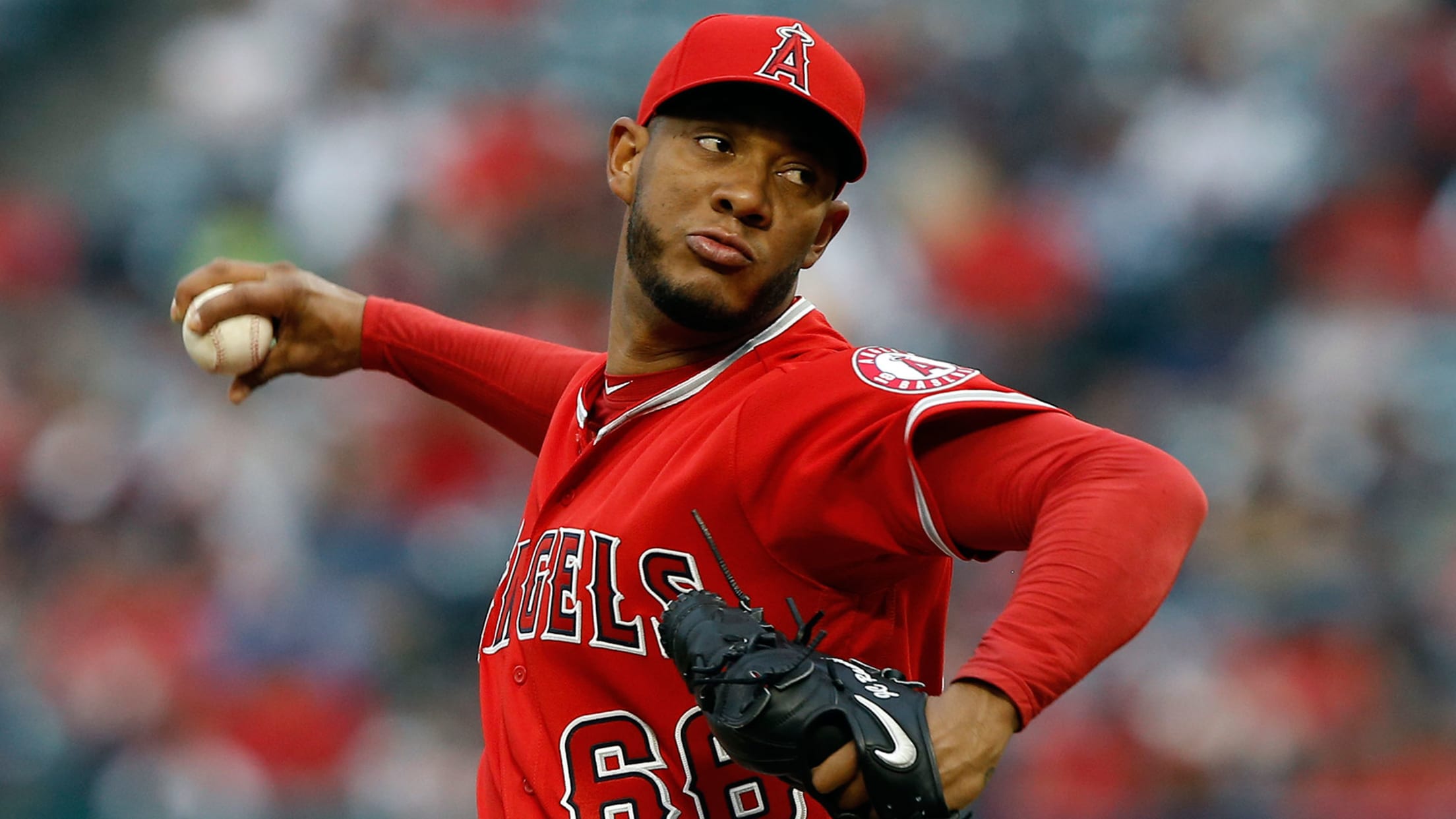 ANAHEIM -- Right-hander JC Ramirez had no issues in his final rehab appearance with Class A Advanced Inland Empire on Sunday night, and he could be reinstated from the 60-day injured list as soon as Tuesday. Ramirez, who underwent Tommy John surgery on April 17 of last year, gave up
ANAHEIM -- Right-hander JC Ramirez had no issues in his final rehab appearance with Class A Advanced Inland Empire on Sunday night, and he could be reinstated from the 60-day injured list as soon as Tuesday.
Ramirez, who underwent Tommy John surgery on April 17 of last year, gave up one run while recording two outs, as he was on a 20-pitch limit. He posted a 3.38 ERA in three relief appearances with Inland Empire, striking out six in 5 1/3 innings. He also made eight starts with Triple-A Salt Lake, recording a 7.60 ERA with 20 strikeouts in 34 1/3 innings before the Angels decided he'd return as a reliever.
"The slider was there, the curveball, even changeup was good," Ramirez said. "The velocity was 92-94, better, more consistent. I was scheduled to throw 20 pitches, got through three hitters."
Angels manager Brad Ausmus said Ramirez will pitch in long relief with the Angels, joining Trevor Cahill in that role. Ramirez's ability to go multiple innings should help a bullpen that's been depleted in the second half, especially since Thursday's 16-inning loss to the Orioles.
"It hurts because those guys have been pitching a lot, most guys go one inning," Ramirez said. "I want to be part of the solution, want to help the team."
As Ramirez noted, his fastball velocity has topped out at 94 mph, which is down a bit from before the surgery. His average fastball velocity was 95.5 mph in 2017, when he had a 4.15 ERA in a career-high 147 1/3 innings with the Angels. But the Angels are hopeful it'll return as Ramirez continues to build arm strength and pitches with the adrenaline that comes with a Major League atmosphere.
"We'll see," Ausmus said. "I don't know if it will be an issue at all. Sometimes it does take velocity a little longer to return after surgery. I can't predict if that will be an issue or not."
Middleton plays catch
Right-hander Keynan Middleton, who experienced a setback in his recovery from Tommy John surgery, played catch before Monday's game against the Tigers. Middleton had to cut his rehab assignment short on July 15 after dealing with a minor nerve issue related to his surgery in May of last year. He'll continue to build up before beginning another rehab assignment.
"I talked to him afterward he said he felt great," Ausmus said. "I wouldn't expect it to be long. He wasn't down for long. He'll have to start up his rehab assignment again."
Lucroy could return Wednesday
Catcher Jonathan Lucroy is scheduled to play in his second and final rehab game with Class A Advanced Inland Empire on Tuesday, and Ausmus didn't rule out Lucroy being reinstated from the injured list on Wednesday. The Angels could also wait to activate Lucroy before Friday's series opener in Cleveland.
Lucroy has been out since suffering a concussion and a fractured nose on July 7, when the Astros' Jake Marisnick collided into him at home plate. Marisnick was suspended for two games and the suspension was upheld on Wednesday after an appeal.
McCreery recalled, Bard optioned
The Angels called up left-hander Adam McCreery from Triple-A Salt Lake on Monday, optioning reliever Luke Bard, who threw 2 1/3 scoreless innings on Sunday. McCreery, 26, made his Major League debut with the Braves last year, allowing two runs in one inning in his lone appearance.
McCreery, a La Verne, Calif., native, was purchased by the Angels from the Dodgers on July 12. He allowed one run in 4 2/3 innings with Triple-A Salt Lake and can be used for multiple innings.