Ramirez one rehab game away from activation
Heaney remains without timetable; Lucroy begins rehab assignment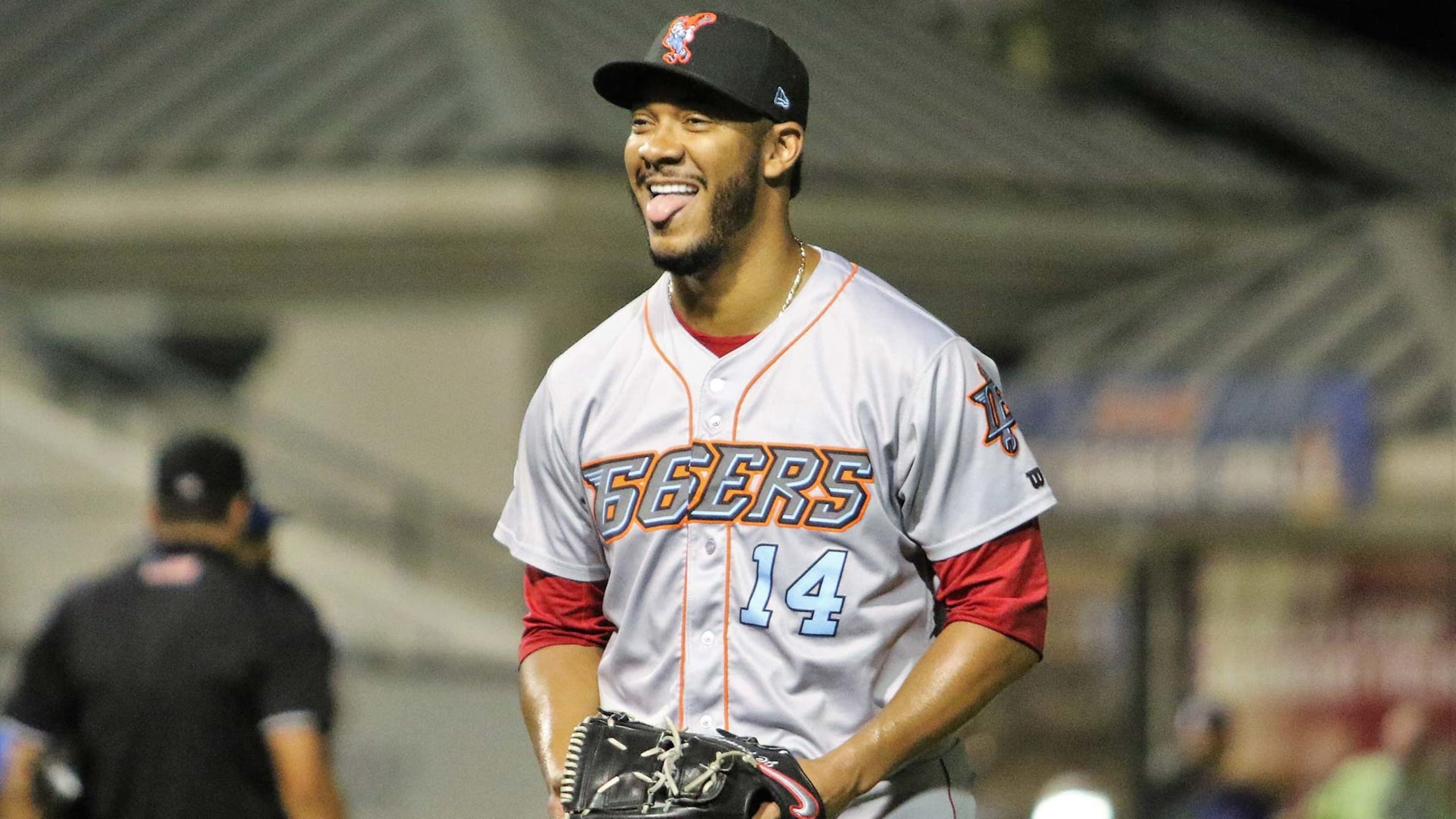 ANAHEIM -- Right-hander JC Ramírez's rehab appearance with Class A Advanced Inland Empire went well on Thursday night, and he said he expects to be activated from the 60-day injured list on Tuesday with his last scheduled rehab appearance set for Sunday. Ramirez, who underwent Tommy John surgery in April
ANAHEIM -- Right-hander JC Ramírez's rehab appearance with Class A Advanced Inland Empire went well on Thursday night, and he said he expects to be activated from the 60-day injured list on Tuesday with his last scheduled rehab appearance set for Sunday.
Ramirez, who underwent Tommy John surgery in April 17 of last year, is pleased with the way his arm is progressing after a lengthy rehab process. Ramirez saw his first rehab assignment extended by another 30 days because he wasn't medically ready to return, and his second rehab assignment is set to expire early next week. He was initially stretched out to be a starter, but will now return in relief.
"I felt great," Ramirez said. "I think I was sharp. I'm getting more angle on my fastball now and my slider is getting sharper. Went up in the velo a little bit, so that's good."
Ramirez threw two innings on Thursday, allowing one hit while striking out three. His velocity also jumped up to roughly 94 mph after it was sitting in the low 90s early in his rehab process. He's scheduled to throw 20 pitches in a final tuneup on Sunday.
"I think he'll clear that hurdle without a problem," Angels manager Brad Ausmus said. "And then he'll be back with us."
Ramirez, 30, could provide a boost to the bullpen down the stretch. He was solid with the Angels in 2017, posting a 4.15 ERA In 147 1/3 innings before making just two starts in 2018 before suffering a torn ulnar collateral ligament.
"It's been a long process," Ramirez said. "Some days you feel good, some other days you don't feel that good. But being in this position right now, where I know everything is going well and if I continue to feel good, I'll be with the team. ... That's a big thing for me."
Ramirez to injured list, Rodriguez selected
The Angels made a few roster moves before Saturday's game, including placing reliever Noé Ramirez on the 10-day injured list with a respiratory illness. It allowed the Angels to recall left-hander Dillon Peters to start even after being optioned on Tuesday.
Additionally, right-hander Nick Tropeano was optioned to Triple-A after struggling through five innings on Friday, while right-hander Jose Rodriguez had his contract selected from Triple-A Salt Lake. The Angels had an open spot on their roster after designating left-hander Adalberto Mejia for assignment.
Rodriguez, 23, has a posted a 6.75 ERA in 52 innings between Double-A Mobile and Salt Lake, but has struck out 63. He's not among the club's Top 30 prospects, per MLB Pipeline, but could give the Angels some innings in long relief.
"I know very little about him other than what the reports were," Ausmus said. "He's throwing well, getting some strikeouts down in Salt Lake, some swings and misses. He's been up to about 60 pitches."
Rodriguez made his MLB debut in Saturday's loss to the Orioles, striking out two and allowing one hit in 1 2/3 innings.
Ramirez, meanwhile, was unavailable for Thursday's 16-inning marathon, as he was home with an illness. He was at the park on Friday but was still feeling under the weather and the Angels decided on Saturday they couldn't afford to wait for him to feel better, so he was placed on the injured list.
"He got worse during the game yesterday, so we sent him home," Ausmus said. "We told him to stay home today. Hopefully, it's not a situation where he's actually sick for 10 days, but we're still recovering from Thursday and we needed some reinforcements."
Heaney progressing
Left-hander Andrew Heaney, on the 10-day injured list since July 20 with left shoulder inflammation, played catch for a third straight day on Saturday. But Heaney has thrown only fastballs on flat ground and said he's not sure when he'll move up to long toss and bullpen sessions. There's still no timetable for his return as a result.
"Not quite where I want to be, but getting there," Heaney said. "I've dealt with this kind of stuff a lot, so I know how it goes. I know not to get excited about good days. I know not to get down on bad days. I know not to push too hard. I don't know how long it will take to progress. I'm hoping it's pretty close. But I'm feeling good."
Lucroy begins rehab assignment
Catcher Jonathan Lucroy, on the injured list with a concussion and fractured nose stemming from Jake Marisnick colliding into him at home plate on July 7, was scheduled to start his rehab assignment with Class A Advanced Inland Empire on Friday, but saw it pushed back to Saturday.
Lucroy will play a second rehab game on Tuesday, as Inland Empire has the day off on Monday. Lucroy appears most likely to rejoin the Angels for the start of their next road trip on Friday in Cleveland.