Phils put Segura, Kingery, Arano on injured list
RHP Anderson, LHP Davis, INF Walding recalled; Gosselin to fill in at SS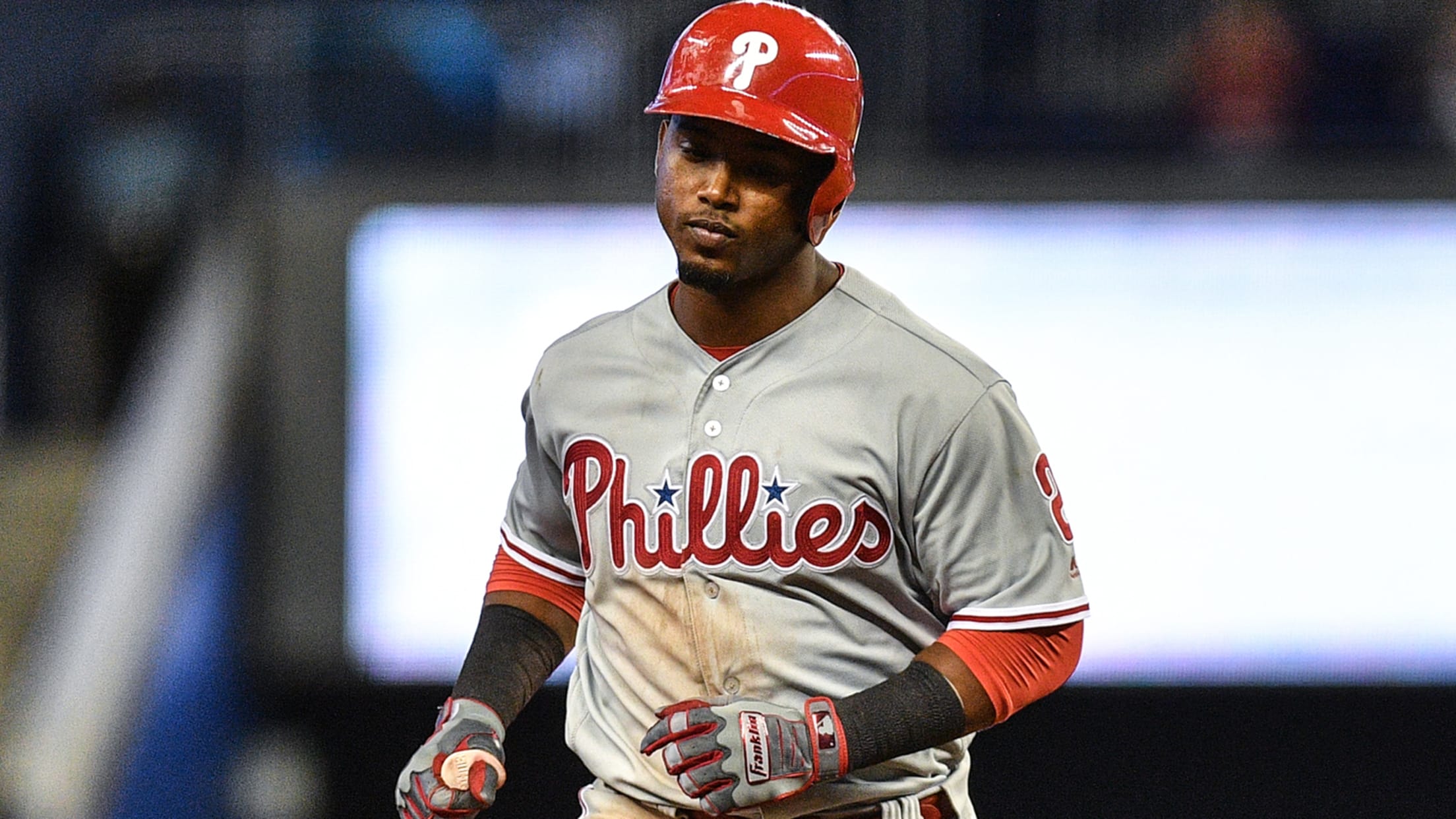 DENVER -- A rash of injuries, particularly a proliferation of hamstring strains, has the Phillies down to one option at shortstop on the 25-man roster as part of a wider thinning of the depth chart. Before Saturday's game against the Rockies at Coors Field, Philadelphia placed shortstop Jean Segura (strained
DENVER -- A rash of injuries, particularly a proliferation of hamstring strains, has the Phillies down to one option at shortstop on the 25-man roster as part of a wider thinning of the depth chart.
Before Saturday's game against the Rockies at Coors Field, Philadelphia placed shortstop Jean Segura (strained left hamstring), utilityman Scott Kingery (strained right hamstring) and reliever Vìctor Arano (right elbow inflammation) on the 10-day injured list. Segura is retroactive to Wednesday, and Arano to Friday.
In corresponding moves, right-hander Drew Anderson, left-hander Austin Davis and infielder Mitch Walding were recalled from Triple-A Lehigh Valley.
During Friday's stunning 4-3, 12-inning loss to the Rockies, Kingery, who had been hitting .464 with two doubles and two homers over his previous 10 games, suffered the injury while running out a ground ball in the fourth inning. He had an MRI exam on Saturday, but the severity of the strain is yet unknown.
Philadelphia native Phil Gosselin replaced Kingery in the lineup on Friday night, going 2-for-4 with a pair of singles and scoring the go-ahead run on Bryce Harper's 12th-inning double in his Phillies debut. Gosselin was a non-roster invitee to Spring Training and began the season at Triple-A before being called up on Wednesday. Before the injury, Kingery was filling in at shortstop for Segura.
Manager Gabe Kapler said there were three considerations that went into the decision to place Segura, who as of Friday was hoping he'd be back in the lineup for Sunday's series finale in Colorado, on the injured list.
"The first one is Jean Segura and his long-term health," Kapler said. "... Second most important consideration is what's best for the Philadelphia Phillies. If something happens to Jean Segura with Scott Kingery down, we play for a longer period of time with our third layer at shortstop. And the third consideration was the timing of it. And that was the injured list consideration."
That leaves Gosselin, who has appeared in 12 Major League games at shortstop and 54 games as a professional at the position, as the last line of defense before Kapler has to go to players that "could stand there and get us through the last few innings of a game," including Maikel Franco, Cesar Hernandez and Roman Quinn.
Asked if there might be external options being considered at shortstop given that Minor League options aren't ready, Kapler said he's confident general manager Matt Klentak is always on the lookout for potential help, but Kapler is focused on what is going on inside the organization and the tough decisions that may lie ahead.
Arano felt the elbow inflammation while warming up in the bullpen Friday night.
"He felt continued discomfort, and we decided not to use him in the game because we didn't want to put him at further risk," Kapler said.