Sullivan had Bags' number, and Hall of Famer knew it
Bagwell, who went hitless vs. sidearmer, would chat with him about it before games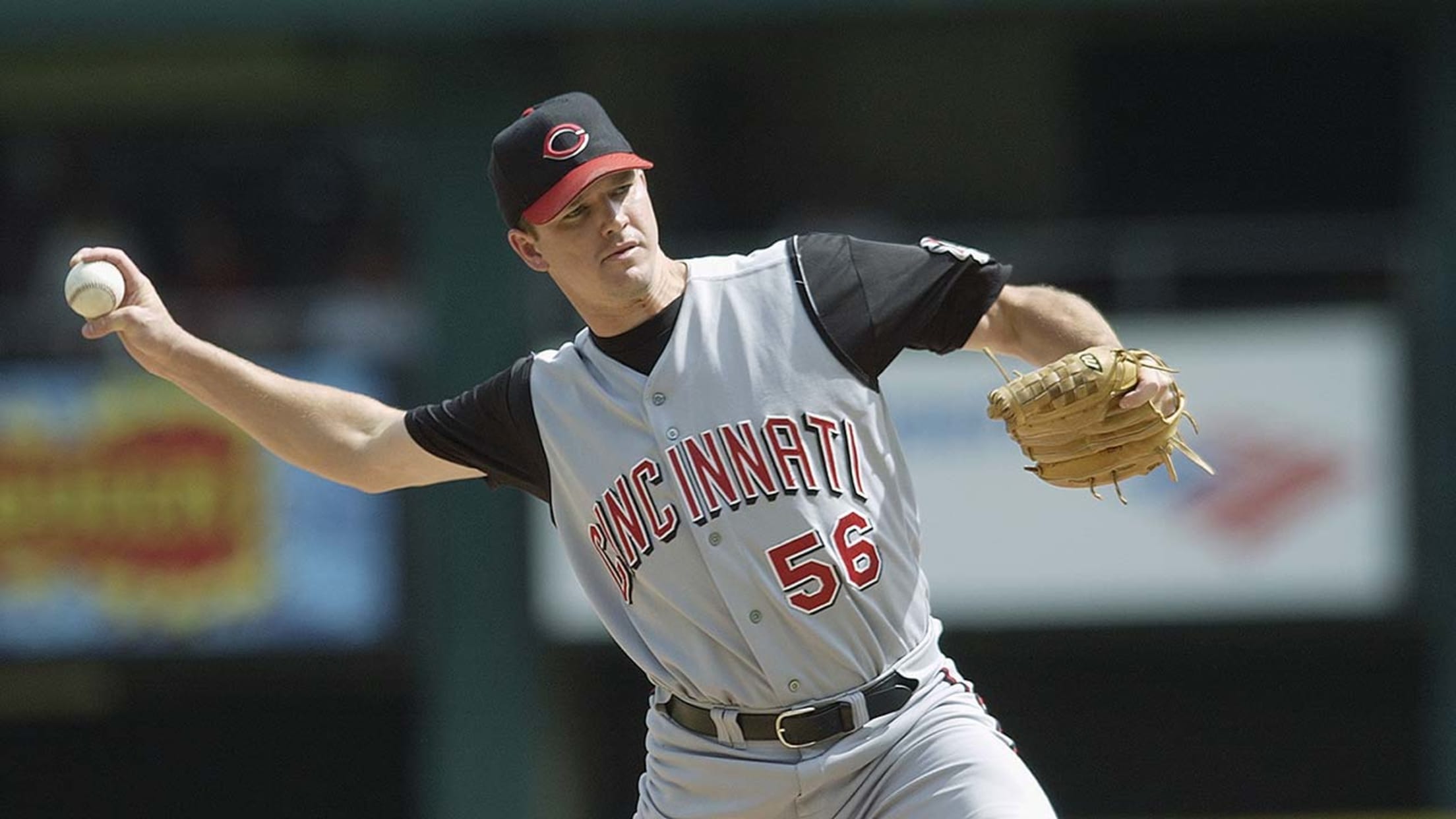 Jeff Bagwell thrived vs. some of the game's greatest, but went 0-for-24 against Scott Sullivan. (Getty)
HOUSTON -- Jeff Bagwell was responsible for Scott Sullivan's first career loss. It came in the Astrodome in 1997, when the Reds pitcher, in his rookie year, had worked 3 2/3 scoreless innings in relief and was instructed to intentionally walk Bagwell with two outs and the bases empty in
HOUSTON -- Jeff Bagwell was responsible for Scott Sullivan's first career loss. It came in the Astrodome in 1997, when the Reds pitcher, in his rookie year, had worked 3 2/3 scoreless innings in relief and was instructed to intentionally walk Bagwell with two outs and the bases empty in the 14th inning.
Sullivan was so focused on trying to retire Luis Gonzalez that he neglected Bagwell, an adept baserunner who swiped second and wound up scoring on a game-winning single. The Reds lost, but Sullivan was soon having his way against the future Hall of Famer Bagwell.
Bagwell was hitless in 31 career plate appearances against Sullivan, a sidearmer who gave right-handed batters fits. Bagwell was 0-for-24 against him with six walks and seven strikeouts -- a feat that's even more impressive now that Bagwell has been elected to the Baseball Hall of Fame.
:: 2017 Hall of Fame election coverage ::
"I don't know what it was," said Sullivan, who retired in 2004. "It didn't make it any easier. Having those numbers didn't give me a lot of confidence against a Hall of Famer like Jeff and what he did over the course of his career."
Bagwell wasn't he only Hall of Famer to struggle against Sullivan. Craig Biggio was 4-for-24 against him, while Rickey Henderson was 0-for-6. In fact, the 2017 Hall of Fame class was a combined 1-for-30 against Sullivan -- Bagwell (0-for-24), Ivan Rodriguez (1-for-5) and Tim Raines (0-for-1).
On the contrary, Bagwell raked against some Hall of Famers, hitting .301 against John Smoltz (28-for-93), .293 against Greg Maddux (27-for-92) and .333 against Tom Glavine (22-for-66). Sullivan was a different story.
Sullivan, who now sells land and timber in his native Alabama, wound up pitching 10 years in the big leagues (mostly with the Reds), going 40-28 with a 3.98 ERA.
"I was a little middle reliever, so to speak, and enjoyed competing with what I had to work with, but to have numbers against a gentleman and a player of Jeff Bagwell's caliber is very uplifting for my mediocre career," he joked.
Through the years, as the outs piled up, Bagwell would remind Sullivan of his dominance against him any chance he could get. When the Reds were stretching on the field prior to games, Bagwell would ask him if he could get traded, or hold up his fingers to indicate he was putting a hex on him. And Sullivan said he might have even gotten in Bagwell's head after a while.
"At 60 feet, 6 inches, and seeing those forearms and those thighs -- he would get in that low crouch and you could see his thigh muscles bulging through his uniform, and he has forearms like Popeye -- it didn't matter how much success I had against him, it didn't make me any more comfortable facing him," Sullivan said. "I knew with one swing of the bat the kind of damage Jeff could do."
Sullivan, 45, marveled at Bagwell's numbers, saying he would have easily surpassed 500 home runs had he not played most of his career in the Astrodome. The pitcher has a tremendous amount of respect for the way the Killer B's -- Bagwell, Biggio and Lance Berkman -- competed and played the game while the Astros were still in the National League Central with the Reds.
"They did an incredible job of competing, and you knew when they came into Cincinnati, you better be ready to play because they could swing it," he said. "It was an extremely formidable opponent, but not only that, they played with a high degree of integrity. It was like an old-school team. They put the uniform on, and that was their work gear. They were old-school, hard-nose, grinding baseball players. I remember him extremely vividly."