Notes: Cookie club won't crumble; Yo goes yard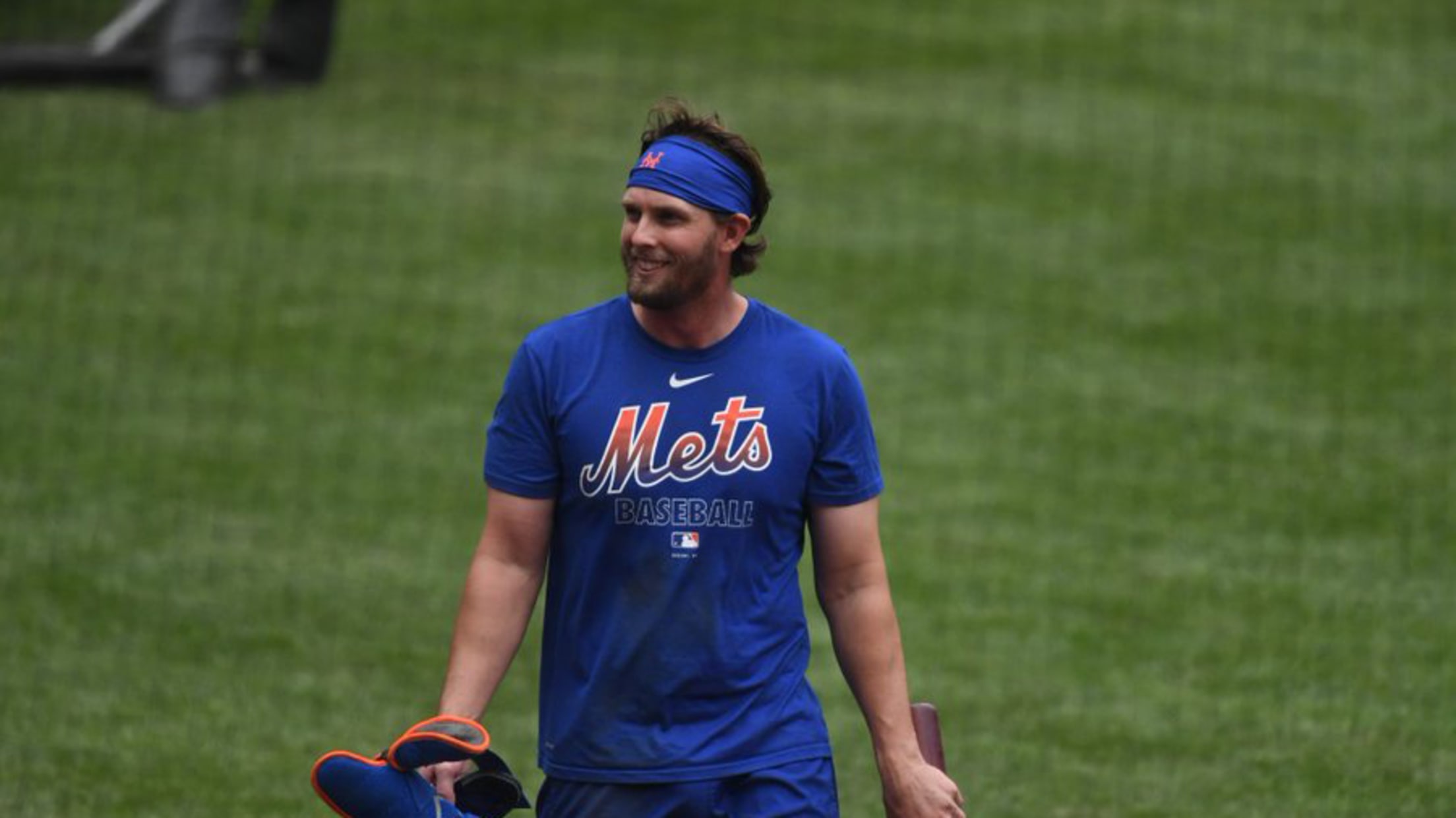 NEW YORK -- Jeff McNeil is going to eat postgame cookies this season, even if he has to do it alone. McNeil, one of the founding members of the Mets' "cookie club" that routinely gathered after games last summer to eat cookies and talk about baseball, says he doesn't plan
NEW YORK -- Jeff McNeil is going to eat postgame cookies this season, even if he has to do it alone.
McNeil, one of the founding members of the Mets' "cookie club" that routinely gathered after games last summer to eat cookies and talk about baseball, says he doesn't plan to change his dessert routine. He acknowledges, however, that COVID-19 protocols may prevent him, J.D. Davis, Dominic Smith and others from meeting in person to eat the cookies together.
"That'll be tough," McNeil said. "We may have to do some Zoom calls and order in. I know I'll still be trying to order in. Especially when we go to Philly, we've got Insomnia [Cookies] right there. They deliver in a lot of the cities we go to. So I'm not worried about getting the cookies. I guess it's being able to eat it with the cookie club."
• Mets' 2020 regular-season schedule
Last season, McNeil, Davis, Smith, Michael Conforto, Brandon Nimmo and Pete Alonso often ordered milk and cookies after games, meeting in one of their hotel rooms to eat them. During those hangout sessions, they also broke down that night's game, scouted upcoming opponents and even talked about things happening in their personal lives.
But everything centered around the cookies.
"I'll get two snickerdoodle and two of the double chocolate chip, with two milks, and crush," McNeil said earlier this year. "No dipping. It's four cookies and then two milks, straight down."
Cookies or not, the Mets are relying on McNeil to construct another strong season after hitting .318 with 23 home runs last year. Those numbers included some pronounced splits: a .349 average with seven homers in the first half, followed by a .276 average with 16 homers after the All-Star break. In his early batting practice sessions this summer at Citi Field, McNeil has continued to show plenty of power, although he doesn't believe he is making a conscious decision to sacrifice bat-to-ball skills in favor of home runs.
"I feel like I can do both," McNeil said. "Last year in the second half, I didn't really change anything. The ball just started to go over the fence a little bit more. This year, I came in a little bit stronger, a little bit bigger, but I'm still not going to change my approach. … My job is to get on base and if the homers are there, it's a bonus."
Stealing the show
The highlight of Thursday's intrasquad game at Citi Field was supposed to be Jacob deGrom … at least until Yoenis Céspedes stole the show with a crushed two-run homer off Seth Lugo.
Céspedes, who continues to recover from the effects of multiple heel surgeries and a fractured left ankle, smashed his home run into the stands in left field. He then turned around without running the bases and walked casually back to the dugout.
Jed Lowrie also provided a highlight with a leadoff double to the warning track in center against deGrom. Lowrie, who is working his way back from a litany of undefined left-side issues, is trying to transition from a bulky rehab leg brace to a softer, more functional one. His baserunning remains limited, though he was able to jog to second on his double and score later in the inning. That was the only run deGrom allowed in three innings.
Yoenis Cespedes takes Seth Lugo deep, followed by a double from Pete Alonso. 👀👀 pic.twitter.com/cbHTCELN6a

— SNY (@SNYtv) July 9, 2020
Quarantine All-Stars
For the first week or two of quarantine, Michael Wacha struggled to find a place to throw. He and Robert Gsellman met a few times at a field between their homes in Port St. Lucie and Jupiter, Fla., but resorted to playing catch in a parking lot when a security guard kicked them off the grass.
That situation changed dramatically when Gsellman invited Wacha to a gym run by trainer Eric Cressey, who was overseeing Noah Syndergaard's Tommy John surgery rehab in West Palm Beach. On the first day Wacha and Gsellman showed up to the gym, they joined a Who's Who of Major League players including Max Scherzer, Justin Verlander, Corey Kluber, Paul Goldschmidt and Giancarlo Stanton.
"It's something that I'll remember for the rest of my life, for sure," Wacha said. "It's definitely been a wild time, and then to just add on all the firepower out there … I just got some really good work in against those guys."
Back in Mets camp, Wacha is all but assured a rotation spot with Syndergaard rehabbing for the summer. In Florida, Wacha routinely threw three-inning live batting practice sessions, which should allow him to stretch out to around 85 pitches more easily by the end of Summer Camp.
Slow gains
As he continues his progress toward Opening Day, Dellin Betances still hasn't reached the fastball velocity that made him one of the league's most feared relievers with the Yankees. But he's edging closer to it.
Betances, who topped out at 90 mph in his Grapefruit League debut back in March, was sitting at 92-93 mph in his first Summer Camp live BP session earlier this week, according to Mets manager Luis Rojas. The Mets did not have Trackman data for Betances' latest outing in a simulated game Wednesday, but remain confident he will be up to speed by Opening Day.
"Just from the eye, we liked what we saw as far as where the fastball sat and the contrast on his pitches," Rojas said of Betances' sim game performance. "We're looking forward to seeing his next outing as well. He looks really good."
Roster matters
Mets officials have not revealed when they plan to open their alternate camp site at MCU Park in Brooklyn. They have, however, begun the process of flying additional Minor League players into New York. Among them, according to a source: infielder Jake Hager, a Minor League signing over the winter who is capable of playing up to six different positions.