Wilpon: New GM will decide fates of top execs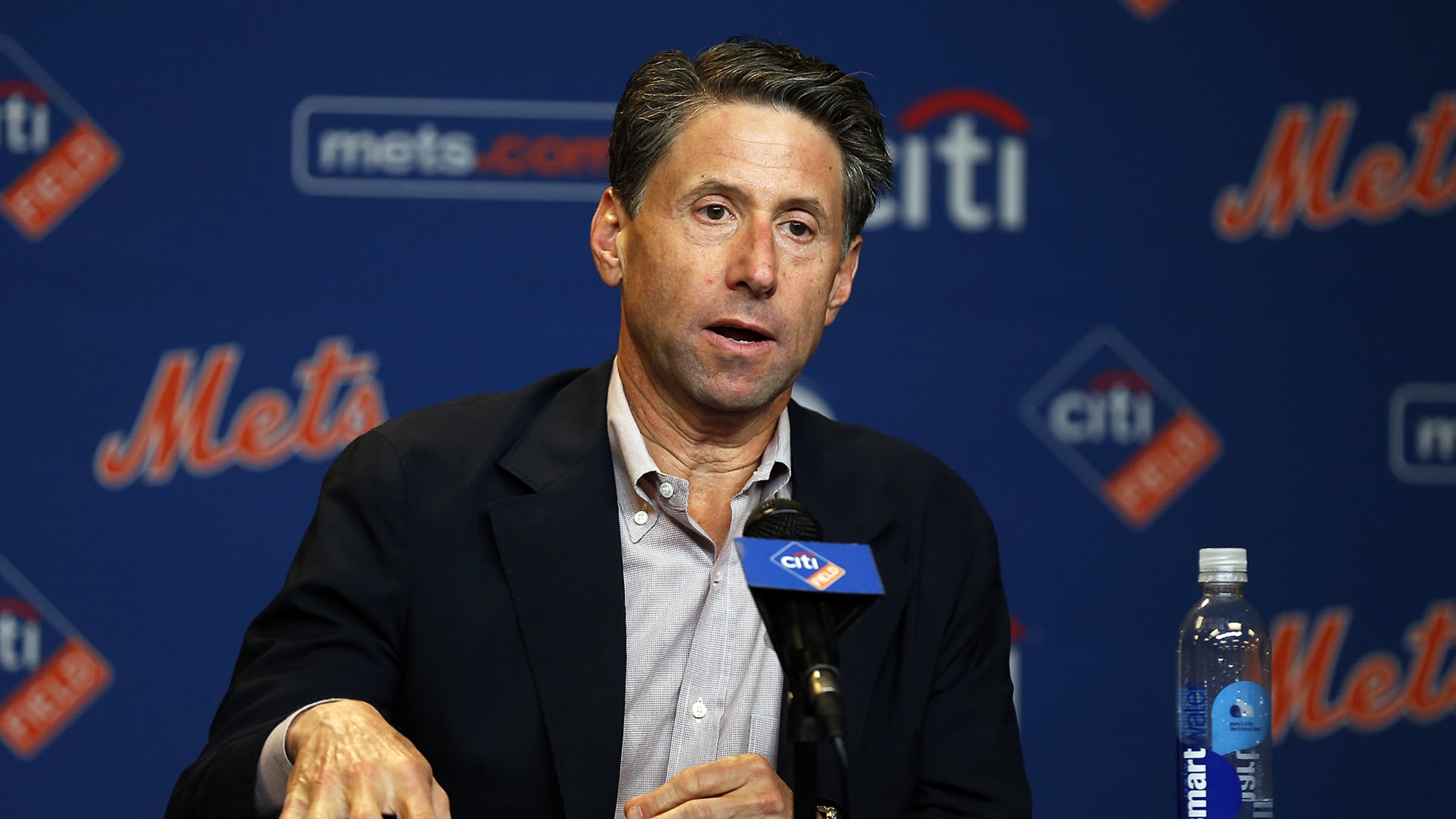 NEW YORK, NY - SEPTEMBER 30: New York Mets COO Jeff Wilpon speaks to the media prior to a game against the Miami Marlins at Citi Field on September 30, 2018 in the Flushing neighborhood of the Queens borough of New York City. (Photo by Adam Hunger/Getty Images) (Adam Hunger/Getty Images)
NEW YORK -- The Mets intend to narrow their general manager search in the coming weeks, in a process that will determine the fates of several top executives and uniformed personnel.Chief operating officer Jeff Wilpon, part of the three-man ownership group that is charged with finding a new GM, said
NEW YORK -- The Mets intend to narrow their general manager search in the coming weeks, in a process that will determine the fates of several top executives and uniformed personnel.
Chief operating officer Jeff Wilpon, part of the three-man ownership group that is charged with finding a new GM, said Sunday that he will begin asking permission next week to interview other teams' executives. While Wilpon wants to keep the bulk of his current staff intact, he will leave the fates of assistant GM John Ricco, special assistants J.P. Ricciardi and Omar Minaya, manager Mickey Callaway and his coaches least partially in the hands of the new GM.
"They're not here no matter what," Wilpon said of that group. "They're part of the failure that we had this year, the same as I am and the rest of the front office. It's only fair to give somebody coming in an open book to bring in who they want. Would I like them to stay? Yes, from an ownership standpoint, I'd like them to stay. I'd like Mickey to stay. That's from ownership, though. We're going to rely on a new GM to give us that direction and guidance.
"You can't go out and pick the best candidate that we want for this position, and tell him he's hamstrung by the number of people that are here. We'll see how that all plays out."
At the end of a fourth-place season, Wilpon declined to offer specifics on the Mets' budget or offseason plan, putting both under the stewardship of the incoming GM. He similarly said that many of the Mets' more austere policies in recent seasons, including their relatively small analytics department and their hesitance to spend on premium free agents, were due to recommendations from outgoing GM Sandy Alderson.
Alderson, who took an indefinite leave of absence earlier this summer to continue cancer treatment, is not expected to be a part of the team's decision-making process going forward.
"We've got to try to do better," Wilpon said. "We haven't done a GM search in eight years now. By going back out in the marketplace and seeing what has changed, and what's there now for us, there might be some really different ideas that come to fruition, and [help us] build a perennial contender if we can."
Cespedes healing
Yoenis Cespedes returned to the Mets' clubhouse this weekend hopeful that he can be a contributor in 2019. Nearly fully recovered from August surgery to remove bone matter and calcification from his right heel, Cespedes is scheduled to undergo an identical procedure on his left heel in late October.
Beyond that, Cespedes cannot say. The Mets' initial estimation was that Cespedes would require an eight- to 10-month recovery, which would put his potential return date around April or May. While the Mets do not expect Cespedes to be ready for Opening Day, they are hopeful he will return in time to be an impactful contributor for them.
"It has been frustrating to be in this position for me," Cespedes said through an interpreter. "But I'm doing my best to get back next season. For real, that's what I want to do next season. I want to be here and help the guys."