Jeffress (shoulder) to start on IL; Fields signed
Anderson abandons new delivery; Nelson to start season in Triple-A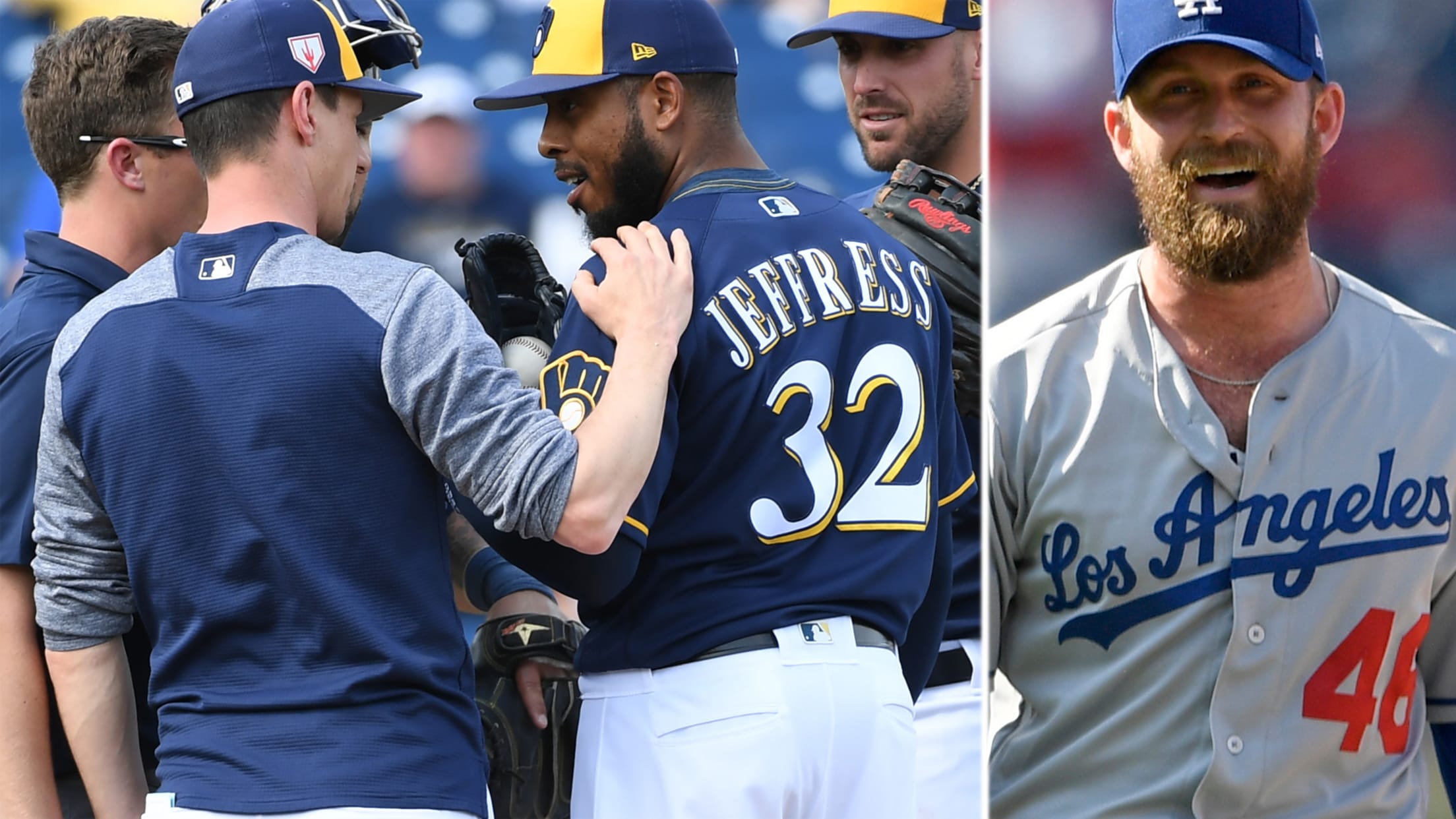 PHOENIX -- The Brewers added veteran reliever Josh Fields for Minor League depth on Tuesday, while conceding that Jeremy Jeffress won't be on their active roster on Opening Day. Fields, 33, is a hard-throwing right-hander coming off consecutive sub-3.00 ERA seasons with the Dodgers. He signed a Minor League contract
PHOENIX -- The Brewers added veteran reliever Josh Fields for Minor League depth on Tuesday, while conceding that Jeremy Jeffress won't be on their active roster on Opening Day.
Fields, 33, is a hard-throwing right-hander coming off consecutive sub-3.00 ERA seasons with the Dodgers. He signed a Minor League contract with an invitation to big league camp and is expected to begin the season at Triple-A San Antonio.
Fields' arrival came a few hours after Brewers manager Craig Counsell announced that Jeffress will start the regular season on the injured list. Jeffress had been trending in that direction since departing his Cactus League debut after three pitches with shoulder weakness, though he is scheduled to get back on a bullpen mound Thursday.
With Opening Day one week later against the Cardinals at Miller Park, that doesn't leave Jeffress enough time.
"I still think it is a situation where we don't see a player who is hurt," Brewers president of baseball operations David Stearns said. "I think we are still working back, gaining strength. He is making progress. Clearly, he is not going to be ready for Opening Day at this point.
"Beyond that, look: My sense is he is not going to be ready right when he would be eligible [for reinstatement from the 10-day injured list]. There is probably going to be a little time after that. But we don't anticipate this being something that goes well into the season. Whether that is late April, mid to late April -- without putting something definitive on there -- is probably a fair estimate at this point."
Said Counsell: "I don't want to suggest by any means that there was a setback. There was no setback. The schedule that we've put together, he will start the season on the injured list."
Jeffress will probably be in Milwaukee for Opening Day while he continues throwing bullpen sessions. But at some point, he will return to Phoenix to pitch in Minor League games. He is one of the pitchers currently slated to start the season on the injured list, with Jimmy Nelson, Brent Suter and Bobby Wahl.
Fields posted a 2.61 ERA in 124 appearances for the Dodgers over the past three seasons, including 45 games with a career-best 2.20 ERA in 2018. But he was designated for assignment on March 7 to make room for a waiver claim and was subsequently released. Fields was scheduled to fly home to Georgia on Sunday when he got word that the Brewers wanted him to take a physical.
For the time being, he is Triple-A depth for a Brewers bullpen that is once again shaping into a strength of the team.
"It seems like a great group of guys," Fields said. "I remember looking at it for the last couple years, and they've definitely got some heavy hitters coming out of that bullpen. It'd be great, and I'm excited to hopefully get a chance to participate.
Anderson gets back to basics
Chase Anderson abandoned his altered delivery on Tuesday and saw an uptick in velocity in Tuesday's 3-2 loss to the Rangers at American Family Fields of Phoenix. Anderson, who navigated around a Mike Moustakas bobble in an extended first inning, was charged with two runs on six hits in four innings, with one walk and four strikeouts.
"I thought he threw the ball really well today," said Counsell. "That was, by quite a good margin, the best velocity we've seen from him this spring."
Anderson watched video over the winter of Nolan Ryan and others and employed Ryan's over-the-head windup in an effort to stay better balanced. But he entered Tuesday's start having allowed nine earned runs on 10 hits including four home runs in 10 Cactus League innings.
Does he regret the experiment?
"No. If you aren't trying certain things in Spring Training or not trying to get better, you aren't evolving," Anderson said. "For me, changing it and working on it in Spring Training and working on it last offseason was a good thing, because I'm trying to get better. That's the goal. I don't want to have another year like I did last year. I want to keep the ball in the ballpark and pitch deep in games."
The Brewers remain undecided on their starting rotation behind Jhoulys Chacin on Opening Day.
Last call
• Rather than stay behind in extended spring training, Nelson should be ready to open the season at Triple-A San Antonio, Stearns said. The Missions' season begins April 4.
• Catcher Manny Pina returned to action in the later innings of Tuesday's loss after missing much of the past week with a minor right knee injury. He is expected to start Wednesday's game against the Padres.
• The Brewers reassigned non-roster invitee Deolis Guerra to Minor League camp on Tuesday. Guerra allowed two earned runs on eight hits in 5 1/3 innings, with six strikeouts and one walk.
Up next
Brandon Woodruff starts Wednesday when the Brewers travel to Peoria, Ariz., to play the Padres in a game set to air on MLB.TV and FOX Sports Wisconsin. First pitch is set for 3:10 p.m. CT.