Texas' pitching plans up in air after rout
Chavez allows 7 runs and does not get out of first inning vs. D-backs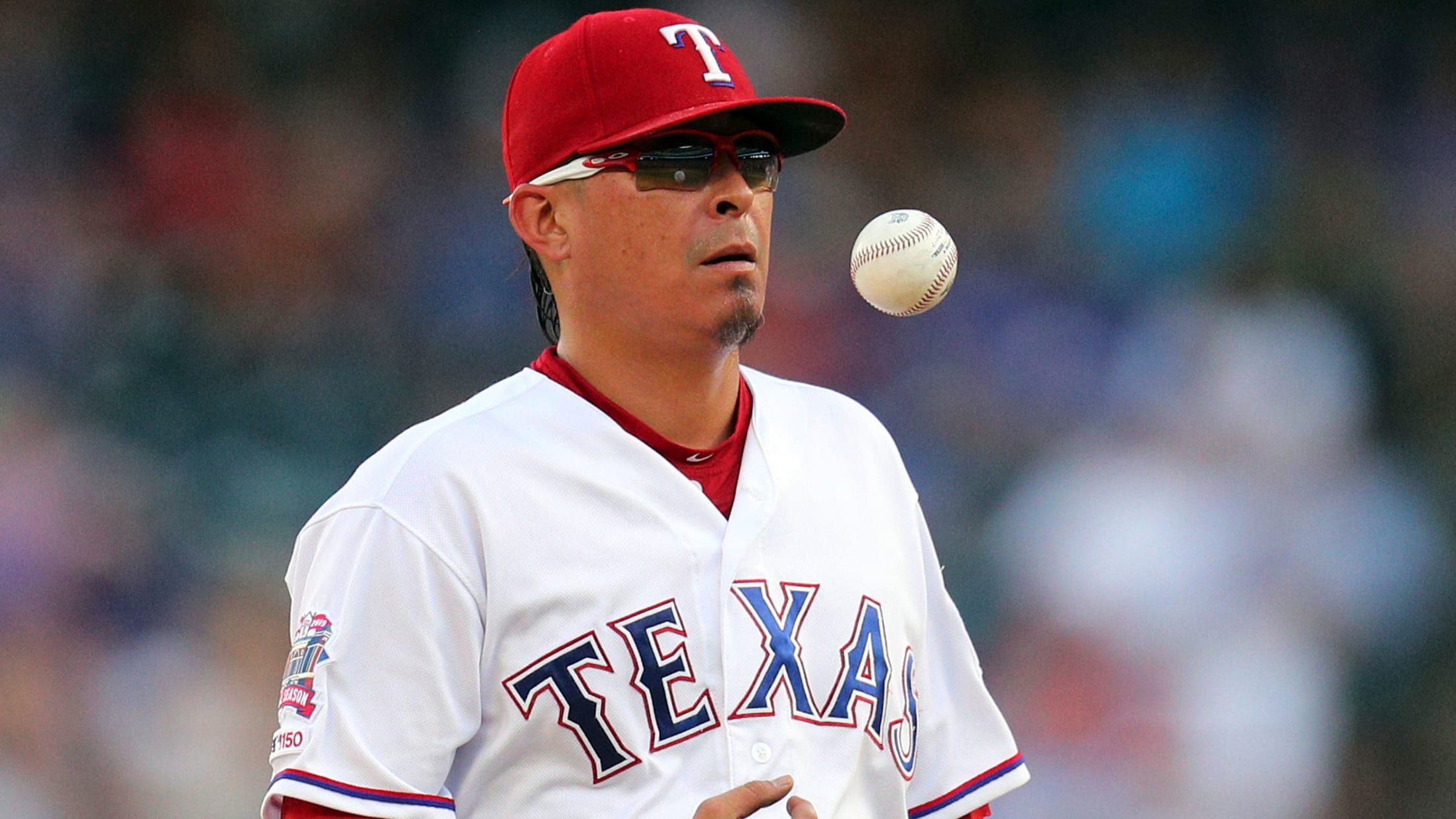 ARLINGTON -- Jesse Chavez was an effective reliever for the Rangers earlier this season before being moved to the rotation out of necessity in June. He was not effective as a starter on Wednesday night against the D-backs and the Rangers may be back to searching for answers for their
ARLINGTON -- Jesse Chavez was an effective reliever for the Rangers earlier this season before being moved to the rotation out of necessity in June. He was not effective as a starter on Wednesday night against the D-backs and the Rangers may be back to searching for answers for their beleaguered rotation.
Chavez allowed seven runs in just two-thirds of an inning and the Rangers dropped their fourth straight in a 19-4 loss to the D-backs at Globe Life Park. The Rangers, despite getting two home runs from Danny Santana, have also lost 10 of their last 14 at a time when clubs are finalizing their plans and strategy regarding the July 31 Trade Deadline.
The Rangers have been outscored 40-10 in their last three losses and now they have a 10-game road trip coming up, beginning with three games against the Astros.
"We've got to play better overall in pretty much every way," manager Chris Woodward said. "We have to hit better, we have to pitch better. It's pretty clear cut we are not doing what it takes to win ballgames right now. We have to look ourselves in the mirror and say we have some tough opponents coming up. I don't think our guys are going to back down at all. I think we've been pretty resilient all year. Our guys just have to step up and play better."
The Rangers (50-46) are still four games above .500. But they have not been making a convincing argument lately that they are close enough as contenders to be aggressive shoppers at the Deadline. Instead they are weakening the argument that they should at least hold on to the assets they have, like Mike Minor or Hunter Pence.
"It is a challenge," Woodward said. "You hate to see this snowball at the wrong time. It's on us. It's on us as a staff. It's on us as a ballclub. Each individual to look themselves in the mirror and say, 'I need to do anything I can to stop this.'"
Chavez's outing marked the 10th time in club history that a Rangers starter has allowed seven or more runs without getting out of the first inning. This is the 15th time the Rangers have allowed 19 or more runs in a game and the most since a 22-10 loss to the Marlins on July 26, 2017.
The last run was allowed by catcher Tim Federowicz, who pitched the ninth inning in his first Major League appearance on the mound.
Chavez is 1-3 with a 7.71 ERA in five starts since moving from the bullpen. Prior to that, he was 2-1 with a 0.58 ERA in his previous 21 appearances working out of the bullpen, although that included four games as the opener.
Adrian Sampson also had a rough night in his third relief appearance since being temporarily moved to the bullpen after the All-Star break. He has been used as a reliever because the Rangers are going with four starters. Sampson allowed five runs in 1 1/3 innings after taking over for Chavez.
Chavez is scheduled to start Monday against the Mariners, with Sampson slated to rejoin the rotation Tuesday. But the Rangers may reconsider that plan after what happened against the D-backs, especially considering how well Chavez was pitching out of the bullpen.
The obvious alternative would be left-hander Joe Palumbo, who is at Triple-A Nashville. But he has pitched three games for the Rangers this season. Palumbo, the No. 7 prospect in the Rangers system, according to MLB Pipeline, is scheduled to start Friday for Nashville.
Chavez has been hoping for a shot as a starter the past two years and bristled at the suggestion that he should go back to the bullpen after just five starts.
"I know the results haven't been there and we could look at the kind of hits we've gotten," Chavez said. "I got bled to death again today. I just ran out of pitches to where I couldn't get myself into counts where I could go deeper in the game. I'm not one to chalk it up to [five] starts after taking two years off [from being a starter]. They are making adjustments and it's time for me to make adjustments, as well."
The Rangers have been searching for rotation answers all season. Minor and Lance Lynn are 20-9 with a 3.31 ERA in 39 starts. The rest of rotation -- which opened with Edinson Volquez, Drew Smyly and Shelby Miller at the start of the season, is 10-21 with a 7.04 ERA in the other 57 starts.
"It is what it is," Woodward said. "We have to make the most out of every guy on this ballclub. Whoever is starting for us, we are going to put a game plan together and put full trust in that guy and watch him go out and compete. Sometimes it's going to work and sometimes it's not."