Location elusive in Chavez's rotation audition
Toronto righty battles command in first spring start; recovering Estrada uses all pitches in Minors game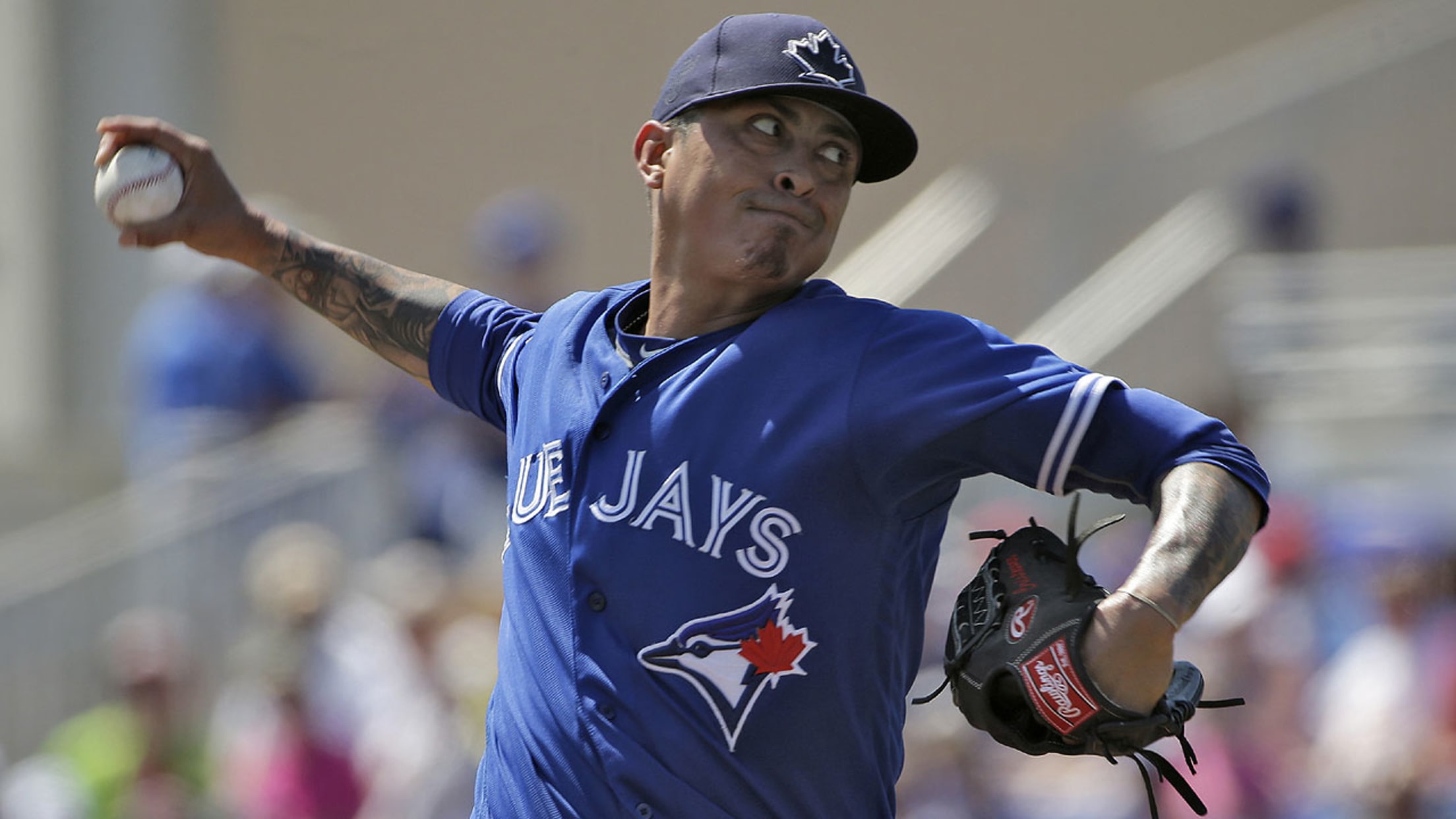 Jesse Chavez: "I felt good, I felt normal -- just a little bit off." (AP)
DUNEDIN, Fla. -- Hoping to earn a spot in the Blue Jays' rotation, Jesse Chavez was looking to make the most of his start Tuesday after previously only coming out of the bullpen this spring.Chavez instead put up an unspectacular three innings that saw him allow a pair of runs
DUNEDIN, Fla. -- Hoping to earn a spot in the Blue Jays' rotation, Jesse Chavez was looking to make the most of his start Tuesday after previously only coming out of the bullpen this spring.
Chavez instead put up an unspectacular three innings that saw him allow a pair of runs on five hits and a walk to go along with one strikeout during Toronto's 6-6 tie with Baltimore.
• Spring Training information
"I felt good, I felt normal -- just a little bit off," Chavez said. "I look at swings, I look at the contact, and that tells me if I'm progressing the way I want to, and I'm just a tick off as far as location."
Out of the gate, it appeared Chavez struggled with his command. He issued a one-out walk to Ryan Flaherty before surrendering back-to-back singles to Jonathan Schoop and Pedro Alvarez, surrendering the first run.
After a 1-2-3 second inning, Chavez started the third by surrendering three straight singles and allowing another run in the process. Had it not been for a well-executed 5-4-3 double play started by Josh Donaldson two batters later, the Orioles may have added more.
This is Chavez's first go-round with the Blue Jays after being acquired from the Athletics in November for Liam Hendriks. Last year with Oakland, Chavez went 7-15 with a 4.18 ERA over 157 innings.
Chavez admitted that he does think about the battle for a rotation spot, but he is taking an optimistic, team-first attitude.
"We're just going at it day by day, picking each other up and getting behind everyone," Chavez said. "I'm not looking at it as, 'It's me or him,' because it's us. Whatever position we fall into, we're going to have to pick each other up at one point because it's 162 [games], and it's long."
Worth noting
In other pitching news, Marco Estrada on Tuesday threw in a Minor League game -- his first game action this spring after dealing with back stiffness -- and allowed no hits in two innings, while striking out two and walking none. Estrada had previously only thrown a bullpen session last Saturday.
"I think the toughest part was just sitting down and waiting for the inning to end, then getting up and going," Estrada said. "Once I got out there and got loose, I felt pretty good."
Estrada said that he threw each of his pitches, throwing a high amount of offspeed pitches early on, but he then also worked in his cutter.
"It went pretty well," Estrada said. "I didn't leave any curveballs up, I bounced a couple, got a few swings and misses on it. The cutter was really good today. I think once I get that, everything else will come."
Greg Zeck is a contributor to MLB.com.