Winker (cervical strain) on IL; Dietrich returns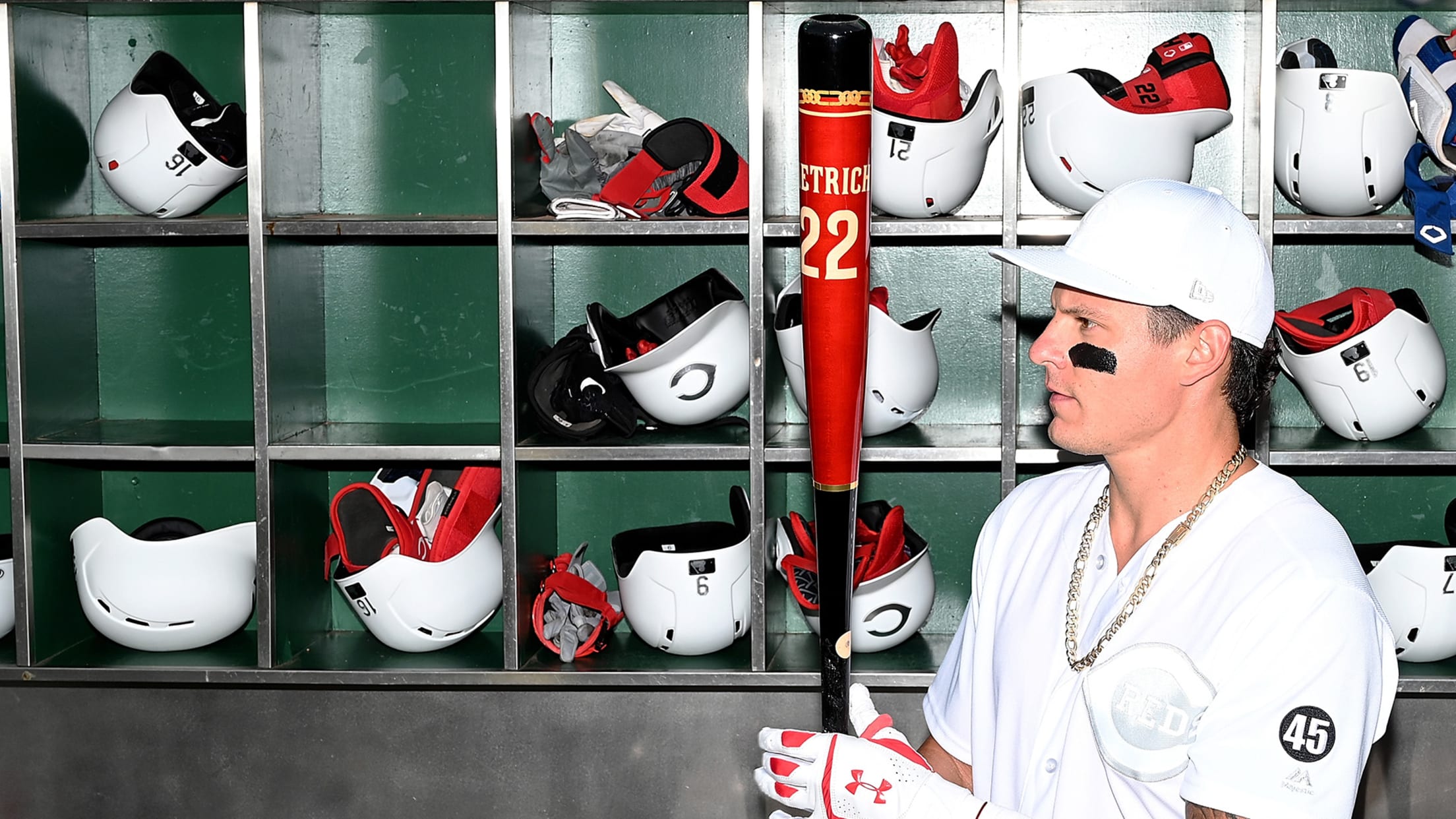 PITTSBURGH -- Arguably one of the largest of all larger-than-life figures has returned to the Reds just in time for Players' Weekend. Derek Dietrich was activated from the 10-day injured list Friday for Cincinnati's series opener against the Pirates. His spot on the active roster was created when Jesse Winker
PITTSBURGH -- Arguably one of the largest of all larger-than-life figures has returned to the Reds just in time for Players' Weekend.
Derek Dietrich was activated from the 10-day injured list Friday for Cincinnati's series opener against the Pirates. His spot on the active roster was created when Jesse Winker was placed on the 10-day injured list Thursday night with a cervical strain.
Dietrich had dealt with left shoulder inflammation that affected his ability to drive the ball this year like he has done in the past; despite a .207 batting average, he's produced a .514 slugging percentage thanks to his seven doubles, two triples and 19 home runs from his 46 hits this season.
"My shoulder [and] back hand were one of my keys to success, and so it was definitely affecting me a little bit," Dietrich said. "It's hard. I never like to make excuses. You've got to play through stuff. That's just how this long season goes."
Reds manager David Bell said he hopes Winker will require just the 10 days to deal with his injury. Bell believed Winker to be getting better when he had him pinch-hit Sunday against the Cardinals, but things never quite picked up.
"Especially back and spine stuff, it's tough to know how guys are going to respond, so we've done the best we can," Bell said. "We're confident we didn't make it worse by doing that. It would've been good if he didn't pinch-hit in retrospect, because we could have backdated it, but there's no perfect way to do it."
Dietrich's return gives the Reds their Players' Weekend ambassador to celebrate in this weekend's festivities. Dietrich, who will go by "DIETZ" on the field, has already shown his unique personality this year, spraying bees in a swarm at Cincinnati and having T-shirts designed with his hair and chain.
• Shop for Players' Weekend gear
"I feel like I've always had flare," Dietrich said. "I'm always comfortable to be in the spotlight or be a leader, whether it's through actions or through words -- whatever -- I've always felt comfortable in that way. Here in Cincinnati, I've just been able to be myself."
Dietrich has two pairs of cleats that he'll wear this weekend. One is colorful and showcases Best Buddies International, a charity that Dietrich supports. He plans to sign and auction off some of his Players' Weekend gear with 100 percent of proceeds going to the organization. The other pair is in honor of his grandfather, Steve Demeter, who got him into baseball.
"I think that will be the coolest thing, kind of see all the different bats and cleats," Dietrich said. "Obviously, the nicknames and stuff. Just really get a chance to see players' personalities or what's important to them that you might not otherwise know."
Worth noting
• Bell was uncertain whether Joey Votto (low back strain) would return when he became eligible on Sunday.
"No exact date yet," Bell said. "I think he's eligible Sunday. I'm not saying that it's completely out of the question, but no real timetable yet."
• Curt Casali (right knee sprain) joined the team in Pittsburgh, and Bell said he expects him to be activated this weekend if all goes well. Casali hit a home run and walked in his final rehab appearance.
"We're not activating him today, since he's played three days in a row," Bell said. "So we'll kind of re-evaluate with the medical staff and figure out the next plan."
• Tucker Barnhart had two pairs of cleats designed for Players' Weekend with a "Cars" theme for his son Tatum, who loves the movie.
Larry the Cable Guy, who voiced Mater in the movie, replied to Barnhart's tweet about the cleats: "Hey Tucker those are sweet! Mater wants a pair he's jealous!"
Now, Barnhart has a new celebrity follower.
Your my new favorite Red. 👊🏻 This makes me Happier than a tornader in a trailer park. 😊

— Larry The Cable Guy (@GitRDoneLarry) August 22, 2019