Winker to spend offseason rehabbing shoulder
Outfielder excited to be 'completely healthy' by Opening Day 2019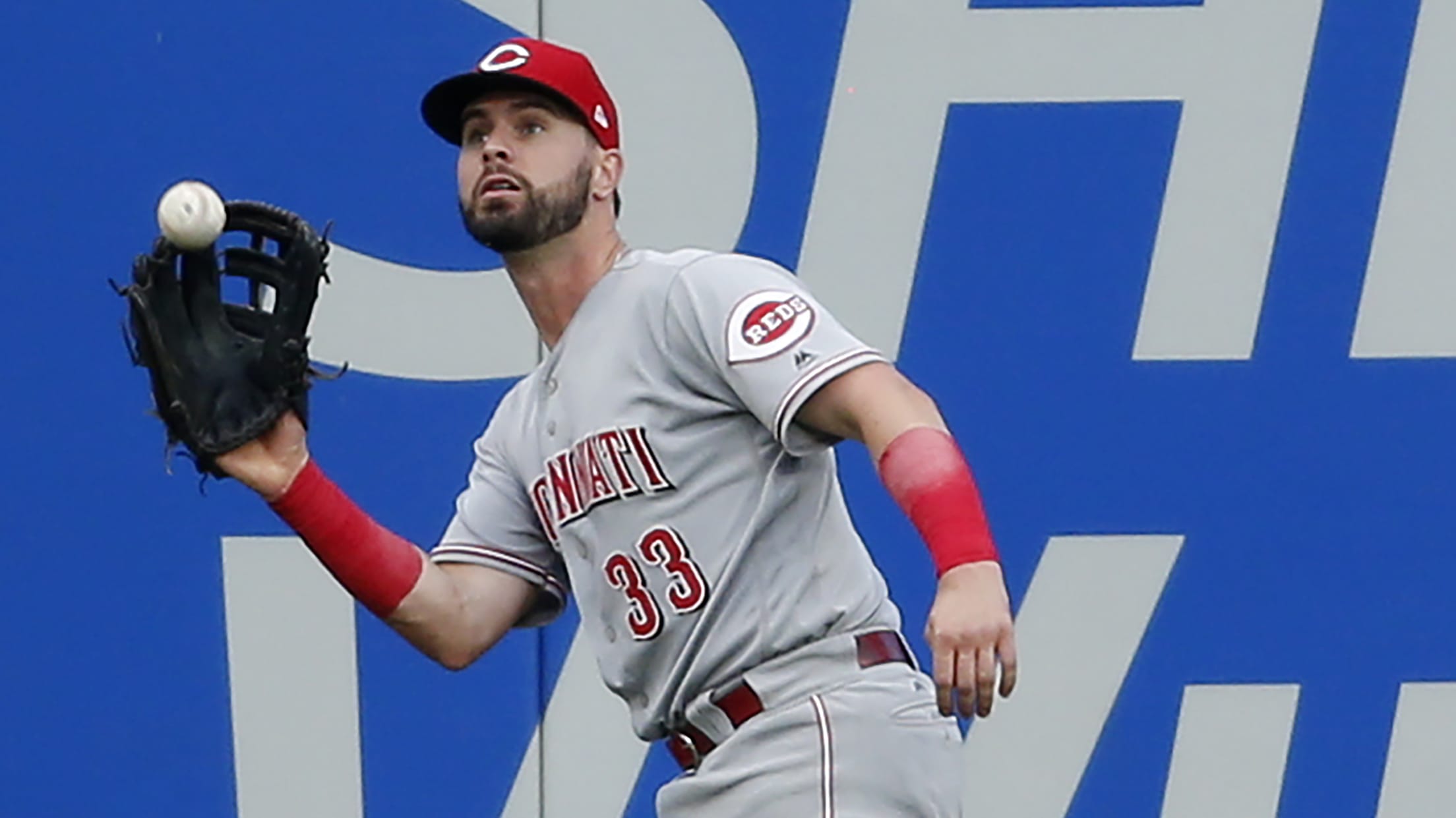 CLEVELAND, OH - JULY 10: Jesse Winker #33 of the Cincinnati Reds makes a catch to get out Tyler Naquin #30 of the Cleveland Indians during the fourth inning at Progressive Field on July 10, 2018 in Cleveland, Ohio. The Reds defeated the Indians 7-4. (Photo by Ron Schwane/Getty Images) (Ron Schwane/Getty Images)
CINCINNATI -- Spring Training 2019 is still months away, but injured Reds outfielder Jesse Winker will already be firmly entrenched at the club's player development complex in Goodyear, Ariz. As soon as the season ends, Winker will skip going home to Florida and will return to Arizona to continue rehab
CINCINNATI -- Spring Training 2019 is still months away, but injured Reds outfielder Jesse Winker will already be firmly entrenched at the club's player development complex in Goodyear, Ariz. As soon as the season ends, Winker will skip going home to Florida and will return to Arizona to continue rehab for his surgically-repaired right shoulder.
"I just think Arizona is going to be the right spot for me," Winker said on Friday. "I'll be working with our guys there. I just want to take this offseason to get my shoulder healthy. As much as I like being around my family and being in Orlando, Florida, I think this is my most important offseason yet. It's getting my shoulder right and going into next season fully healthy. It's something I look forward to being, completely healthy."
Winker went on the disabled list July 26 and had season-ending surgery shortly thereafter to fix a subluxation, which is a partial dislocation, of his non-throwing right shoulder. Winker had been in Arizona rehabbing for the last several weeks but returned to Cincinnati during the final homestand.
So far, everything is going well. He is currently doing shoulder and back strength exercises and will not be cleared to begin hitting until Jan. 1.
"I'm going to be ready for Opening Day," Winker said.
In 89 games this season, Winker hit .299/.405/.431 with seven home runs and 43 RBIs. He hit .362 with an .836 OPS after June 1, however, until he aggravated the shoulder injury when falling down as he dodged a line drive while running the bases.
Winker has actually had the shoulder subluxation for several years and felt that he could really reach his potential as a hitter when he's finally 100 percent.
"I'm going to be healthy, it's going to be great to feel that," he said. "I'm kind of looking at this as a blessing in disguise. I'm giving my body plenty of time off, which it hasn't had in a while. Everything should be feeling good going into next year."
Winker played both corner outfield spots as part of Cincinnati's first-half rotation of four players. But next season, the club plans to move right fielder Scott Schebler to left field, and Winker is expected to be the regular right fielder. It's a move that he embraced with enthusiasm.
"I feel great about it," Winker said. "I know I'm a good outfielder and a good right fielder. I'm going to continue to learn our field and the other fields we go to. I look forward to being out there next year. I think that's a great spot for me to be, right field."
Romano to start Sunday
On Friday, Reds interim manager Jim Riggleman named Sal Romano as the club's starting pitcher for Sunday's 2018 season finale.
"Romano has been a starter," Riggleman said. "We won't have him pitch a lot that day, but he'll start the game and see where it takes us. There would be a few other options we could do that with, but Sal seemed to make the most sense."
Romano opened the season in the rotation and was 7-10 with a 5.56 ERA in 24 starts. Each of his first 19 games were as a starter while 14 of his last 19 games have been out of the bullpen. In 14 relief appearances, he has a 3.77 ERA.