Cotton highlights return of A's young arms
Luzardo expected in Minors by end of month; Melvin mixes it up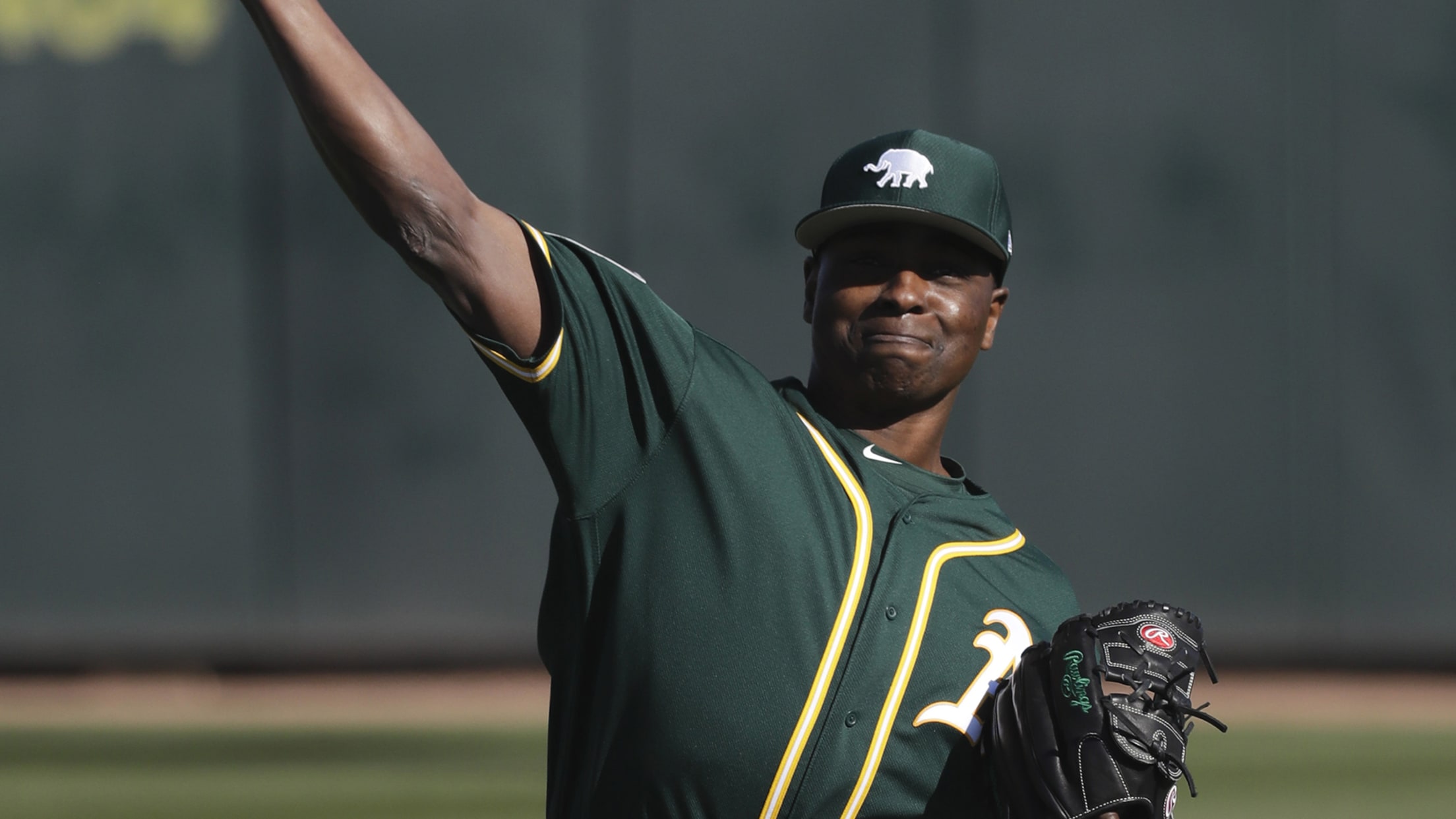 DETROIT -- There's a reason why the A's didn't go out and sign a big-name free-agent starting pitcher in the offseason, despite the predominant thought of a need to do so. They believe their plethora of rehabbing talented young pitchers can stack up with the best in MLB, they just
DETROIT -- There's a reason why the A's didn't go out and sign a big-name free-agent starting pitcher in the offseason, despite the predominant thought of a need to do so. They believe their plethora of rehabbing talented young pitchers can stack up with the best in MLB, they just need to get healthy. That's slowly beginning to happen.
Jharel Cotton will begin a rehab assignment on Friday, taking the mound at Class A Stockton. It will be his first game action since undergoing Tommy John surgery on his right elbow in March 2018.
Cotton, 27, was expected to be a key part of last season's starting rotation and was looking like Oakland's top starter that Spring Training before the injury, posting a 3.75 ERA with a 16-6 strikeout-to-walk ratio through 12 innings.
"It's a long road to get back," manager Bob Melvin said. "But when you end up going on a rehab assignment, it means you're a little bit closer."
The right-hander is expected to throw three innings or 45 pitches on Friday, and he is the first of what the A's hope will be a string of young arms taking big steps in their recovery in the coming weeks.
A.J. Puk, Oakland's No. 2 prospect, per MLB Pipeline, is expected to throw to hitters as soon as he recovers from the Tommy John surgery that was performed on his left elbow in April of 2018, and Jesus Luzardo, its No. 1 prospect, has been throwing from 120 feet as he recovers from a left shoulder strain. Luzardo is expected to begin pitching in Minor League games by the end of the month.
"We know we have some of these guys coming, and that's a good thing," Melvin said. "Some of our young heralded guys that are going to be impactful down the road."
The A's could use a boost in the starting rotation. Entering Thursday's game against the Tigers, Oakland starters are in the bottom half of the Majors with a combined 4.51 ERA.
Switching up the lineup
Looking to spark things up following a three-game losing streak, Melvin moved Matt Olson up to the No. 3 spot in the order for the first time since he returned from the IL last week.
"We're just trying to find our way offensively," Melvin said. "At times it looks like we're there and at times we don't. Just trying to mix it up and find the right mix. This is a guy that is impactful and we're hitting him a little higher in the order today."
The move also allows Matt Chapman to slot back into the No. 2 spot, where he's a career .285 hitter and is batting .280 with five home runs when hitting there this season. It could also help Chapman get going, as he entered the day 4-for-34 over his last eight games. Chapman went 1-for-4 on Thursday against the Tigers, while Olson went 2-for-6 with a solo homer.
"You're going go through some streaks where you don't hit the ball hard," Melvin said. "This is a little one for him. He's been consistent for us all year. Even when he's not swinging it well, he finds his way on base."