Riggleman hopes Reds lift interim tag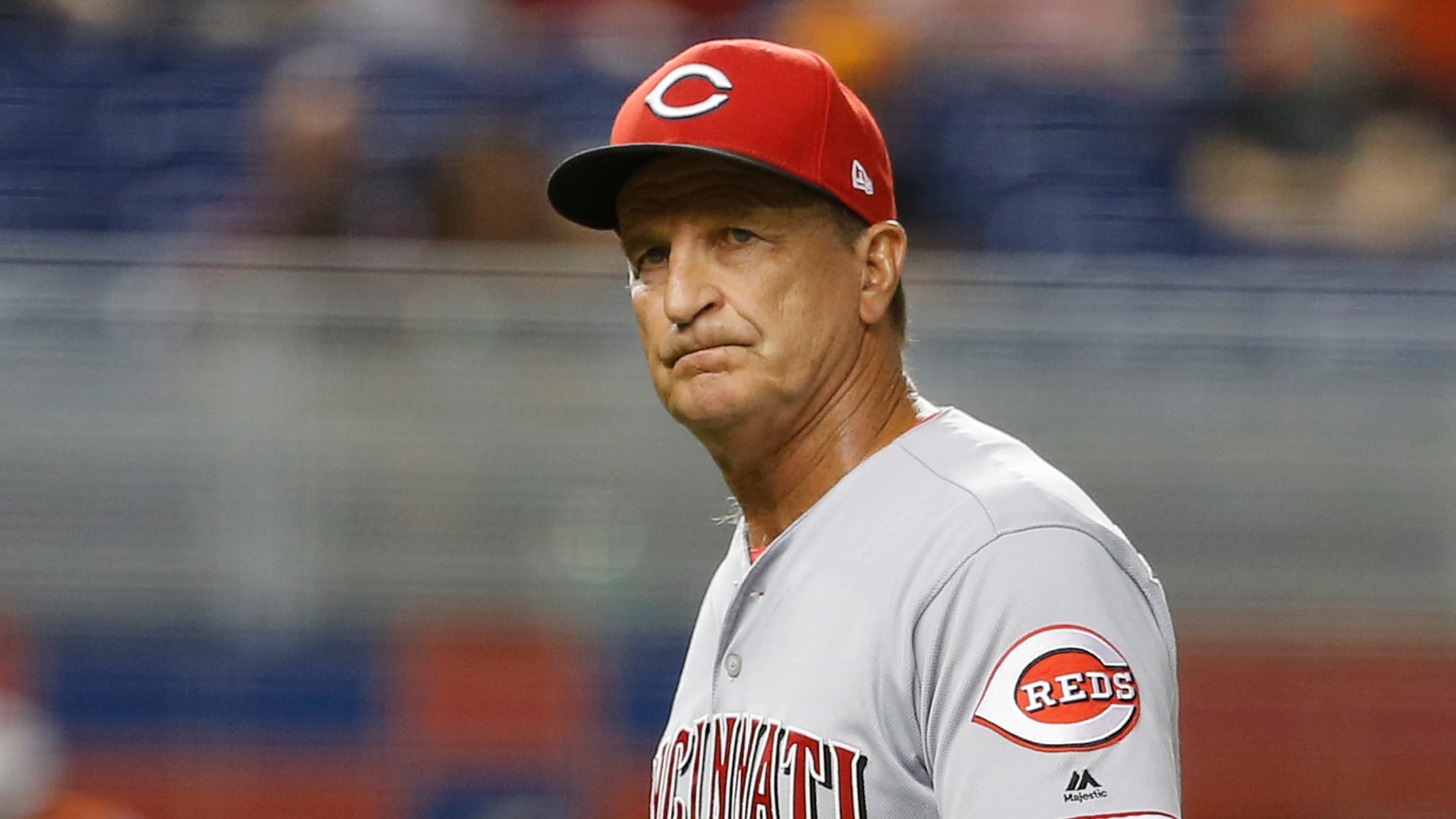 MIAMI -- It is still to be determined whether or not the Reds take the interim tag off of manager Jim Riggleman's title. The baseball veteran certainly hopes they do. Heading into the final road game of the season on Sunday, Cincinnati was 63-75 since Riggleman took over on April
MIAMI -- It is still to be determined whether or not the Reds take the interim tag off of manager Jim Riggleman's title. The baseball veteran certainly hopes they do. Heading into the final road game of the season on Sunday, Cincinnati was 63-75 since Riggleman took over on April 19, after the Reds started the season 3-15.
"I'm really happy to have been able to do this," Riggleman said of his opportunity with the Reds. "I hope I continue to do it. Just really respect whatever decision the ownership comes with, but certainly, I want to continue.
"I would prefer to be here. You can't take it for granted. I have some great friends in baseball who have been in the game for as long as I have who are now out of the game. All these jobs are precious, whether you're managing or coaching, whether you're in the Minor Leagues managing, coaching, roving instructors -- all these jobs you can't take for granted."
Not only that, but being a good fit for whatever job becomes available is key as well.
"There might be someone interested in you to work for them, but the position that you're most qualified for, they have somebody in that position," Riggleman said. "So there might be some opening that you're not qualified for. So it's got to be a match somewhere."
It's a volatile business, to be sure. Riggleman signed as an infielder with the Dodgers organization in 1974, and he spent five seasons in the Cardinals' Minor League system and then managed in the St. Louis organization from 1983-90. Riggleman said he thought he'd be a Cardinal for life. He is in his 45th season in baseball, and 23rd as a manager.
"I thought my whole career would be in St. Louis," said Riggleman. "All of us on that coaching staff in 1990 got let go. They made a managerial change and we were all gone."
Since then, Riggleman has been with 10 different organizations, including managerial stints with the Padres (1992-94), Cubs (1995-99), Seattle Mariners (2008), and Washington Nationals (2009-11).
"Some of those years, I was scrambling to get a job," said Riggleman, who compiled a record of 662-824, including an 0-3 postseason record with the Cubs, prior to taking over this season with the Reds. "Some of those years, I had my choice of jobs. You don't know which way it's going to fall."
Riggleman complimented the job Marlins manager Don Mattingly has done with the rebuilding project currently going on in Miami.
"I think Don does a great job," Riggleman said. "He's one of the guys I respect most in the game. Just comments I've heard him make and the way he runs the game and all that, to me, they've got a great manager there."
Riggleman said that when he left Washington in 2011, he thought he'd probably never manage again.
"It wasn't like I walked in one day and said, 'I'm done.' I thought about that for quite a while and realized the consequences, what they could be, which could be that I might not manage again in the Major Leagues, or work for anybody," he said. "I did not want that to be my last experience, and seven years later, I am managing again."
** Glenn Sattell ** is a contributor to MLB.com based in Miami.