Riggleman to interview for skipper job Monday
Interim manager believes Cincinnati is 'part of the family'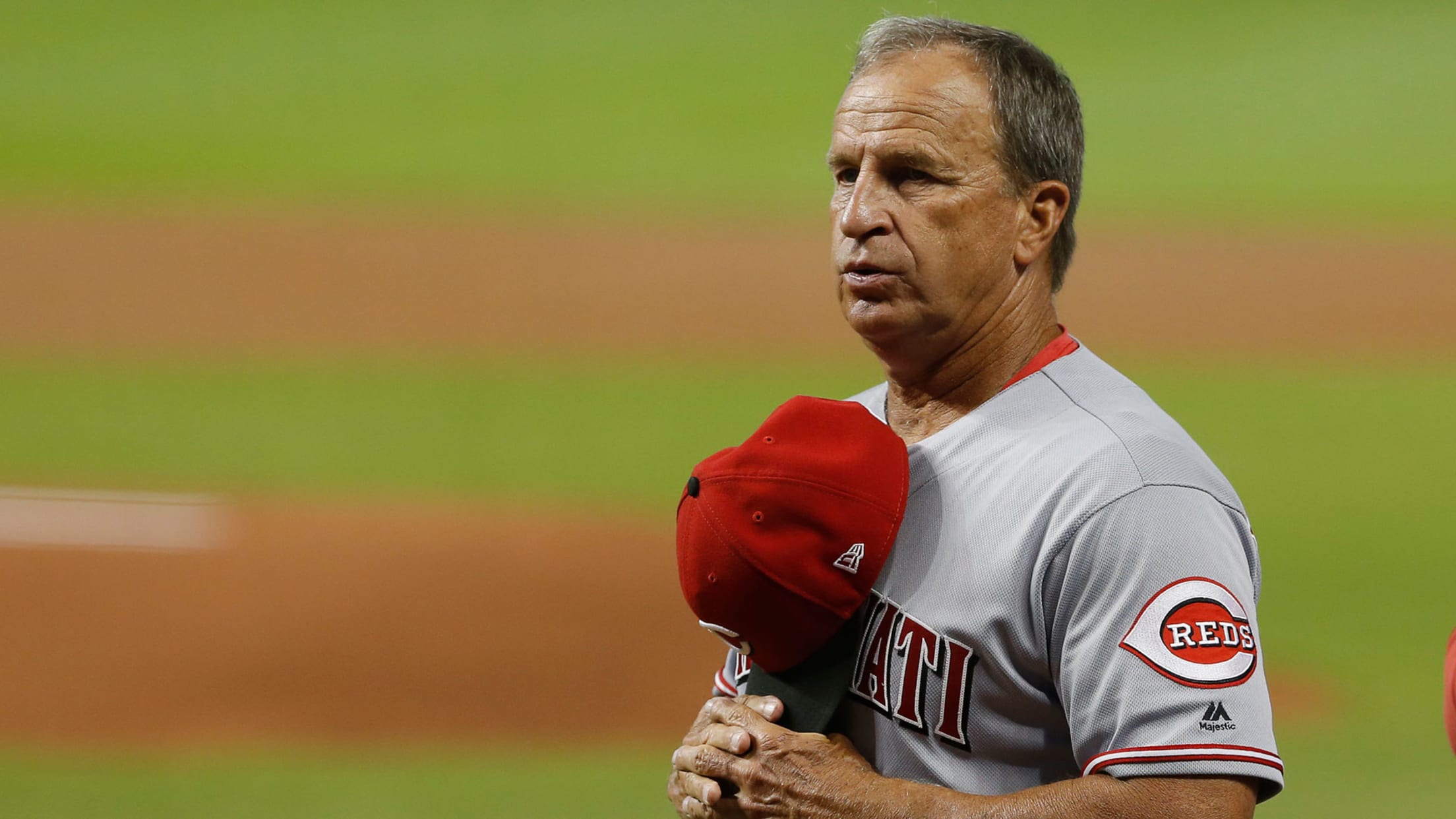 CINCINNATI -- Jim Riggleman didn't know whether Sunday's Game 162 of the season would be his last one as Reds interim manager. What Riggleman did know was that he will interview for the permanent job on Monday and make his best case.The Reds moved Riggleman from bench coach to interim
CINCINNATI -- Jim Riggleman didn't know whether Sunday's Game 162 of the season would be his last one as Reds interim manager. What Riggleman did know was that he will interview for the permanent job on Monday and make his best case.
The Reds moved Riggleman from bench coach to interim manager on April 19 to replace Bryan Price following the club's 3-15 record to start 2018.
"I think I came into this feeling like it's been an honor to be asked to do this job," Riggleman said. "I came into it with some negative feelings because Bryan Price, my good friend, was walking out the door as I was walking in. ... There was a sadness there with the circumstances. But your passion moves on to the next phase and that's OK, you're managing these ballgames and that's what I love to do.
"So, if I get to continue to do it, that's the best-case scenario. If I don't, I will just stay with my initial feelings, which is, I will respect the decision the Reds come up with."
Besides Riggleman, scouts and former Red Sox manager John Farrell are internal candidates along with coaches Billy Hatcher, Pat Kelly and Freddie Benavides. The external candidates have not been revealed. President of baseball operations Dick Williams expected the process to be completed by the end of October.
While making it clear he wants the job, Riggleman also hoped he could remain with the organization should he not get it.
"I've been in the organization now seven years and I'm extremely familiar with our player development system and our current Major League roster and coaches," Riggleman said. "I guess my point of putting it that way is I love to manage. When you're somewhere for seven years, you feel also that you're a part of that family. This will certainly be my priority. If I wasn't managing here, I'm not that person who says, 'I'm done.' I still would be open to anything."
The Reds were 45-45 through Riggleman's first 90 games on the job but began sliding in August. However, he showed a strong attention to detail, made aggressive decisions in attempts to win games and tried to squeeze as much as he could from a struggling rotation.
"The first few months I was on the job, things were going OK, not great. But going in a direction where we were starting to get over the hump and turn the corner a little bit," Riggleman said. "I think there was a lot of encouragement that has been deflated somewhat with the way we performed basically since somewhere in August. And that falls on the manager. When the team doesn't win games, that falls on the manager. That's just the nature of it."
Riggleman managed the Padres, Cubs, Mariners and Nationals before the Reds. He resigned from Washington amid a contract dispute during the 2011 season and joined the Reds organization in '12. First he managed at Double-A Pensacola and spent the 2013-14 seasons managing at Triple-A Louisville, and then became the big league third-base coach in '15.
Now 65, Riggleman believes he has evolved as a manager and embraces the analytic side of the game.
"It's a continuing learning process," he said. "And I like it. I'm as old-school caveman as much as anybody in the game, you know? But the greatest teacher in baseball by most people's account, I was able to work under George Kissell [with the Cardinals] and George at 82 years old, the phrase would come out of his mouth quite often, 'I learned something today.' Tony La Russa would do something in camp or he'd hear somebody say something and he'd say, 'I learned something today.' Which was an exclamation point to me on the fact that he was still learning. The analytics that I've been able to talk with [assistant general manager] Sam Grossman, Nick [Krall, the GM] and Dick and how we manage the ballgame, we factor that in to how we run the ballgame now. That's been a progression for me."