Thome: Sox taking similar path as 1990s Indians
With perspective, positivity, special assistant a valuable resource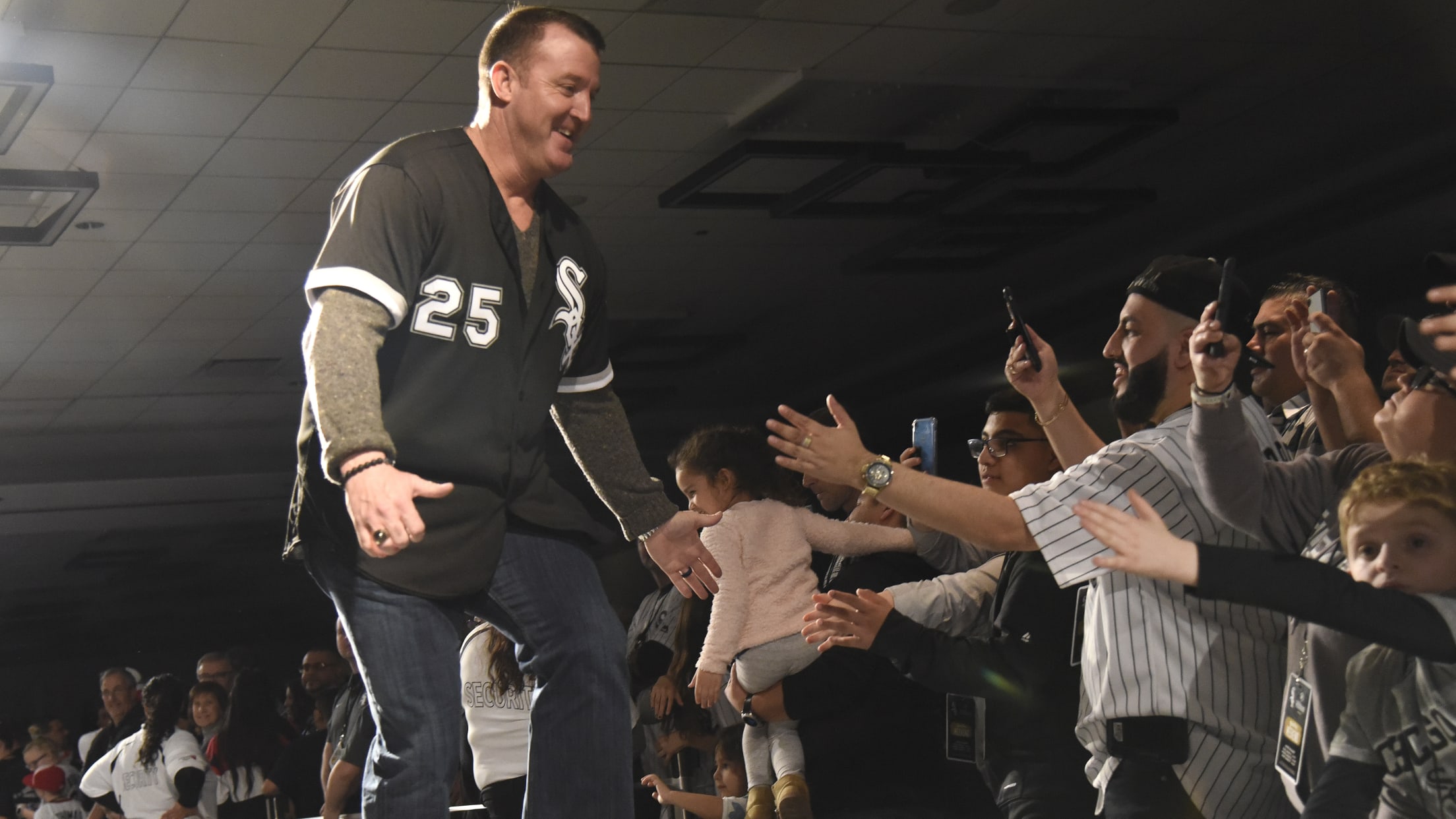 GLENDALE, Ariz. -- Remember the Cleveland Indians of the 1990s? White Sox fans have tried to forget that group posting six American League Central titles in seven years from 1995-2001. But Manny Ramirez, Jim Thome, Albert Belle, Carlos Baerga, Sandy Alomar Jr., Kenny Lofton and Bartolo Colon didn't simply arrive
GLENDALE, Ariz. -- Remember the Cleveland Indians of the 1990s?
White Sox fans have tried to forget that group posting six American League Central titles in seven years from 1995-2001. But Manny Ramirez, Jim Thome, Albert Belle, Carlos Baerga, Sandy Alomar Jr., Kenny Lofton and Bartolo Colon didn't simply arrive in Ohio as finished products.
Just ask Thome, now the special assistant to White Sox general manager Rick Hahn and an integral part in all six of those division crowns. He sees similarities between his current organization's rebuild and the emergence of those powerhouse Cleveland squads.
"I'm not one to say, 'Oh, you are like this or like this team,'" Thome told MLB.com during an interview Monday. "But, ultimately, we started from the ground up, too, and emerged as a pretty good team in the 90s, offensively.
"This has that path. It's fun. I know our fans are excited. Living in Chicago year-round, you get a feel for people [being] truly excited for where we are headed."
While Thome stays away from comparisons such as outfielder Eloy Jimenez -- the No. 3 prospect overall per MLB Pipeline -- to Ramirez or second baseman Nick Madrigal, the No. 47 prospect overall, to Baerga, he has nothing but high praise for the group of White Sox prospects. In his sixth year as part of the front office, the Hall of Famer can be seen watching batting practice on the back fields at Camelback Ranch and in the box with Hahn and executive vice president Ken Williams, among others, at games.
During the regular season, Thome often is at Guaranteed Rate Field, but he also makes numerous trips to see the affiliates. He frequently employs a specific, positive focus.
"The thing that I try to do during the game is pick out things that somebody does good, and then approach them the next day and lift them up," Thome said. "At the end of the day, baseball is a failure sport.
"It's tough. It's a roller-coaster ride, and when you show you are engaged and you are in it, I hope it makes them feel good, because we do care, and we want them to do well. We want to bring a championship here for [White Sox chairman] Jerry [Reinsdorf].
"When you come here and you see the build and things we are doing to try to get better, and to have a little bit of input and maybe give somebody something they can take away, you know that's what it's about. That's the reward at the end of the day."
Thome's presence is highly valued by the White Sox, so much so he was a part of the free-agent meetings with Bryce Harper in Las Vegas and Manny Machado in Chicago. Thome called that opportunity an honor, adding both meetings were great and both players pursued were great as well.
"Ultimately it's their decision," Thome said. "But I really feel like it's more sometimes, it's about the family decision, what your wife thinks, what your mom and dad think, not to get into either of those players' heads where they went. They made their decision, but I feel like we were right in it.
"We should be very proud at what we did and where we went and the path we took, which is exciting to now look forward to watching them all grow. We can watch them develop and then figure out, 'OK, where do we go from here?'"
Having Thome's input will only help that process toward a championship target.
"Jim Thome is one of the most unique Hall of Famers that I've ever met," White Sox director of player development Chris Getz said. "He's got a passion to teach, to help.
"He was a good teammate as a player, and now he's a tremendous teammate as a teacher as well. Just having his presence in a room, it kind of warms the room up, and then on top of the information and the education, the way he shares information is second to none."