Adell's 2nd Turkey Drive a hit back home
Halos' top prospect delivers turkeys, stuffing, canned goods to 250 Louisville families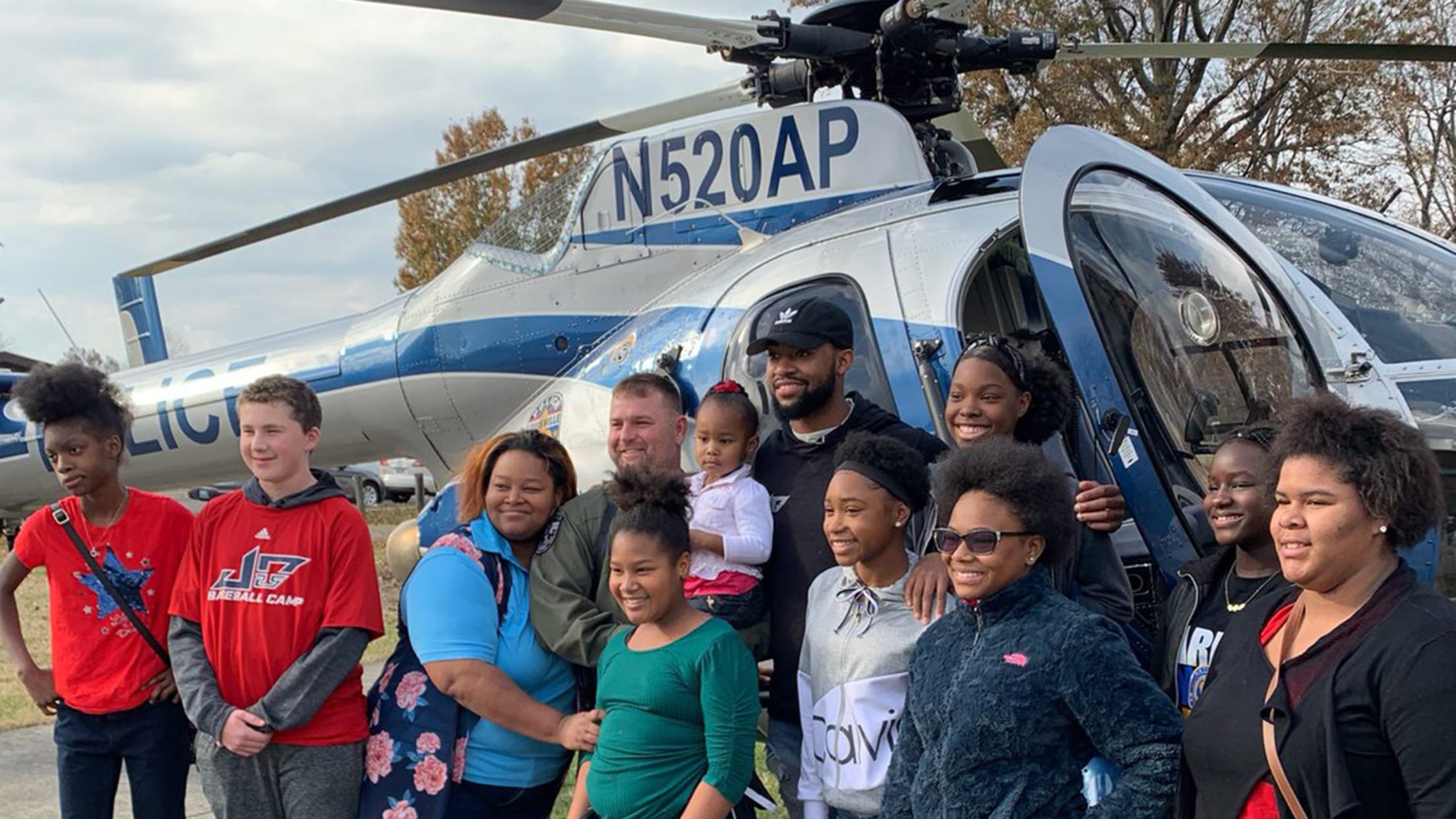 Jo Adell grew up watching his mom, Nicole, dedicate herself to her students and advocate for their well-being as the principal of Newberg Middle School in his hometown of Louisville, Ky. That same drive to give back has now embedded itself in Adell, who is finding his own ways to
Jo Adell grew up watching his mom, Nicole, dedicate herself to her students and advocate for their well-being as the principal of Newberg Middle School in his hometown of Louisville, Ky. That same drive to give back has now embedded itself in Adell, who is finding his own ways to foster connections and support his local community this offseason.
Adell, ranked the No. 15 prospect in baseball and the Angels' top prospect by MLB Pipeline, spent this past weekend distributing turkeys, stuffing and canned goods to 250 pre-selected Louisville families as part of his second annual Jo Adell Turkey Drive. Adell partnered with the Louisville Metro Police Department to personally deliver meals to five families on Friday before staging the main event at Newberg Middle School on Sunday.
The Jo Adell Turkey Drive was a HUGE success! It means so much to see the Louisville community come together as one! Big thanks to the @LMPD for partnering with me to turn this into an interactive event and @Newburg_JCPS for opening your doors to make this happen! #CommunityFirst pic.twitter.com/rgBZxKpvCf

— Jo Adell (@joadell25) November 19, 2018
Adell, 19, said the Turkey Drive was particularly meaningful because it gave him an opportunity to help the families of kids he knows from his mom's school and ensure they'll have a proper Thanksgiving dinner on Thursday.
"I'm close with a lot of the kids there because [my mom] spends a lot of time there," Adell said in a phone interview. "I drop by every now and then and work with some of the kids as far as baseball goes during the weekend, but I never really got to touch the families. I never really got to understand the kids' stories and where they come from, and that whole community around the middle school.
"I wanted to do that. I wanted to understand more about the kids and do that sort of thing. When this Turkey Drive idea came about last year, it was really important for me to reach some of these families. It's just a really small gesture by me to just go out there and do this kind of thing and really help people to have the same experience that I'm going to have on Thanksgiving."
Adell's charitable endeavors aren't limited to the holiday season, as he also held the second annual Jo Adell Baseball Camp at his alma mater, Ballard High School, last month. Enlisting the help of Reds prospect Hunter Greene, Adell hosted local youth baseball players during the two-day clinic and offered instruction in all aspects of the game.

"I definitely think it comes from my mom," said Adell, of his community-minded efforts. "My mom has been in education for over 20 years. She's always dedicated most of her day to kids, trying to get them to learn and understand and improve and be successful. Being around that growing up, it's pretty clear to me that part of my mission is to come back and really do what I can do to help those kids, just like she does."
In addition to his work off the field, Adell has continued to impress with his rapid ascent through the Angels' farm system. Since being drafted with the 10th overall pick in 2017, Adell has emerged as one of the most dynamic prospects in baseball, further validating his talent by reaching Double-A Mobile as a teenager this past season. He finished his '18 campaign with a .290 batting average, an .897 OPS, 20 home runs, 77 RBIs and 15 stolen bases in 99 games across three Minor League levels.
"I tried to correct something in every game," Adell said. "That was my goal, to try to correct something in every game and not give up any at-bats. I felt like for the most part of the year, I did that. Before I knew it, I was in Double-A, from when I was in Low-A to start the year. It was awesome. Everybody in our organization was supportive of me and really helped me figure it out. I was never in a situation when I felt like I was going to be completely dominant every time. I was put to the test. Once I got comfortable, I was moving. That's what our GM, Billy Eppler, is all about, challenging the player. Letting us know that he's going to make it hard on us so we can get better. So that's really the big thing out of this year."
Adell's performance has undoubtedly helped accelerate his timetable, leading many Angels fans to daydream about an outfield that features the young phenom playing alongside superstar Michael Trout.
"That would be unbelievable," Adell said. "You're talking about one of the greatest players to ever play. To be able to have the opportunity to maybe play alongside him is pretty unbelievable."