Son advises Joba on important decisions
Indians reliever likes seeing problems from younger perspective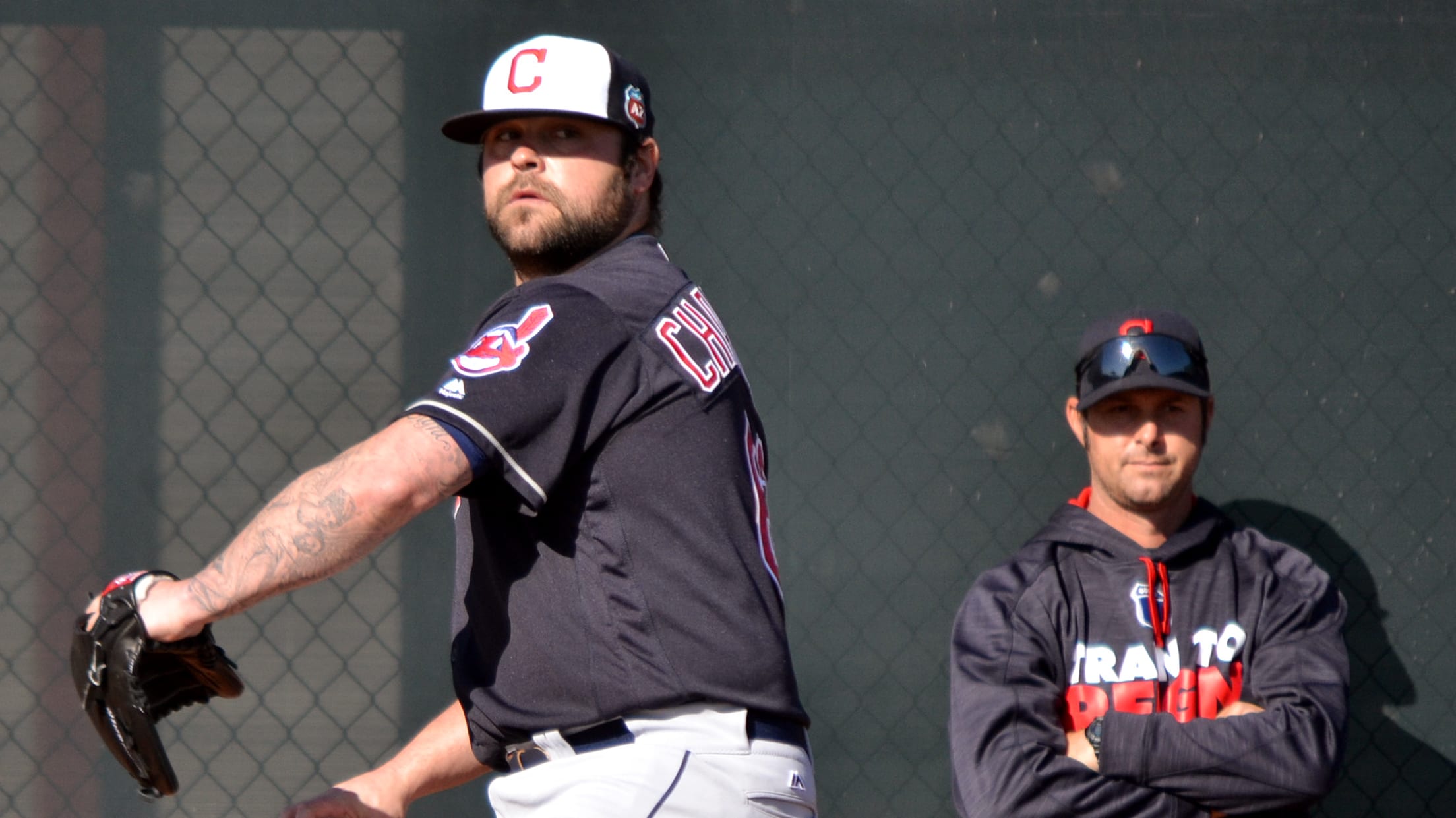 "Every time I sign somewhere, [my son] is the first person I talk to," Joba Chamberlain said. (MLB.com)
GOODYEAR, Ariz. -- The beard is not entirely gone, it just is not as pronounced as it was during Joba Chamberlain's past two seasons in Detroit. After coming up through the Yankees' clean-shaven system, the reliever jumped at the chance to embrace his facial freedom.Now with Cleveland, Chamberlain is not
GOODYEAR, Ariz. -- The beard is not entirely gone, it just is not as pronounced as it was during Joba Chamberlain's past two seasons in Detroit. After coming up through the Yankees' clean-shaven system, the reliever jumped at the chance to embrace his facial freedom.
Now with Cleveland, Chamberlain is not sure he will be bringing the full beard back.
"My son wasn't a huge fan," Chamberlain said with a smile on Sunday afternoon. "He probably is not going to say, 'That's a good idea, Dad.'"

Truth be told, Chamberlain leans on his son, Karter, when making many decisions.
When the Indians offered Chamberlain an opportunity to come to Spring Training as a non-roster invitee, giving him a shot at cracking the Opening Day bullpen, Chamberlain consulted a few people. He talked to his old friend Jason Giambi, who played for Cleveland in 2013-14. He spoke with Tribe manager Terry Francona, whose teams have squared off against Chamberlain many times over the years.
Most importantly, Chamberlain asked what Karter, 9, thought of the possibility of going to the Indians.
"Every time I sign somewhere, he is the first person I talk to," Chamberlain said. "He gives me the most unbiased talk I will ever have in my life, because he thinks about things I don't think about. He thinks about flights. He thinks about, 'Hey, Dad, when I come see you, how's the travel? Is there a direct flight?' It's just things you don't think about.
"With him, it's the [most real] conversation I'll have. My agent is going to say one thing. My parents are going to say another thing. The organization is going to say one thing. At the same time, this is the only thing he's ever known his entire life. He knows the grind, he knows what it takes when he comes to see his dad, and it's something that I value and I treasure."
Indians fans remember Chamberlain most for his role in Game 2 of the 2007 American League Division Series against the Yankees. During that postseason tilt -- known as the "Bug Game" -- Chamberlain blew a save in the eighth inning in Cleveland, while trying to pitch with a swarm of bugs swirling around him.
Chamberlain said his son is very familiar with that famous game.
"He's seen it. Obviously, his buddies watch it," Chamberlain said. "He's just like, 'Dad I hope that doesn't happen again.' And I was like, 'Dude that makes two of us.'"
Before Chamberlain signed with the Tigers for the 2014 season, Karter talked things over with Victor Martinez's son. Chamberlain's son did not chat with anyone from the Indians this time, but he did ask his dad a few questions about the team.
"The first person he asked about, he goes, 'Dad, is [Michael] Brantley cool?'" Chamberlain said wiith a laugh. "And I was like, 'No, he's terrible.' No, I was like, 'Yes, he's awesome.' [Karter's] excited about getting here and seeing some guys. He'll be here in a couple weeks."
In a couple of weeks, Cleveland will have started its Cactus League slate and the 30-year-old Chamberlain will be in the thick of the club's bullpen competition.
Chamberlain is in camp as a non-roster invitee -- along with fellow veterans Ross Detwiler, Tom Gorzelanny and Joe Thatcher -- but he has a realistic shot at making the 25-man roster. Over the past few years under Francona, the Indians have not shied away from picking a non-roster player or two for their Opening Day team, and it looks like the same will hold true this spring.
Francona: "There's going to be some non-roster guys who make our team." Expect Joba Chamberlain to get a close look. pic.twitter.com/07vYsglgV8

— Jordan Bastian (@MLBastian) February 21, 2016
"He's been in the thick of it, in the fire, innings of leverage," Francona said. "I know he's worked very hard to put himself in a position where he can help the ballclub. He's pretty excited to be here. We're excited. We're excited about a lot of guys. We're pretty realistic and pretty honest with the players, and I hope ourselves. There's going to be some non-roster guys who make our team. It's been that way every year."
A year ago, Chamberlain split his time between the Tigers, Blue Jays and Royals organizations, appearing in the Majors with Detroit and Kansas City. In 36 games, the right-hander struck out 23 batters in 27 2/3 innings, posting a 4.88 ERA and an 18 percent strikeout percentage (lowest of his career). Chamberlain still averaged 93.8 mph on his fastball, though, and his offspeed pitches were at his usual career levels for pitch speed.
Chamberlain wasted little time in deciding to sign with Cleveland, doing so on Dec. 1 and quickly heading to the team's Spring Training complex. Working with the staff in Arizona, Chamberlain identified a delivery flaw with his hands and is working on an adjustment to correct the issue.
"[I'm] in a great spot, not only physically and mentally," Chamberlain said, "but in a great spot with a great ballclub and a great organization. You can't ask for anything better."
Chamberlain has Karter to thank.
"He's kind of the pants in the family," Chamberlain said. "So, whatever he says kind of goes. He makes the decisions and I incorporate my son in every decision I make."