Biagini, Toro return to familiar Toronto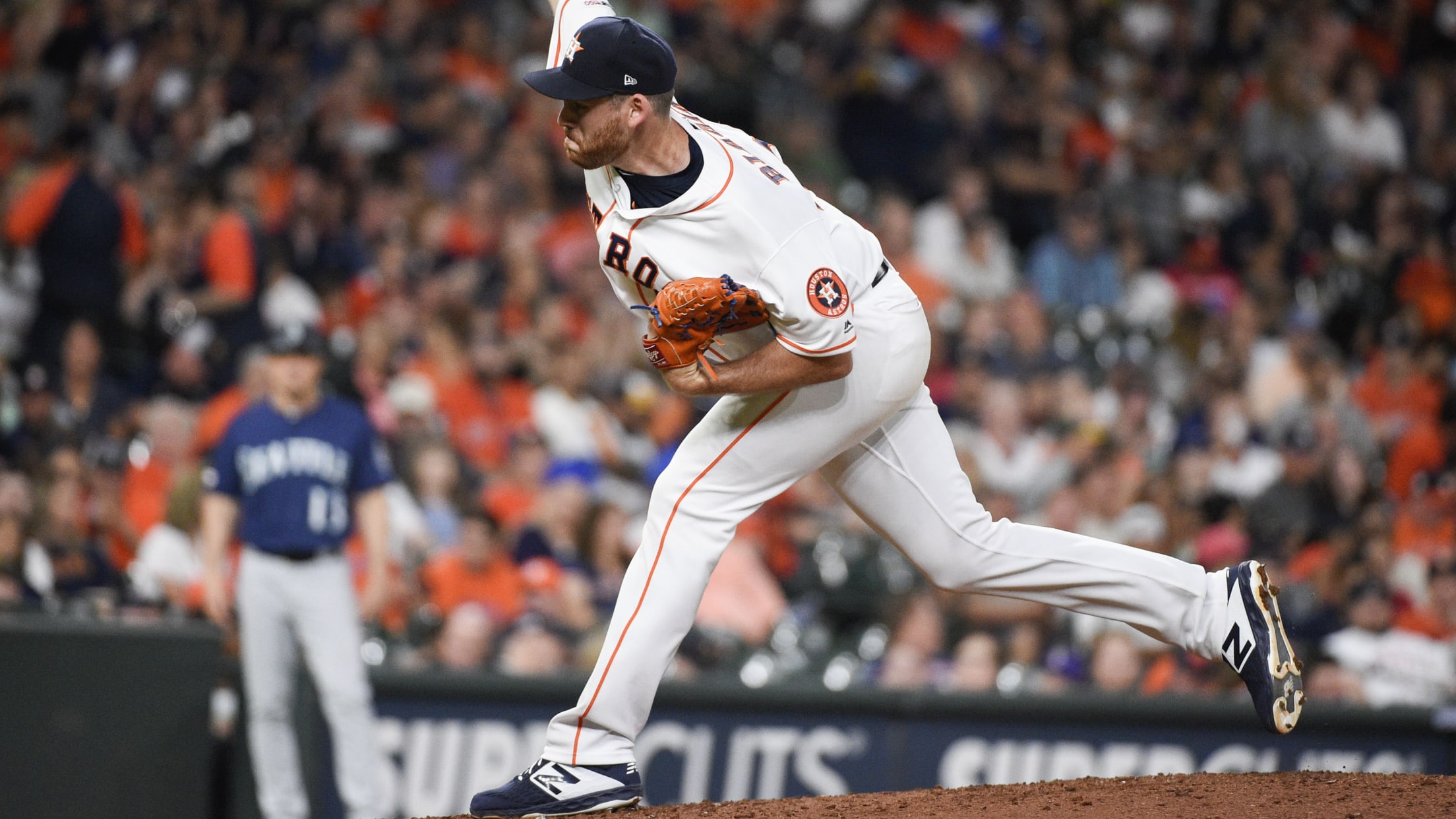 TORONTO -- For a number of Astros, opening up a three-game series against the Blue Jays at Rogers Centre on Friday is a homecoming of sorts. After Houston welcomed Aaron Sanchez, Joe Biagini and Minor Leaguer Cal Stevenson to the organization at the Trade Deadline -- sending outfielder Derek Fisher
TORONTO -- For a number of Astros, opening up a three-game series against the Blue Jays at Rogers Centre on Friday is a homecoming of sorts.
After Houston welcomed Aaron Sanchez, Joe Biagini and Minor Leaguer Cal Stevenson to the organization at the Trade Deadline -- sending outfielder Derek Fisher to Toronto in return -- Friday's series-opening contest marked Biagini's return to his home away from home after three-and-a-half seasons in a Blue Jays uniform.
"I was talking to my dad last night, as you do as a loyal son, and I was telling him about how it felt more significant than I thought it was going to coming back here," Biagini said. "It almost felt familiar -- a bit of a familiar feeling, as you can imagine. It felt kind of like a returning-home feeling a little bit, which I was kind of surprised that I felt that. You can take Joe out of Canada, or, well, you can just take Joe out of Canada."
Between big league stints with the Astros, Biagini was optioned to Triple-A Round Rock, where he made two appearances out of the Express bullpen. Looking to find some consistency with Houston, the righty is excited about embracing his new organization while understanding its differences and adjusting to them.
"I'm excited about it because I know the system they have here is really good," Biagini said. "But I was pretty happy with the system in Toronto as well. It's a different philosophy, and I see the merits of this and I see the success they've had with it. There's no denying that. I'm buying in and I'm making these adjustments and I'm trying to kind of assimilate into that way of throwing."
In 204 career games with the Blue Jays, the 29-year-old right-hander posted a 4.74 ERA over 309 1/3 innings with 102 walks and 262 strikeouts. In his six outings with the Astros, Biagini has allowed five runs on 14 hits over 8 2/3 frames, with five walks and six strikeouts, admitting the transition has taken some getting used to.
"I'm just learning what I can do within this framework that they have," Biagini said. "That is part of the experience. You want to be confident, you want to go into the games expecting to do well and expecting to contribute. But you also don't want to be too hard on yourself when you understand there are things that are coming along with it. That's a very vague way of saying that I think that it's been OK but I feel like it could be better."
Biagini showed the best stuff he's had in an Astros uniform against his former team in Friday's 7-4 win. He threw two scoreless innings of relief on a day when his team relied on the relief corps for 5 1/3 innings, allowing just one hit and striking out one.
"He just needed this mound," Houston manager AJ Hinch said. "He needed to be back home again. He was really good, and he picked us up when we needed it. … I know anytime you play your ex-teammates and an organization that he had been in for a long time, he was going to have a little extra adrenaline, a little extra life to his pitches. He wanted to throw well in front of his ex-teammates, and he did."
Toro in Toronto
The last time Abraham Toro stepped foot onto the field at Rogers Centre, the infielder was a teenager suiting up as a representative of his home province of Quebec at Tournament 12. The now-22-year-old was one of the event's first participants in what the Blue Jays have turned into the largest amateur showcase for Canadian players.
"It was amazing," said Toro, who hit his first Major League home run on Thursday. "At the time, it was like you get a chance to play where the big leaguers play. I had never been to a stadium that big at the time, so it was an unreal feeling."
At Tournament 12, the Longueuil, Quebec native matched up against now-fellow big leaguers Mike Soroka and Josh Naylor -- representing Alberta and Ontario then, and the Braves and Padres now, respectively -- and believes it was a huge factor in garnering some exposure north of the border.
"We had some pretty good players at the time," Toro said. "[The event was] huge because, especially in Montreal, we don't have a lot of exposure to Major League scouts. So coming to a tournament like this, where the whole country's best players can showcase their talents, is pretty awesome."
Despite being a five-and-a-half-hour drive away from home, returning to Toronto to take on the Blue Jays for three days offered a familiar feeling to Toro.
"It feels a little bit like home," he said. "Everybody in Montreal, they root for the Blue Jays because they're the only team in the country. So I would say [it feels like home], a little bit."
Fond memories for Marisnick
Before being traded to the Marlins in 2012 and ultimately joining the Astros in '14, Jake Marisnick began his professional career in the Blue Jays organization, where he spent three Minor League seasons after being selected in the third round of the 2009 Draft by Toronto.
"They're the team that drafted me, and I had nothing but good memories here," the 28-year-old outfielder said. "I played with a lot of these guys on the other side. I made some friendships that I still have to this day, so it definitely holds a special place in my heart."