DiMaggio makes a splash in win, ties Yanks' mark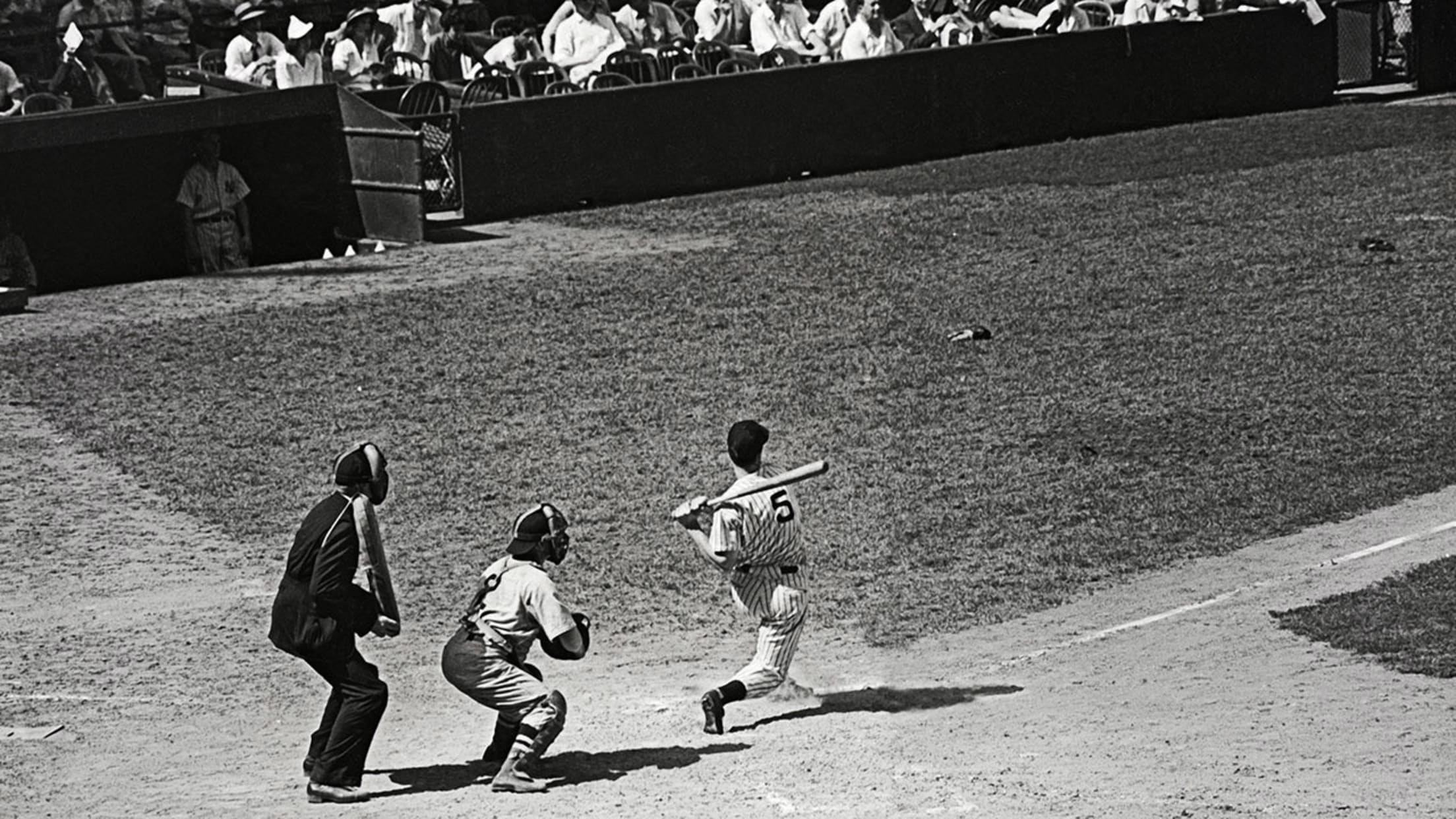 (Bettmann)
NEW YORK, June 16, 1941 -- Roger Peckinpaugh and Earle Combs were there to see it happen. And it wasn't just a dramatic Yankees victory that they witnessed.The men who shared the record for the longest hitting streak in New York club history were joined on Monday in that club
NEW YORK, June 16, 1941 -- Roger Peckinpaugh and Earle Combs were there to see it happen. And it wasn't just a dramatic Yankees victory that they witnessed.
The men who shared the record for the longest hitting streak in New York club history were joined on Monday in that club by the great Joe DiMaggio. They also happened to be on hand at a rain-soaked Yankee Stadium to watch a stirring 6 to 4 comeback victory by the Yankees that made the race for the American League lead all the more intriguing.
• Joe DiMaggio's run to 56: Rewriting the record
Only 12,552 souls braved the elements on the weekday afternoon and waited out a rain delay of over an hour in the fifth inning, but the ones who were remaining when DiMaggio doubled off Al Milner in the bottom of that frame saw a bit of history. And then, when the Yankees rallied for three runs in the bottom of the eighth to take a lead they wouldn't relinquish, they got the ultimate payoff they wanted.
DiMaggio went into the game with aa 28-game hitting streak and needed only one more to tie the club mark set by Peckingpaugh in 1919 and Combs in 1931. Peckinpaugh, the Indians manager, and Combs, the Yanks' first-base coach, watched as DiMaggio achieved equality with both men with the double in a 1-for-5 performance.
Now DiMaggio sets his sights firmly on Tuesday's game, when he can have the Yankees' mark all to himself, and on George Sisler, the AL record holder who accomplished a 41-game hitting streak for the St. Louis Browns in 1922.
• Follow @TheStreak
But while the crowd pepped up in acknowledgement of DiMaggio's feat, the Yanks needed to score, having fallen behind by a score of 4-3 on a run-scoring single by Soup Campbell in the top of the seventh.
With the field still soaked, the Yankees rewarded the faithful with their eighth-inning histrionics.
Joe Gordon started it with a one-out single, and after Charlie Keller forced Gordon out at second on a fielder's choice, Phil Rizzuto walked, Red Ruffing reached on an error and Bill Dickey singled in two runs to take a 5-4 lead. After yet another error by Indians second baseman Ray Mack, pinch-runner Jerry Priddy scored the Yanks' sixth and final run.
The victory was the Yankees' eighth in a row and has them only a game behind Cleveland as they continue to excel through the early stages of June.
More history could be in the offing Tuesday, when they start a three-game series at home against the White Sox.

On May 15, 1941, Joe DiMaggio began his legendary 56-game hitting streak. In celebration of the 75th anniversary of that seemingly unbreakable record, we'll be doing a day-by-day account of the momentous feat.