Maddon, Cubs set to shave heads for charity
Davis, Johnson among players who may shed locks during 'Respect Bald' event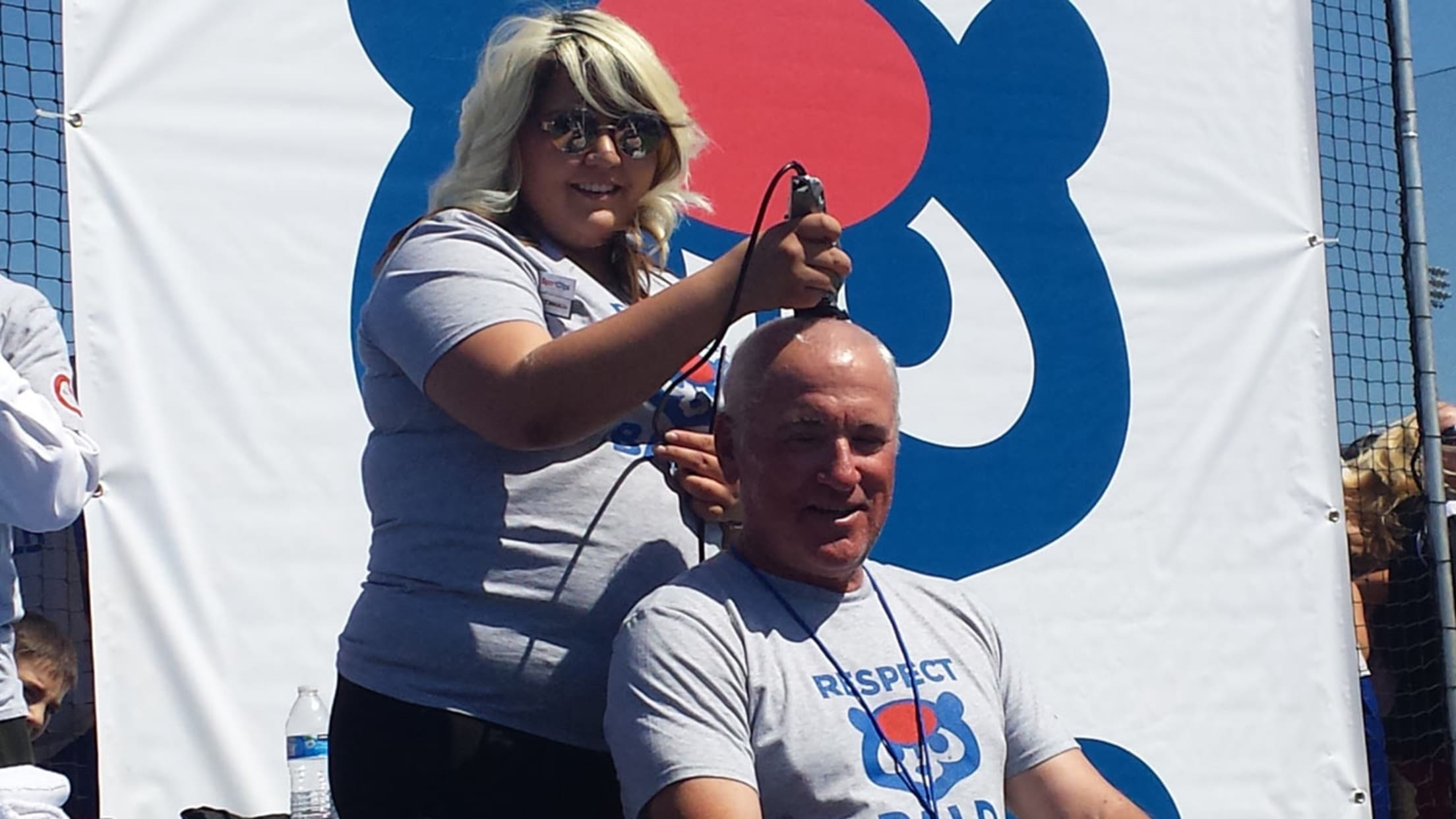 Joe Maddon gets his head shaved during last year's event. (Chicago Cubs)
MESA, Ariz. -- Cubs prospects Taylor Davis and Pierce Johnson both have long blonde hair that reaches their shoulders. And both may get their hair cut on Saturday to help raise awareness for pediatric cancer research.Manager Joe Maddon will host his third "Respect Bald" event prior to the Cubs' game
MESA, Ariz. -- Cubs prospects Taylor Davis and Pierce Johnson both have long blonde hair that reaches their shoulders. And both may get their hair cut on Saturday to help raise awareness for pediatric cancer research.
Manager Joe Maddon will host his third "Respect Bald" event prior to the Cubs' game against the Dodgers on Saturday. A select number of fans can participate by donating $100 to get their heads shaved alongside the players and receive an official "Respect Bald" T-shirt. Maddon, several members of his coaching staff and some Cubs players take part in the event.
Davis hasn't had his hair short since 2013.
"It'll definitely be a big change, but it's worth it," Davis said Friday.
The feeling you get when you bring joy to patients … #ThatsCub pic.twitter.com/9aC4O8acfA

— Chicago Cubs (@Cubs) March 1, 2017
Davis lost his high school baseball coach, Brack Hardee, to brain cancer a few years ago. His wife's aunt, his aunt and a close friend have battled breast cancer.
"It's all been a whirlwind of one after another in the past five years," Davis said. "What better cause to support than for the kids? I think everybody's role in life should be to have a purpose for somebody else, you know? Hopefully, this will raise awareness for something."
The message hit home this past week when Davis, Johnson and Anthony Rizzo visited children at a local hospital.
"Those kids have so much more to fight for than we do," Davis said. "It brings so much more perspective into life. To raise awareness, I'll do whatever it takes."