T-shirt reminds Cubs of Heyward speech
Maddon sports image of umbrella, raindrops over '8-7'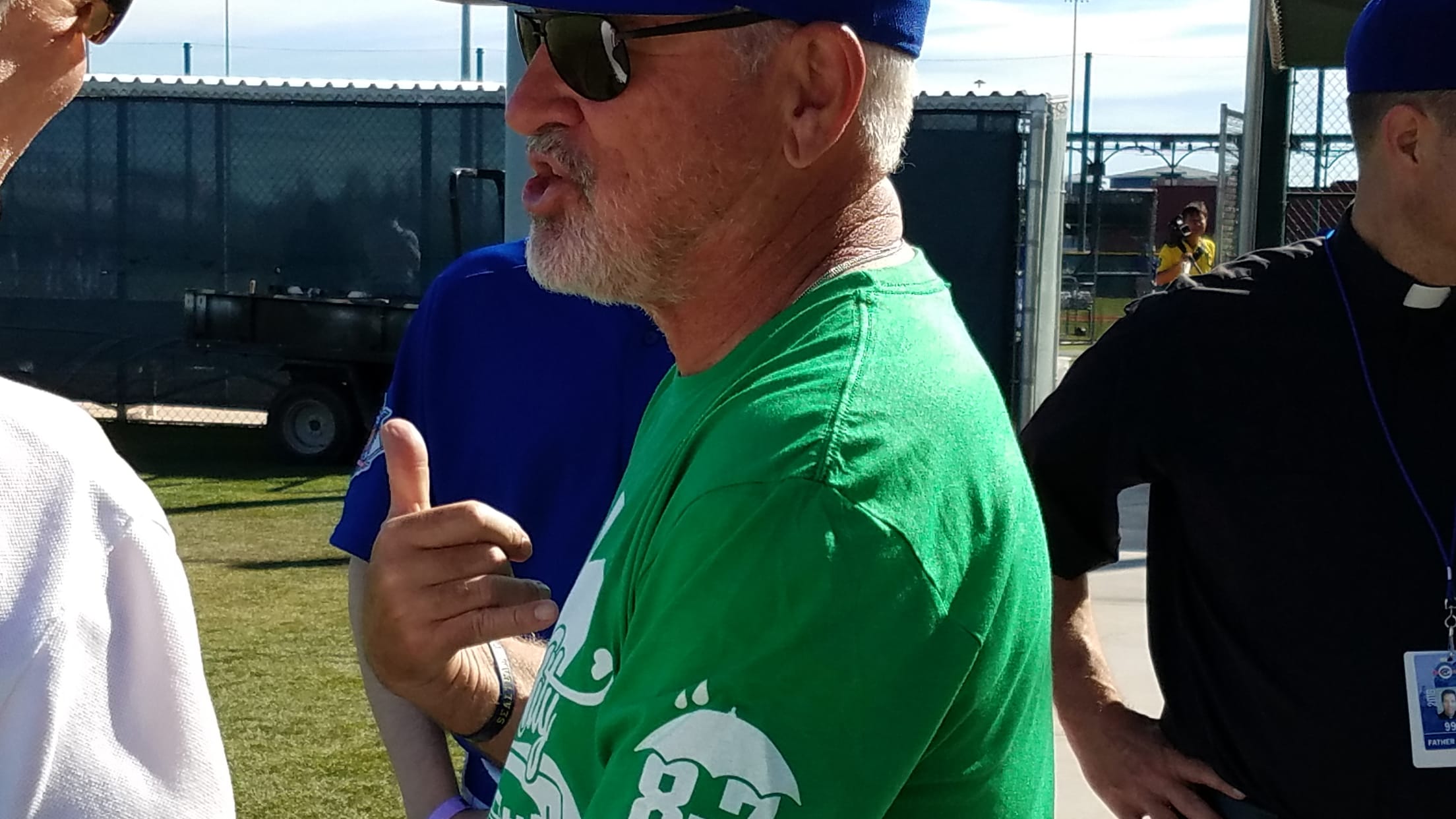 MESA, Ariz. -- On some of Joe Maddon's new T-shirts this year there's a simple image of an umbrella with a couple of raindrops over "8-7." Cubs fans know that's the score from Game 7 of the World Series. The umbrella is a reminder of the 17-minute rain delay when
MESA, Ariz. -- On some of Joe Maddon's new T-shirts this year there's a simple image of an umbrella with a couple of raindrops over "8-7." Cubs fans know that's the score from Game 7 of the World Series. The umbrella is a reminder of the 17-minute rain delay when Jason Heyward gave the players a pep talk that helped propel the Cubs to victory.
"[Maddon] told us he wanted to point out two or three things that allowed us to be ourselves throughout the postseason, moments like that one, the moment in [Los Angeles] when [Benjamin Zobrist] laid down a bunt and things kicked off for us there," Heyward said.
"He wanted us to remember moments like that, remember don't forget the heartbeat," Heyward said. "There are numbers, statistics, whatever, but those things are what allowed us to be who we are, and get to where we wanted to be last year."
Maddon has stressed authenticity, being uncomfortable and remembering the heartbeat. Zobrist's bunt single to start the fourth inning of the National League Championship Series against the Dodgers sparked a four-run outburst en route to a 10-2 victory to even the series at two wins apiece.
Heyward's players-only speech in the weight room at Progressive Field came when the Cubs and Indians were tied at 6. How many times has the outfielder been asked about it?

"A lot," Heyward said. "I've been asked about it a lot, which is fine, which is cool. Honestly, the only people who know what was said are the people who were in that room. That's how it should be. It was a moment for nobody other than the team."
Heyward is well aware Maddon likes to put motivational messages on his T-shirts. Last year, the topics included "embrace the target" and "the process is fearless." He's OK with the umbrella and it's symbolism.
"It's something fun, different, that works for teams, works for us," Heyward said.
Heyward took one of those messages to the extreme. Maddon's "uncomfortable" shirts have "uncomfort" on the back and "able" on the front. Heyward, however, wore it backwards.
"It still read right," Heyward said. "Uncomfortable -- that's part of being uncomfortable, wearing it backwards. I put it that way because it looks like it makes more sense of where we're going."
Heyward could've cashed in on his rain delay and tried to patent the umbrella image.
"I'm trying to patent getting some [World Series] rings," Heyward said. "That's what I want to patent."