Back strain lands Votto on injured list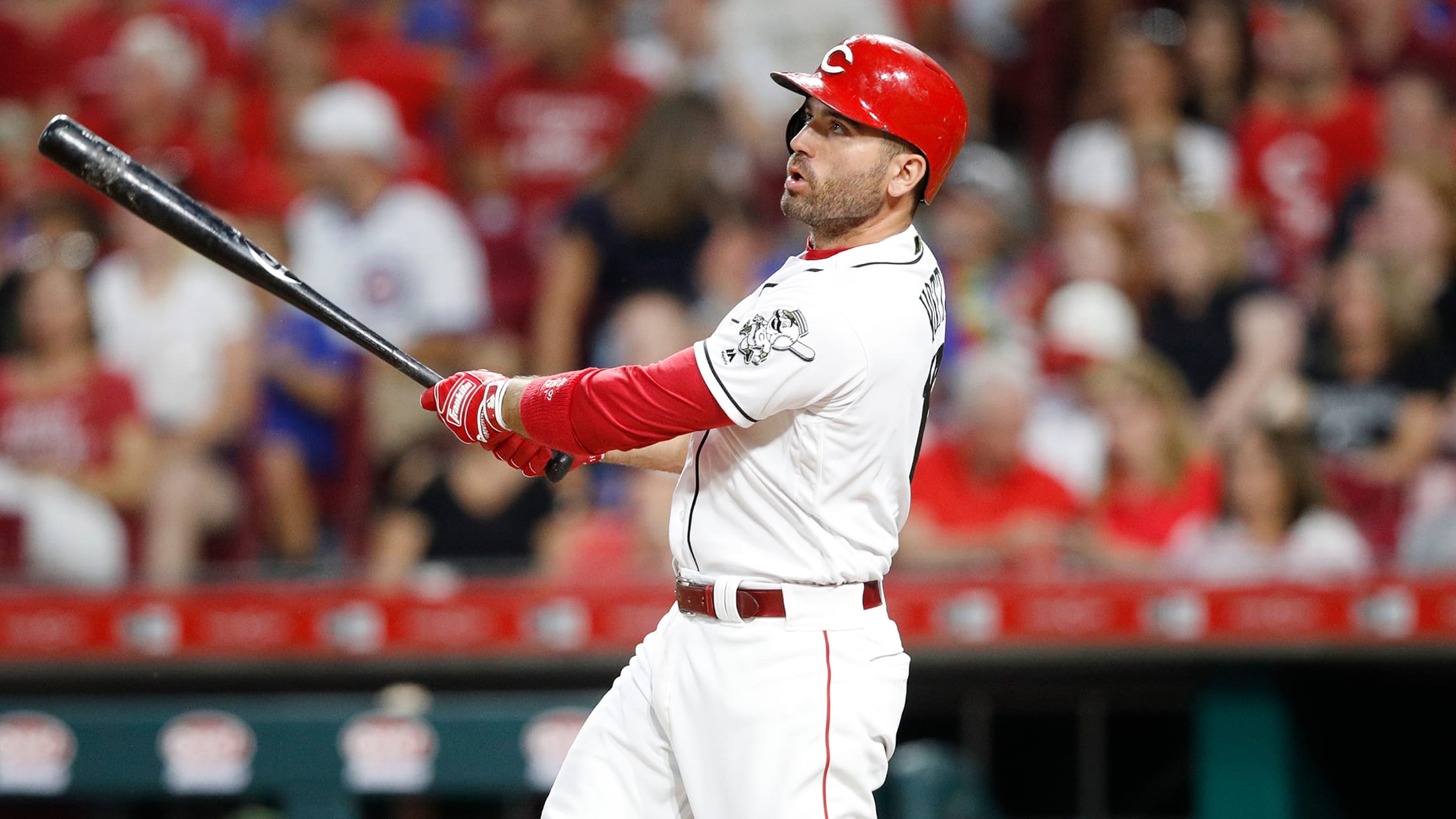 CINCINNATI -- Sunday marked the fourth consecutive game that Reds first baseman Joey Votto wasn't available because of a lower back strain. It prompted Cincinnati to place Votto on the 10-day injured list and recall first baseman/outfielder Brian O'Grady from Triple-A Louisville. Because the move is retroactive to Thursday, Votto
CINCINNATI -- Sunday marked the fourth consecutive game that Reds first baseman Joey Votto wasn't available because of a lower back strain. It prompted Cincinnati to place Votto on the 10-day injured list and recall first baseman/outfielder Brian O'Grady from Triple-A Louisville.
Because the move is retroactive to Thursday, Votto could be eligible to return as soon as next Sunday at Pittsburgh.
The Reds scratched Votto from Thursday's lineup roughly 90 minutes before the game, which is when his back started hurting.
"It was the last swing of batting practice preceding the Thursday game," Votto said.
Since that day, Votto's baseball activity has been non-existent.
"I haven't swung a bat yet. So, I haven't done much throwing or running yet," Votto said.
Josh VanMeter started at first base for the fourth straight day Sunday.
Votto, 35, is batting .262/.352/.410 with 12 home runs and 39 RBIs over 113 games this season.
Senzel working through new approach
Reds rookie center fielder Nick Senzel was happy to have hit a leadoff home run in the first inning of Saturday's 6-1 win over St. Louis. It was his 10th of the season, and his third while leading off a game for his team. But Senzel hasn't had many bright spots this month, as came into Sunday's series finale batting .182 (10-for-55) over his previous 13 games.
Senzel has adjusted his batting stance, and it's been a work in progress.
"I've just made some adjustments. It's frustrating, but I know I need to make them to help me get to where I want to be, and that's a great hitter," Senzel said. "I felt like I needed to tweak some things. I've been working really hard on it. It's a process. I think in the end it will pay off. Right now, it's new stuff for me, it's learning for me. I've bought in 100 percent, so you won't see me in a crouched, closed swing anymore. It's going to be what you see."
Senzel has been standing more upright at the plate, among the adjustments, and has been working with hitting coaches Turner Ward and Donnie Ecker.
"It's just about maximizing the skill set I have into my swing," Senzel said. "I met with Donnie and Turner and we've got a plan in place to maximize the tools I possess to be put into my swing. It's going to be a process. It's very frustrating, obviously, at times. But times like the first at-bat, that's what it's about -- doing damage at the plate, not feeling defensive and stuff like that."
Injury report
Outfielder/infielder Derek Dietrich, who has been on the 10-day IL with left shoulder inflammation since Aug. 5, did a full on-field workout Saturday and will head to Triple-A Louisville to begin a rehab assignment Monday.
Catcher Curt Casali, who has been on the IL since July 18 with right knee and left hamstring injuries, was on the field with Dietrich working out and ran the bases again without issue. Casali is scheduled to join Louisville for a second rehab assignment Tuesday.
Manager David Bell said that Dietrich and Casali could both be available in time for the upcoming road series at Pittsburgh, which begins Friday.
Outfielder Jesse Winker, who has been bothered by upper back tightness since Friday, was considered available off the bench for Sunday's series finale.
Mark Sheldon has covered the Reds for MLB.com since 2006, and previously covered the Twins from 2001-05. Follow him on Twitter @m_sheldon and Facebook.