Votto homers as Reds rally past Brewers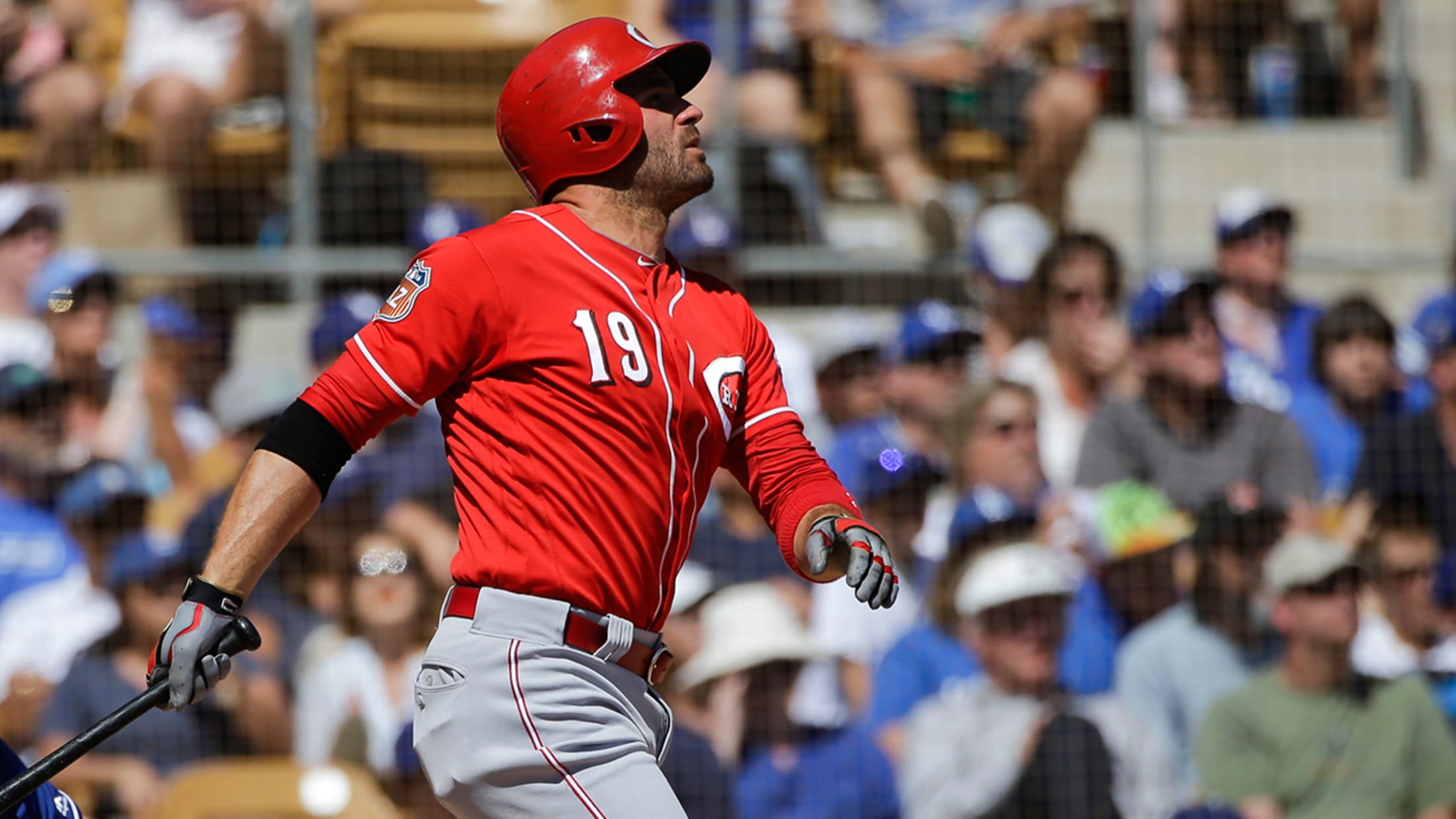 Joey Votto went 4-for-5 with a homer as the Reds rallied to beat the Brewers, 9-8, Monday night. (AP)
GOODYEAR, Ariz. -- Joey Votto went 4-for-5 with his third home run of the spring and set up the winning run in the ninth inning of a back-and-forth game Monday night as the Reds rallied for a 9-8 walkoff win over the Brewers.Milwaukee led 7-4 going into the bottom of
GOODYEAR, Ariz. -- Joey Votto went 4-for-5 with his third home run of the spring and set up the winning run in the ninth inning of a back-and-forth game Monday night as the Reds rallied for a 9-8 walkoff win over the Brewers.
Milwaukee led 7-4 going into the bottom of the eighth inning, but the Reds rallied for four runs off Brewers reliever Michael Blazek, in his third inning of work. Juan Duran and Billy Hamilton delivered two-run singles in the inning.
But the Brewers tied the game 8-8 in the ninth on a walk, a fielding error by Duran in right and an infield single by Eric Young Jr.
That set up the Reds to win in the ninth when Votto led off with a double. He was pinch-run for by Jonathan Reynoso, and Reynoso advanced to third on a wild pitch by Jaye Chapman. He scored on a Brandon Phillips walkoff single.
It was a game that saw both team's starting pitchers labor. Brewers' fifth starter Chase Anderson was touched up for four earned runs and seven hits over his four innings with four walks and four strikeouts.
For the Reds, Robert Stephenson was given a second chance to make a showing for the big league rotation after being sent to the Minor League camp last week. Stephenson did not fare well, as he allowed five runs (four earned) and two hits over three innings with five walks and four strikeouts.
Because of injuries, Cincinnati needs a vacancy for a starter to pitch the third game of the regular season vs. the Phillies on April 7. Stephenson was well aware of his opportunity and disappointed he didn't do more with it.
"I think the situation just got the best of me," Stephenson said. "I let the game speed up on me. I was rushing and couldn't slow myself down. That led to me just missing arm-side up and away over and over."
In a first inning that took 36 minutes to complete, Stephenson opened by walking the bases loaded on 14 pitches with two strikes. After the first run scored a groundout, Martin Maldonado hit a two-run line single to left field.
Anderson faced nine batters in the three-run bottom of the first, with Votto's RBI single and a two-run double by Devin Mesoraco evening the game. With two outs in the second inning, Votto lifted a 1-1 Anderson pitch to left-center field for a solo homer and a 4-3 lead. It was the fifth homer allowed over his last four starts.
"He wasn't crisp the first inning," manager Craig Counsell said of Anderson, repeating a common refrain from Anderson's spring. "We just have to keep an eye on that. ... He's aware of it, certainly."
Stephenson retired the side in order in the second inning but returned to struggle through the third. The bases were loaded when Maldonado hit a soft grounder to the pitcher in a RBI fielder's choice, but Stephenson's errant throw then allowed a second go-ahead run.
Veteran lefty Chris Capuano, who learned that his return to the Brewers was certain after winning a job as a non-roster player, followed Anderson with a 1-2-3 fifth inning.
Reds bullpen candidate Drew Hayes replaced Stephenson and provided two scoreless innings with one hit, one walk and four strikeouts.
Up next for Brewers:Wily Peralta will make his final tuneup for Opening Day when the Brewers and Reds meet Tuesday for the second straight day, this time at Maryvale Baseball Park. The game is on MLB.TV at 3:05 p.m. CT.
Up next for Reds: It will be a bullpen day when the Reds face the Brewers again Tuesday at 4:05 p.m. ET in Maryvale. But that doesn't discount the importance of the outings for the pitchers. After A.J. Morris returns from Minor League camp to make the start, several bullpen candidates will get another chance to impress. Look for Tony Cingrani, Jumbo Diaz, Caleb Cotham and Blake Wood to all get innings. The game is on MLB.TV.