Prospect's stock rising after rooftop work in Cuba
22-year-old RHP might claim spot in bullpen with 30-man roster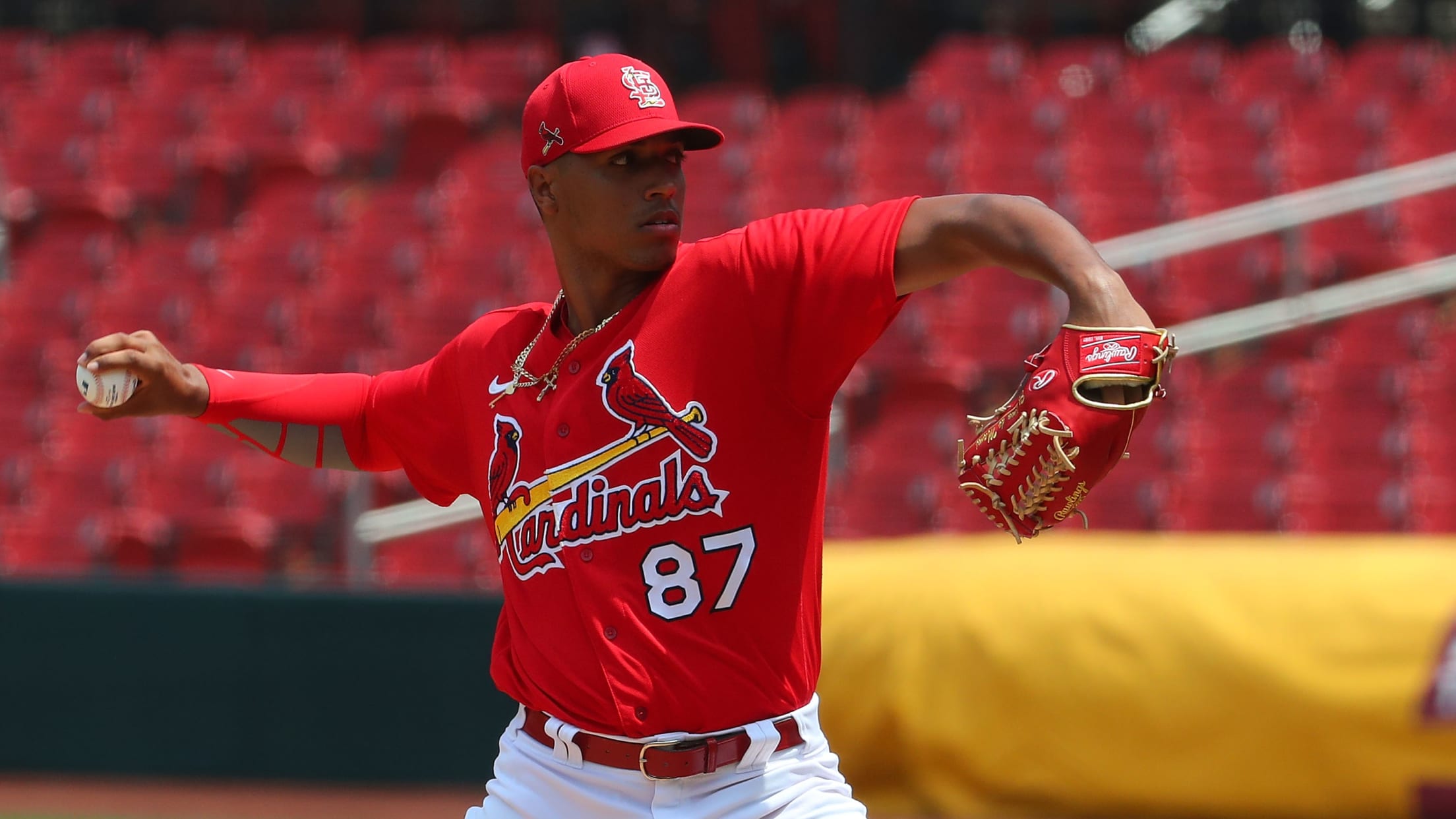 ST. LOUIS -- When Johan Oviedo went back to his home in Havana, Cuba, during baseball's shutdown, he wasn't sure how long he'd be there or if he'd be able to return to the United States because of the coronavirus pandemic. Oviedo did know he had to stay ready. Using
ST. LOUIS -- When Johan Oviedo went back to his home in Havana, Cuba, during baseball's shutdown, he wasn't sure how long he'd be there or if he'd be able to return to the United States because of the coronavirus pandemic.
Oviedo did know he had to stay ready. Using training equipment on the roof of his home, he was able to stay in shape and continue to throw -- thanks to some creativity. Oviedo's father, Lazaro, helped hang a blanket with a square in the middle to use as a strike zone, and the size of the roof allowed the right-hander to stand about 60 feet, 6 inches away from the blanket. Lazaro used a wooden beam to keep the blanket taut so that Oviedo's pitches wouldn't damage the wall behind it. Taking a staircase up to the roof each day, Oviedo threw bullpens and worked on his pitches, specifically his slider to lefties that got away from him when he was promoted to Double-A Springfield last year.
The impression Oviedo made in the spring helped him get to Busch Stadium this summer. The improvements he made on his roof in Cuba could help him stay.
"I knew this is going to be a big year for me," Oviedo said. "You always expect something more than what you can do in the field sometimes. I was getting ready for this opportunity. In my mind it was always make my debut this year. I don't know if it will happen, I just want to be ready if they give me the chance."
Oviedo, the Cardinals' No. 11 prospect according to MLB Pipeline, started Saturday's intrasquad game opposite Carlos Martínez and threw two scoreless innings, allowing one hit and one walk while striking out three. He threw first-pitch strikes to six of the seven batters he faced, and 23 of his 34 pitches were strikes. Martínez's Blue team beat Oviedo's Red team 1-0 in the three-inning game with the lone run scored on a wild pitch, but Oviedo made an impression on Cardinals hitters.
"His offspeed stuff was much improved today from when I caught him in Spring Training," said catcher Matt Wieters, who struck out swinging in the first inning. "He threw both his slider and changeup for strikes when he wanted to."
• Notes: Carlson impresses; Fowler slowed
With his plus fastball and high-spin-rate slider, as well as a changeup and curveball, the Cardinals see Oviedo developing as a starter. The 22-year-old stands at 6-foot-5, which gives him an imposing presence on the mound and adds to his 94-98 mph fastball with a huge extension. He led all Cardinals Minor Leaguers in strikeouts (163) and walks (73) last season, underscoring the quality of his stuff and the command issues he needed to iron out. But he was applauded for his improved control and added strength in the spring, and he showed what he can do for the Cardinals on Saturday night.
He could move quickly as a reliever -- especially this season with a 30-man roster -- throwing multiple innings or zooming his fastball by opponents in late innings.
"You can tell he has a special fastball," Wieters said. "It kind of gets on you, and you know that from the get go. … That's the hard part to quantify -- how much do I need to turn it up? That's where he was able to combat it today, because even if guys were able to turn it up, he had two offspeed pitches to throw for strikes."
Cardinals manager Mike Shildt has been impressed not only with Oviedo's pitches but his ability to "grow quickly," an attribute Shildt also has made about Jack Flaherty and Dakota Hudson: Young players being able to take advantage of not only their experience but others' experience around them.
For example, Oviedo was on rosin-bag duty Friday night, the glamorous job of swapping out rosin bags and baseballs for each pitcher to limit contact. But he had a front-row seat to Adam Wainwright and Kwang-Hyun Kim throwing live batting practice.
"He's right there in the mix," Shildt said. "He's looking. He's learning. He's growing. Every day you get a chance to have mental repetitions. It helps you slow the game down when you do put yourself in the situation that's being played without you playing it.
"You can see [Oviedo] take in what he's doing, and the next day, you can tell he's thought about something and he's looking to put it in part of his game. Whether it's some little thing or some tidbit that he picked up on. … It's really a sign of wisdom in my world when you're willing to listen to other people's wisdom and be open to it and watch it."