Gibbons not sure if he's 'interested' in rebuild
Blue Jays manager's contract lasts through 2019 season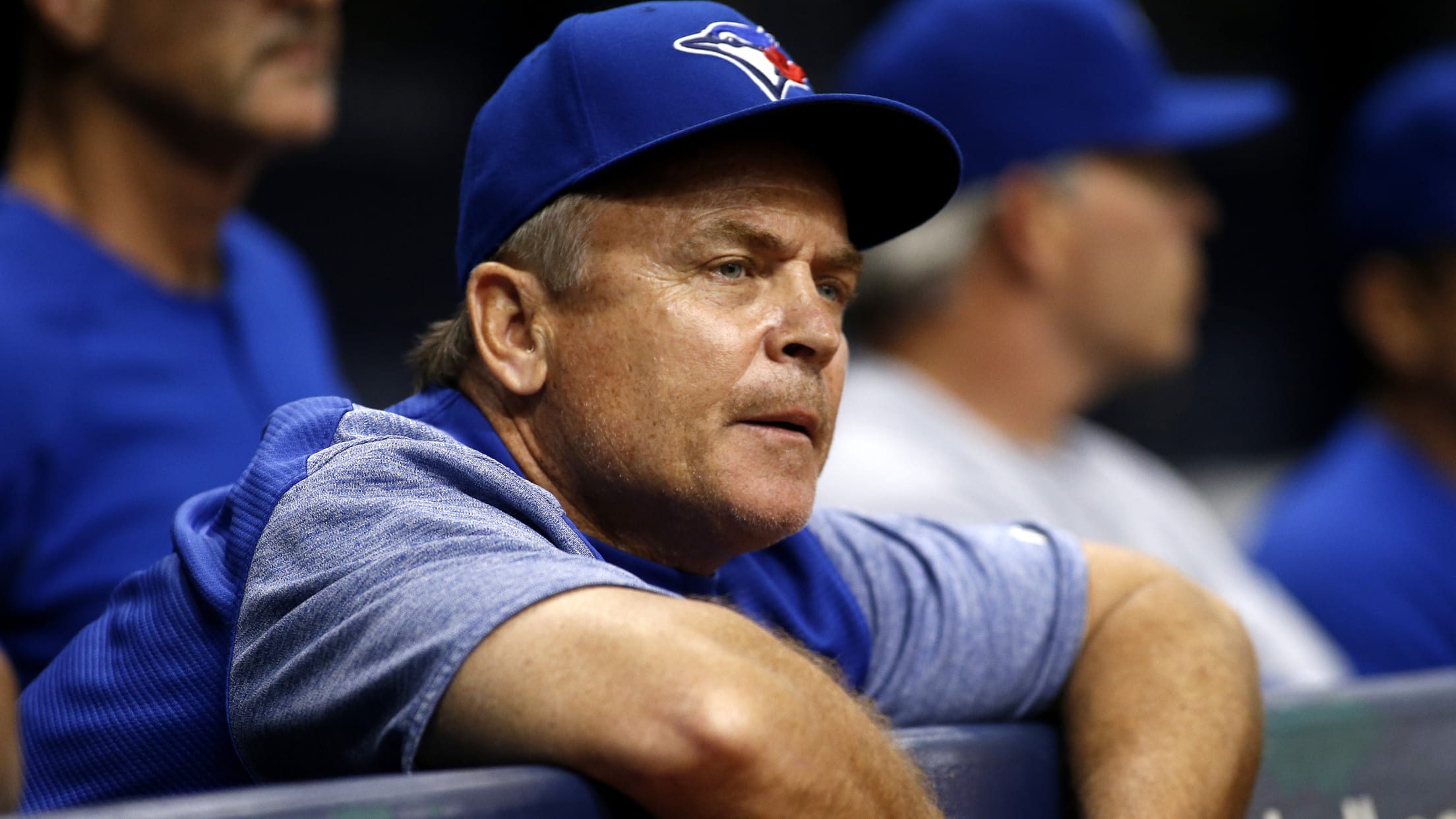 ST. PETERSBURG, FL - JUNE 12: Manager John Gibbons #5 of the Toronto Blue Jays whistles from the dugout during the second inning of a game against the Tampa Bay Rays on June 12, 2018 at Tropicana Field in St. Petersburg, Florida. (Photo by Brian Blanco/Getty Images) (Brian Blanco/Getty Images)
TORONTO -- As speculation continues to circulate about his future, Blue Jays manager John Gibbons admitted on Friday afternoon that if Toronto is about to embark on a total rebuild he might not be "interested" in sticking around.Gibbons' future, or lack thereof, became a talking point earlier this week when
TORONTO -- As speculation continues to circulate about his future, Blue Jays manager John Gibbons admitted on Friday afternoon that if Toronto is about to embark on a total rebuild he might not be "interested" in sticking around.
Gibbons' future, or lack thereof, became a talking point earlier this week when a report from MLB Network's Ken Rosenthal indicated that this could be his final season as Blue Jays manager. The topic received even more attention when Gibbons was asked about his future during an appearance on MLB Network Radio on Friday morning.
During that interview, Gibbons indicated that he wasn't sure he wanted "to go through a total rebuild." He was asked about the pointed remarks later in the day during a scrum with local reporters and maintained the same stance.
John Gibbons addresses @Ken_Rosenthal's report that this may be his final season in Toronto. #BlueJays pic.twitter.com/G40KGbMkd5

— MLB Network Radio on SiriusXM (@MLBNetworkRadio) August 10, 2018
"Well, I didn't bring up the topic to start with," Gibbons said. "But yeah, that [rumor] has been kind of floating around there. That has been kind of hanging over [me] ever since we got a new regime here. Yeah, I made those comments today on the radio show.
"Truthfully, a full breakdown, going young, you know, I have to admit -- I don't know if I'm interested in that. But we'll see. I'm still here. I've enjoyed every minute of it. Everybody has been great to me, no doubt about that. We'll see where it all ends up."
Gibbons is signed through the end of the 2019 season, but Blue Jays general manager Ross Atkins and president Mark Shapiro have yet to indicate whether he will return next year. The Blue Jays entered play on Friday with a 52-62 record, which put them 28 games back of the Red Sox for first place in the American League East.
The 56-year-old Gibbons is in the midst of his second stint as Toronto's manager. He was initially hired in 2004 by then-GM J.P. Ricciardi as an interim manager. He took the job on a permanent basis at the end of that season and remained in place until the end of 2008.
Alex Anthopoulos brought back Gibbons in a surprise move before the 2013 season. He helped lead the Blue Jays to back-to-back appearances in the AL Championship Series in 2015-2016 and remained in place even when Shapiro and Atkins took over for Anthopoulos at the end of 2015. In 11 years as manager, Gibbons has a 772-762 record, all of which have come in a Blue Jays uniform.
Whatever happens in the coming weeks, Gibbons said he will be at peace with the decision, and it's clear he doesn't hold any hard feelings one way or the other.
"Oh yeah, I'm fine with it," Gibbons said. "I've loved my time here in Toronto. How many guys get a chance to come back and do it a second time? I'm confident in what I do. I don't doubt that at all. I've always given my best here, but this is a result-driven business and that's part of it."