Astros' blueprint has origins with Braves' Hart
Ex-Indians GM amassed young talent with '90s Tribe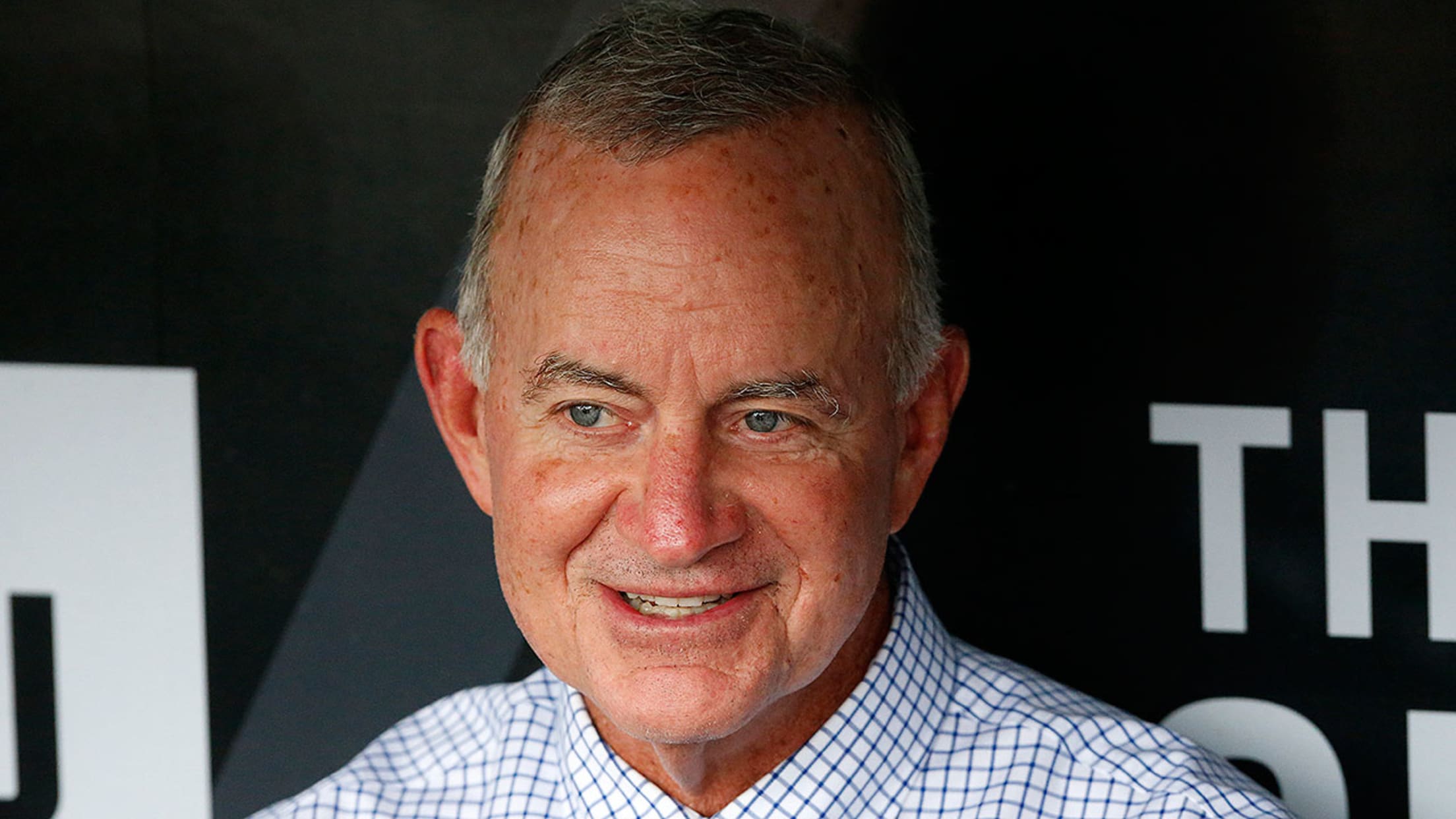 Braves president of baseball operations John Hart served as Indians general manager from 1991-2001. (AP)
So, John Hart. Because you've been an accomplished baseball executive for decades, where have you heard this before? A Major League team is in a long stretch of consecutive losing seasons. Management shrugs while deciding to build mostly through Draft picks, only making a trade here and there. The results
So, John Hart. Because you've been an accomplished baseball executive for decades, where have you heard this before? A Major League team is in a long stretch of consecutive losing seasons. Management shrugs while deciding to build mostly through Draft picks, only making a trade here and there. The results lead to that franchise prospering deep into October.
The Astros? Oh, yes. Definitely those relentless guys who performed well more often than not this past season. Courtesy of their roster filled with homegrown talent, they just won one of the greatest World Series over the Dodgers, and they did so in the shadows of three consecutive seasons of 100 or more losses from 2011-13.
Before you respond, John, consider this: The year before the Astros rose to the top, there were the Cubs. Surely you remember how they ended the 2016 season by winning a World Series championship for the first time since 1908. Their splendid prospects became standouts as they finally captured the title after a mediocre existence in the 21st century.
We can't forget about the Royals, either. They were the Astros and Cubs of 2015, when they surged to the top during their second consecutive trip to the World Series. And yes, the Royals used mostly their farm system to spark that rise. Previously, they hadn't reached the postseason since they were Series champions in 1985.
Here's the deal: The blueprint for what the Astros, Cubs and Royals have done within the last three years was designed about 25 years ago by the Indians' front office.
Which means, Hart should take a bow.
"Well, it was interesting what we did, and I appreciate it," said Hart, who was the Indians' general manager from 1991-2001 and is currently the Braves' president of baseball operations.
Hart became the Indians' general manager in September 1991, at the end of a season in which they lost 105 games. That was part of a stretch of seven straight losing seasons, as well as 11 out of 12. But Hart stuck with his blueprint, and a few things happened.
First, Hart drafted Albert Belle, Manny Ramirez, Jim Thome, Charles Nagy and Carlos Baerga. Then, he acquired Kenny Lofton, who finished second in American League Rookie of the Year voting during his first full season in Cleveland in 1992.
Mostly, the Indians began to win. They captured the AL pennant in 1995 and '97, also winning the AL Central six times over Hart's 10 full seasons as GM.
"We were the smallest of small markets, and we stripped it back to the bare steel, and we were able to do it sort of anonymously, because nobody expected much out of the Indians," said Hart, who signed key players to lengthy deals during their youth, before the arbitration process. "If you will, we had sort of an eight- or nine-year run, and a lot of that was because we sort of pioneered signing players to those multi-year contracts. We did it through the Draft and through good international signings, and then we made some very astute free-agent moves. Once we kind of grew this thing, we had 105 losses. Then, we had 86 and then 86, and then, bang, we started our run."
Sounds like the Royals, but only to a point.
"Yeah, if you look at Kansas City, it's going to be a shorter window," Hart said of the contract situations involving Eric Hosmer, Mike Moustakas, Alex Gordon and Salvador Perez. "Just because of their economic position, they're probably going to lose a Hosmer and a Moustakas, [Lorenzo] Cain and others."
What about the Astros? George Springer was named the 2017 World Series MVP after hitting five home runs, driving in seven runs and scoring eight times. There also is Jose Altuve, owner of three AL batting titles. Both players are 27, and they have equally young and vibrant teammates.
How long will they stay with the Astros?
"Houston might get caught a little bit in the same situation as the Royals at some point, and this is where some of the advantages goes to some of the larger clubs," Hart said. "They might be able to hang onto their guys a little longer, but for us [in Cleveland], those multi-year contracts perpetuated our run. And we kept coming up with good, young players, and we kept making good trades and astute free-agent signings and all of that. But the big thing is, we kept that core together. That's why we became the model, if you will, for a lot of the small-market clubs.
"Quite frankly, when you look around, those over in Cleveland right now are doing a pretty good job of doing it well."
Even so, the post-Hart Indians struggled before resurrecting his blueprint in 2016 to reach the World Series. They dropped a thrilling Fall Classic to the Cubs in seven games, and even though they lost in the ALDS to the Yankees in five games this past year, they still have a young core of Corey Kluber, Francisco Lindor, Jose Ramirez and others.
The Braves also hope to emulate the Indians (the ones of Hart, and of now), Royals, Cubs and Astros. Four years ago, Atlanta began trading away veterans such as Craig Kimbrel, Andrelton Simmons and Jason Heyward for a slew of prospects, and the results were predictable. In fact, the Braves have had four consecutive losing seasons, but Hart isn't discouraged.
"We've really, really taken this thing all the way down, because when we took over, we knew we had some one-year guys," said Hart, who became Atlanta's president of baseball operations prior to the 2015 season. "We had just lost the entire pitching staff, so the decision was made, 'Let's do this,' and everything we did was about how do we acquire young players.
"Since we're the Braves, we haven't gone through five or six years of 100-loss seasons, and we're starting to see the first wave of these young pitchers come up. There are more behind them. So we're at a point now where we're beginning to see a little bit of the fruit."
If Hart sees a little, that likely means a lot.
Terence Moore is a columnist for MLB.com.