Lannan on Nats reunion: 'New home with the same family'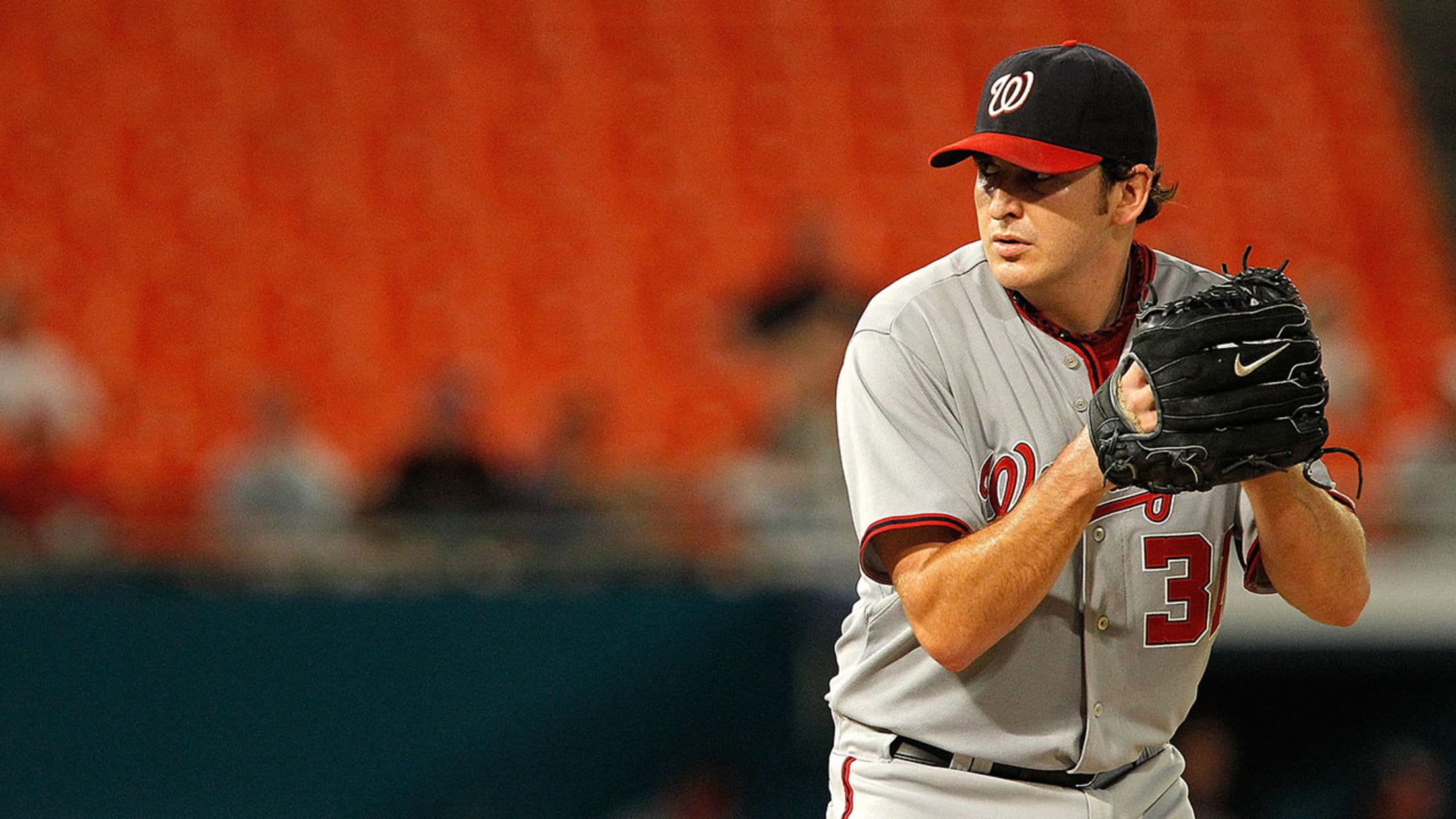 In his first stint with the Nationals, from 2007-12, John Lannan went 42-52 with a 4.01 ERA in 134 starts. (Getty)
WEST PALM BEACH, Fla. -- John Lannan was throwing for a scout, as a favor, while working out in Tampa last year when he had the conversation that could change the course of his career. Lannan began throwing his bullpen when, somewhere along the workout, the scout put away his
WEST PALM BEACH, Fla. -- John Lannan was throwing for a scout, as a favor, while working out in Tampa last year when he had the conversation that could change the course of his career. Lannan began throwing his bullpen when, somewhere along the workout, the scout put away his radar gun. He watched politely, but afterward, Lannan recalled him saying: "If you keep on throwing the way you're throwing, you'll never get back to the big leagues."
So Lannan decided to reinvent himself. It began during winter ball in the Dominican Republic, when he would occasionally mix pitches from a three-quarter arm angle. Then, he started progressing even lower during the past few months down to transform a sidearmer. He reached out to a few teams, and although not hearing much back, one return call he did receive was from the Nationals, the team that selected him back in their first draft in Washington in 2005.
• Spring Training: Info | Schedule | Tickets | Gear
Last week, Lannan signed a Minor League deal to return to the Nats -- an unlikely reunion for a pitcher who made back-to-back Opening Day starts for Washington teams that finished in last place in 2009 and 2010. However, Lannan has not pitched in the Majors since '14 and has spent the past two seasons in the Minors with the Rockies and Royals.
"I was still, I guess hard-nosed, because I was trying so hard to make it back the same way I made it in the first place," Lannan said. "So it took me two years to realize that it wasn't going to happen. I think in that respect, it was a little hard.
"But now, knowing that my career would've been over if I hadn't done this, it kind of frees me up. It's exciting. Regardless of what happens, I can say I gave it everything I had to continue this. It's fun."
Lannan was scheduled to face hitters for the first time as a full-on sidearmer Thursday during a live batting practice session, which he said will give him a good read on where he is in his progression. He has spoken to a few other pitchers who made the transition to throw sidearm, including Zach Duke -- after his name was brought up about seven times, he joked -- and Javier Lopez.
"You hear these stories, and it gives you some hope," Lannan said. "It's not easy, by any means, but there are guys that have done it."
Lannan's initial departure from the Nationals did not end smoothly. He lost his arbitration hearing in 2012, missed out on the fifth starter role and was optioned to Triple-A Syracuse, making him the highest paid player in baseball ($5 million) to be optioned to the Minors. He requested a trade as a result, but the Nats did not concede. Lannan spent majority of the year as a starter at Syracuse. He ended up making six starts in what would be his final season in Washington.
"You can't burn any bridges in this game," he said. "Because you never know when this day is going to come, where you have to come back.
"I think a lot of things that happened then was just passion for the game, maybe? Maybe a little ego, I don't know. But you've got to live with the decisions you've made. And I don't think anybody's really hurt by it. I've talked to [general manager] Mike [Rizzo] about it. Even though we left on not great terms, everything's cool."
But Lannan seemed happy to be back with the team that drafted him with still a few familiar faces he has seen around -- including Bryce Harper, Ryan Zimmerman, Jayson Werth and Giovany Gonzalez and Stephen Strasburg.
"All I feel about when I come here is, this kind of like home to me. I've been here for so long," he said, and then paused, thinking of the new Spring Training facility. "Even though this is new. This isn't home at all.
"It's like a new home with the same family."