Rockies place Gray (shoulder) on injured list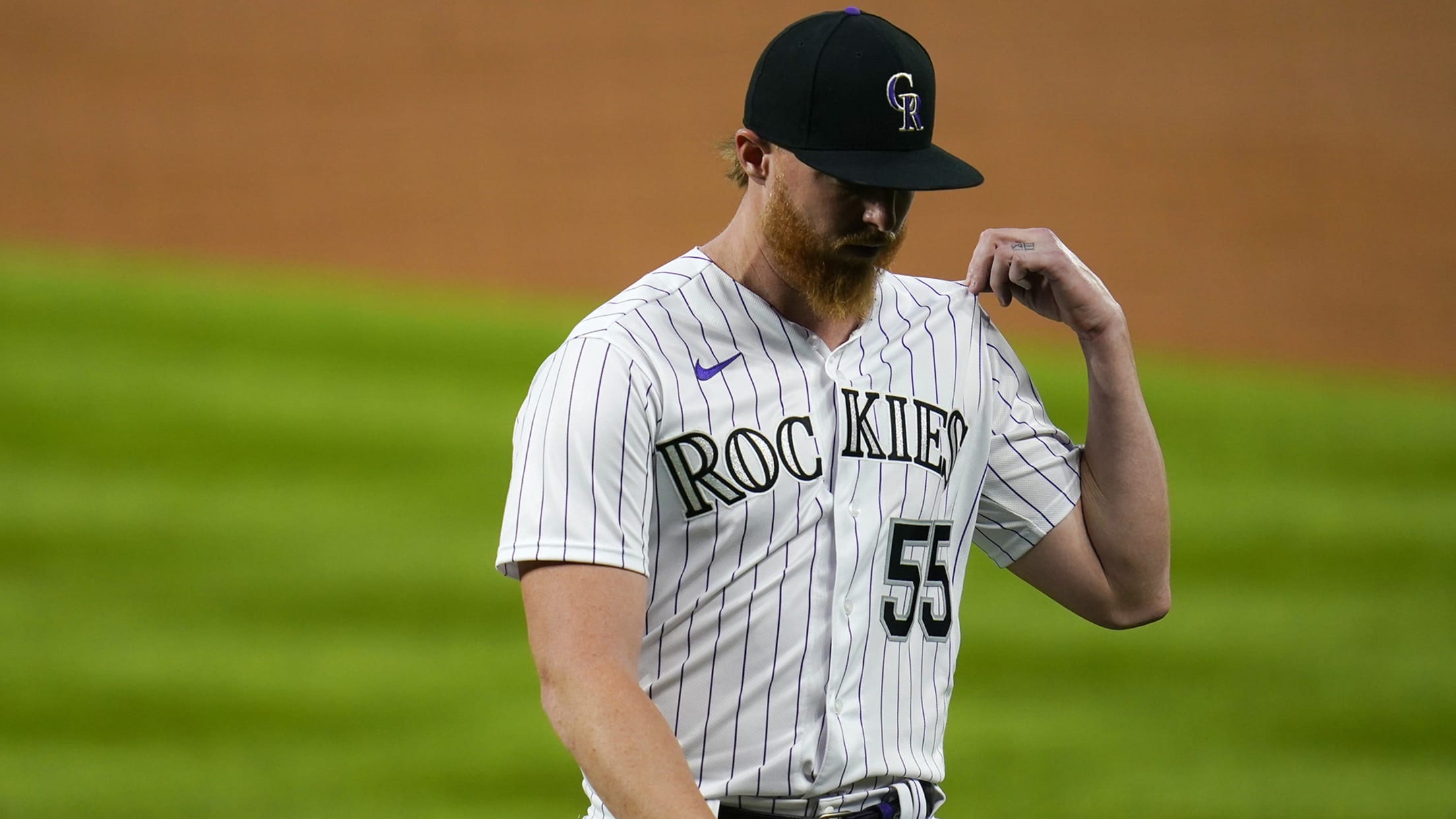 The Rockies placed right-hander Jon Gray on the 10-day injured list on Friday as they try to settle his inconsistent performance and velocity and, lately, his troublesome right shoulder inflammation. Gray went 2-4 with a 6.69 ERA in his first eight starts. His placement on the IL was retroactive to
The Rockies placed right-hander Jon Gray on the 10-day injured list on Friday as they try to settle his inconsistent performance and velocity and, lately, his troublesome right shoulder inflammation.
Gray went 2-4 with a 6.69 ERA in his first eight starts. His placement on the IL was retroactive to Wednesday, with the hope that the soreness soon calms.
The Rockies have been competing for one of the two National League Wild Card spots in the expanded 16-team postseason. They need to get the best of Gray, whose performance has been inconsistent. Last season, Gray had a 3.84 ERA and 150 strikeouts in 150 innings before missing the final six weeks because of a right foot stress fracture that required surgery.
"His last start, his shoulder was a little tender, a little inflamed, and that happens from start to start or over a period of time with all pitchers," Rockies manager Bud Black said. "Sometimes, you're able to fight through it.
"He's been feeling this for a little bit -- a couple starts. He had the great start in Arizona [on Aug. 26]. It didn't really impact him. But [this past Tuesday], there was just a little bit more general soreness. And we thought it might have some sort of constraint on his next start, so we decided to do it now."
The Rockies recalled righty José Mujica, who has never appeared in a Major League game, to fill Gray's spot on the roster.
Gray was in line to start Monday at San Diego, so it's unknown who will now start the opener of that series. Black announced that righty Ryan Castellani will start Sunday's finale against the Dodgers.
Dahl could join road trip
Black said that outfielder David Dahl, who has not played since Aug. 17 because of back soreness, could join the Rockies on their current road trip after he "had a good day" on Friday.
"Word got back to me that he felt great, the ball came off his bat and he was driving the ball," Black said.
Before going on the IL, Dahl was in an 0-for-17 slump with nine strikeouts. The Rockies would like to see a prorated version of 2018, when Dahl came back from a right foot injury and hit 12 home runs and drove in 35 runs in his 45 games while helping Colorado reach the postseason.
The Rockies' addition of outfielder Kevin Pillar in a Trade Deadline deal with the Red Sox gave them a veteran hitter who is performing well, which they had lacked in Dahl's absence.
If Colorado adds Dahl, hitters who have struggled (Daniel Murphy, Ryan McMahon) or are less experienced (Garrett Hampson, Sam Hilliard) could be used based on matchups. Also, right fielder Charlie Blackmon could be used as the designated hitter to reduce fatigue, and Black could maximize matchups for veterans Murphy and Matt Kemp.
Bullpen help?
Righty Wade Davis, the closer heading into the season, is in Denver as he tries to overcome a right rotator cuff strain that has kept him on the IL since Aug. 2.
The reacquisition of righty Jesus Tinoco -- who the Rockies claimed from the Marlins after trading him earlier this season -- could give Black another option if he is throwing his sinker/slider mix well.