Moscot struggles as rotation decision nears
Price undecided on who DeSclafani will replace if he's activated Friday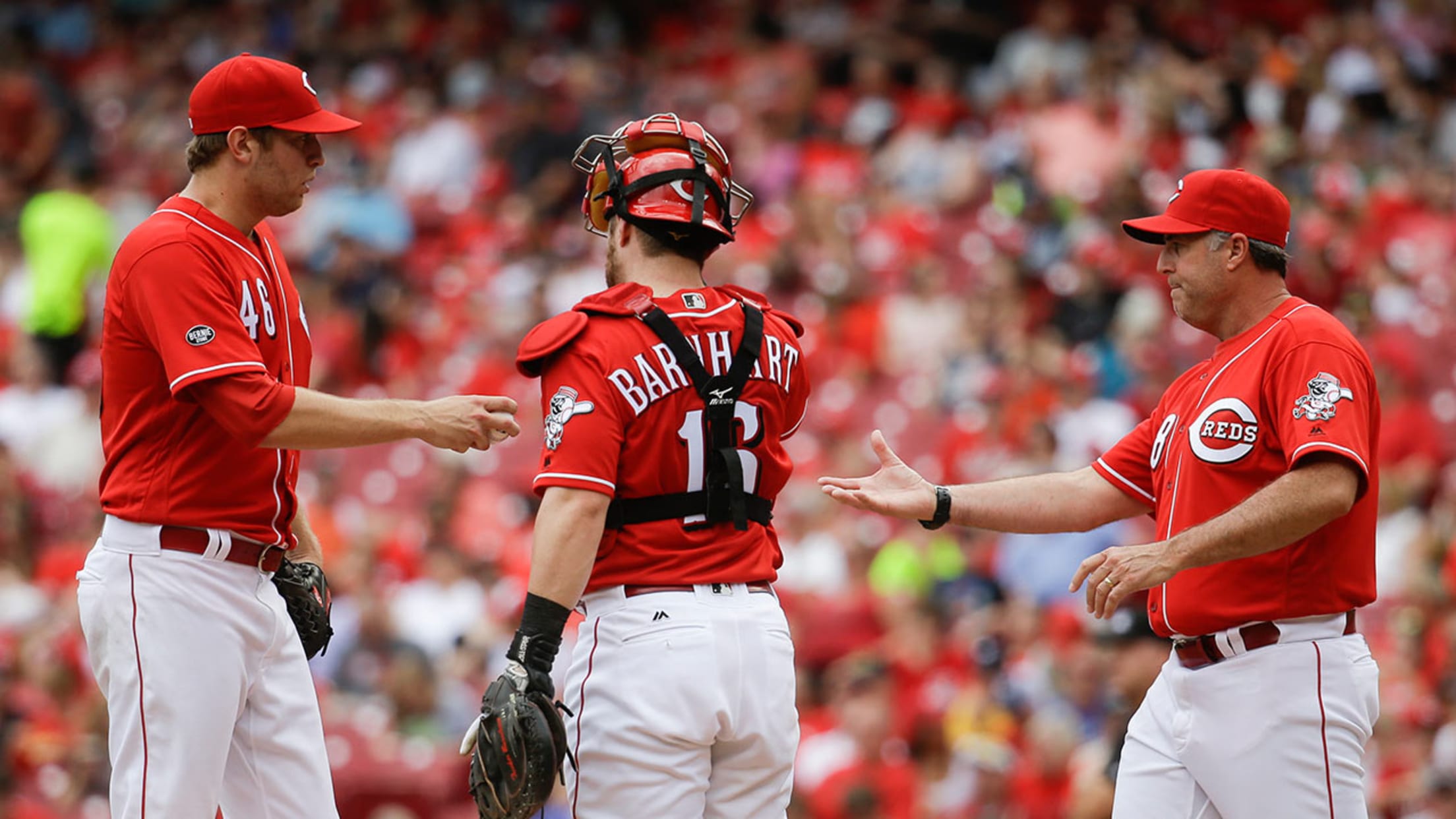 Jon Moscot allowed five runs over 3 2/3 innings in the Reds' loss to the Nationals on Sunday. (AP)
CINCINNATI -- There will be some upheaval coming later this week for the Reds' rotation, as Anthony DeSclafani could be back from the disabled list as soon as Friday. Someone will have to leave the rotation to make room, of course.Jon Moscot didn't make the best case for himself to
CINCINNATI -- There will be some upheaval coming later this week for the Reds' rotation, as Anthony DeSclafani could be back from the disabled list as soon as Friday. Someone will have to leave the rotation to make room, of course.
Jon Moscot didn't make the best case for himself to stay on Sunday in a 10-9 Reds loss to the Nationals. Given a 5-0 lead through two innings, he let it slip through his hands during a five-run top of the fourth inning. Washington had no hits through the first three innings.
"Physically, mentally, I can't tell you that anything changed," said Moscot, who had allowed five earned runs and five hits over 3 2/3 innings for a no-decision. "When I went back and looked at some of the pitches that they hit out of the park, they're not exactly where I want them. They took advantage of my mistakes. I've just got to do a better job of limiting the damage. This team battled their [butts] off today, and that was tough."
On Tuesday in his first start back after missing a month on the DL with inflammation in his surgically-repaired non-throwing shoulder, Moscot had a disastrous outing. At Colorado, he gave up seven runs and eight hits with four homers over two innings.
Does a second poor result hurt Moscot when DeSclafani is activated?
"That might be considered a question that's too much, too soon," Reds manager Bryan Price said. "I'm just going to take a day off [Monday] to assess where we are with our rotation and first of all, verify that we're going to go with DeSclafani. I don't anticipate him having any issues, and I anticipate [DeSclafani] will make that start for us the next time through, and then we'll see how things shape up."
The decision appears to be between Moscot, John Lamb and Alfredo Simon. The latter two pitchers are coming off strong outings after struggling earlier in the year.
"DeSclafani, when he's ready, is going into our rotation. There's no doubt about that," Price said. "And [Dan] Straily and [Brandon] Finnegan aren't going anywhere. We have to make a decision on the remaining three."
Things went sideways for Moscot after Bryce Harper hit a one-out single in the fourth for Washington's first hit. A 1-0 fastball at 90 mph sat over the plate for Daniel Murphy, who hit a two-run home run to right field. Next batter Wilson Ramos got a hanging 2-2 slider and lifted it for a homer to right field.
"He's had stuff. He's thrown strikes," Price said. "Two starts, he's walked only one guy. He's just been hit. … You have to manage the lineup three times through if you're going to be in the game late. That will be an area where he needs to improve, for sure."
Moscot is aware that DeSclafani's return is imminent, but said there was no added pressure.
"I don't think that Disco has anything to do with it," Moscot said. "I think that for myself, it's just a matter of being hurt for a full season, I've always kind of felt that I need to prove that I belong here, and it's been a tough go of it as of now, but things will turn around. I know they will."