Venters back from IL; Minter sent to Triple-A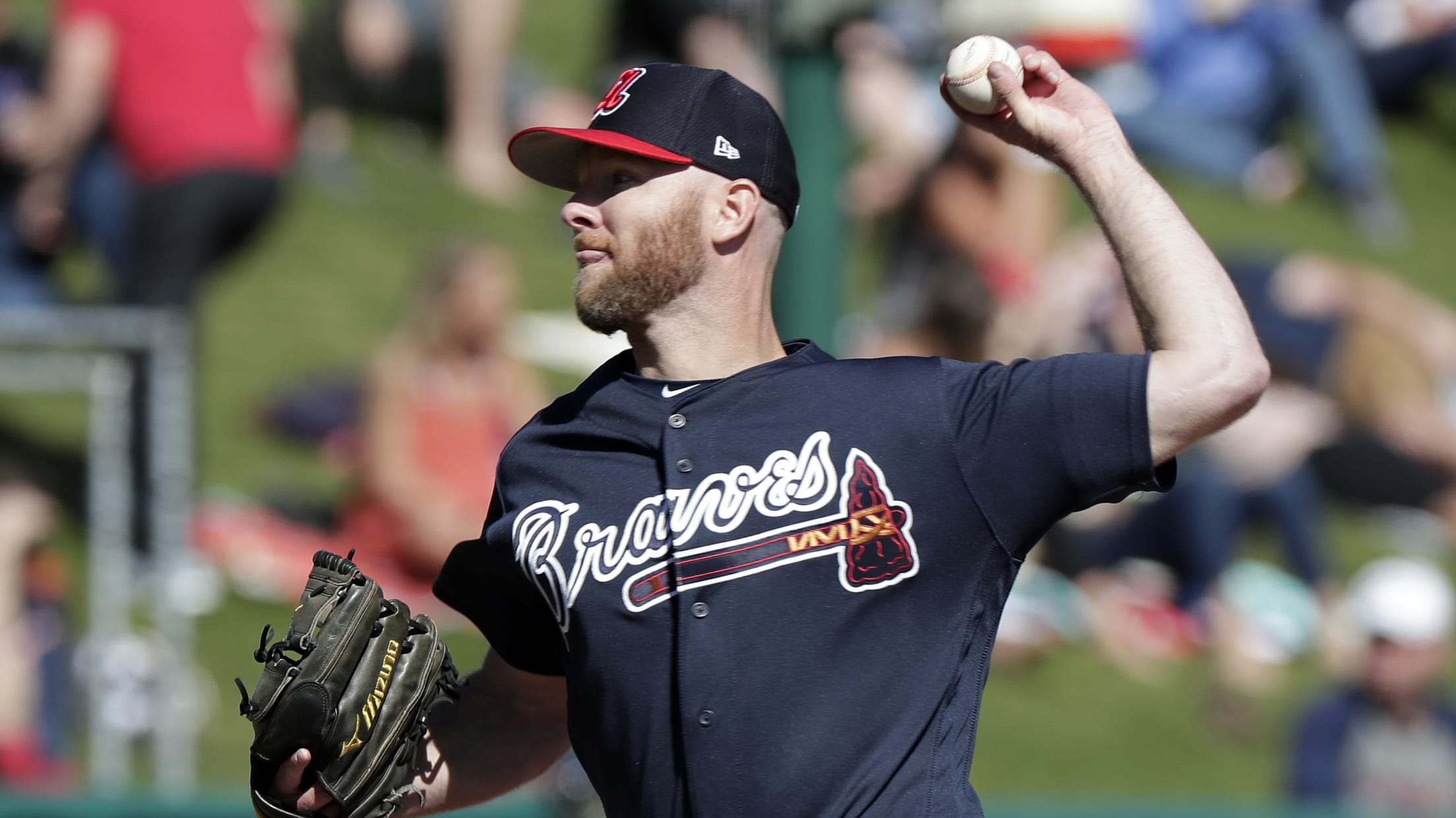 PHOENIX -- The Braves are hoping a move to Triple-A Gwinnett will help struggling left-handed reliever A.J. Minter "reset." Meanwhile, they have an experienced arm to take his place in their bullpen. On Friday, Atlanta activated lefty Jonny Venters from the injured list prior to their game against the D-backs
PHOENIX -- The Braves are hoping a move to Triple-A Gwinnett will help struggling left-handed reliever A.J. Minter "reset." Meanwhile, they have an experienced arm to take his place in their bullpen.
On Friday, Atlanta activated lefty Jonny Venters from the injured list prior to their game against the D-backs at Chase Field. Minter was sent to Gwinnett, his first move to the Minors since he was promoted to the Braves on Aug. 23, 2017.
Minter didn't pitch during Spring Training and missed the first week of the season due to left shoulder inflammation. Since his season debut on April 4, Minter is 0-4 with a 9.82 ERA. His struggles culminated this week as he allowed two runs in one-third of an inning in Wednesday's loss to the Dodgers, then gave up a run on two hits and a walk without recording an out in the 10th inning of Thursday's loss to the D-backs.
Braves manager Brian Snitker believes Minter will return to the form he showed from 2017-18, when the southpaw posted a 3.18 ERA and 1.23 WHIP with 95 strikeouts over 76 1/3 innings.
"He needs to hit the reset button," Snitker said. "I always allude to the fact that he didn't have Spring Training. The more I'm around, the more I see how important it is. We all get ticked off at how long Spring Training is, but it's that long for a purpose. … He got behind a little bit and is trying to catch up. I think, hopefully, he can do the same thing that Jonny did."
Venters had a 20.25 ERA in six appearances before he went on the injured list with a right calf strain on April 15. The 34-year-old lefty appears to be back to form, as he pitched seven scoreless innings in seven rehab appearances, allowing only three hits with two walks and six strikeouts.
Venters came back from three Tommy John surgeries to post a 3.67 ERA and 1.22 WHIP over 50 games (22 for the Rays, 28 for the Braves) last season. He'll now look to provide relief to an Atlanta bullpen that had a 4.46 ERA in its first 38 games.
"I feel good, made some adjustments mechanically and feel like the ball's coming out pretty good, so I'm excited to get out there and hopefully continue what I've been doing," Venters said. "I really worked on a lot of stuff, like delivery, my posture and some other things, going glove side, and just really tried to lock it in and transfer those adjustments into the game."
Snitker said Venters could pitch in some save opportunities along with Luke Jackson, whose 15-inning scoreless streak ended with his blown save in Thursday's loss, and potentially others.