Possible trade chip Lyles gets roughed up
Struggling starter has 'too much on my mind' to worry about Deadline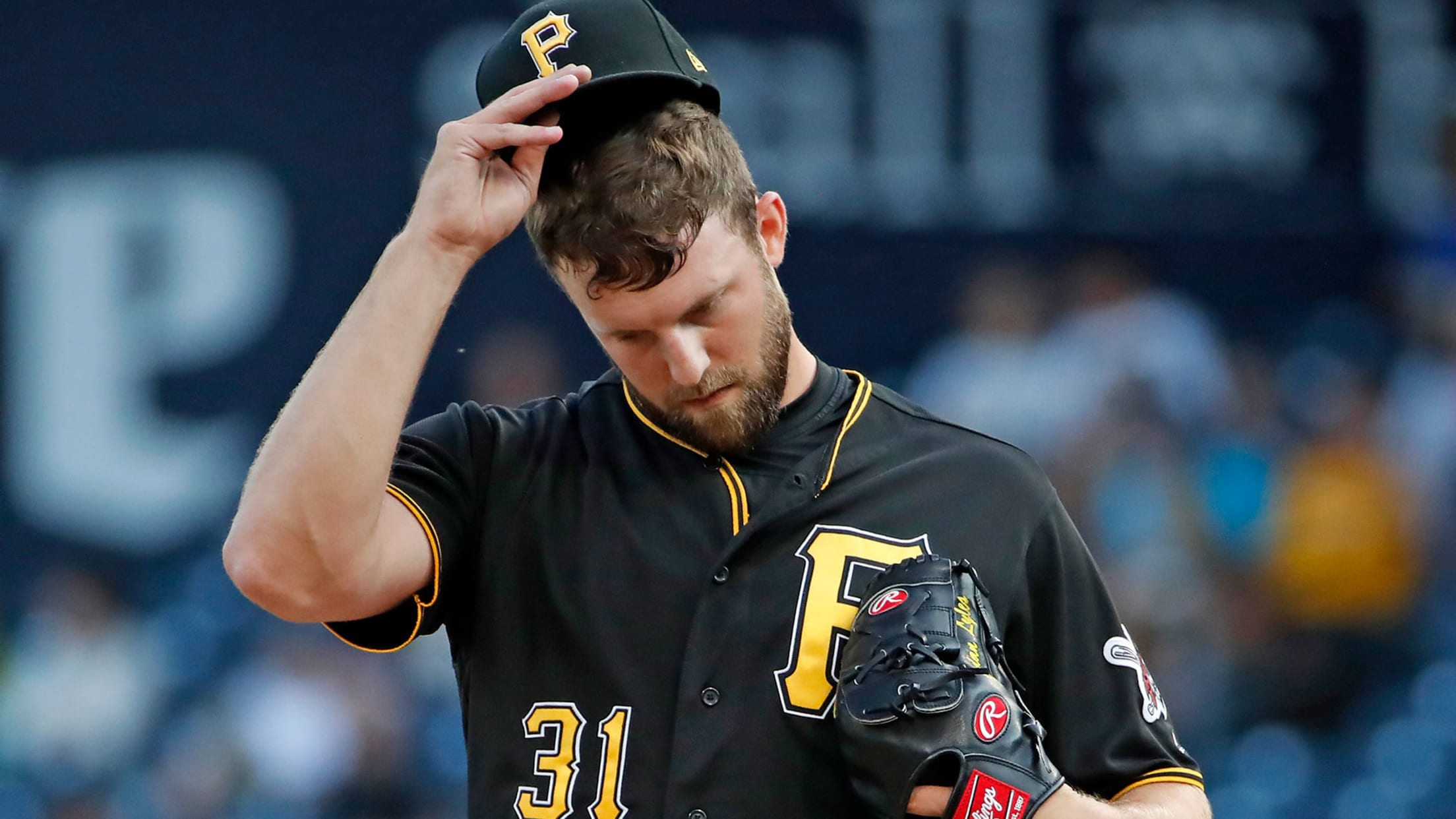 PITTSBURGH -- On Wednesday morning, MLB Network insider Ken Rosenthal reported that the Pirates "want to trade" veteran right-hander Jordan Lyles before next week's Trade Deadline and that his outing against the Cardinals could impact Pittsburgh's return in a potential deal. Lyles said he had greater concerns heading into the
PITTSBURGH -- On Wednesday morning, MLB Network insider Ken Rosenthal reported that the Pirates "want to trade" veteran right-hander Jordan Lyles before next week's Trade Deadline and that his outing against the Cardinals could impact Pittsburgh's return in a potential deal.
Lyles said he had greater concerns heading into the game, and that remained true after he couldn't get out of the second inning in the Pirates' 14-8 loss at PNC Park. He allowed eight runs (five earned) on seven hits, including three home runs, and a walk while recording five outs.
Lyles posted a 1.97 ERA as Pittsburgh won seven of his first eight starts. Since then, he has battled through injuries and recorded a 9.57 ERA while the Pirates have lost eight of his past nine starts. He said he wasn't thinking at all about the Deadline -- not with the sharp downward turn his season has taken.
"If that day is here and it comes, then it happens," Lyles said. "But until then, I've got more things to worry about on being a Major League pitcher and getting Major League hitters out. I've got way too much on my mind."
What this means for Lyles' future is unclear. Another team might be willing to take a chance on him before next week's Trade Deadline based on his track record, versatility, affordable salary and the excellent stretch he put together at the beginning of the season. But his primary concern right now is righting the ship and putting together more starts like his last one, when he struck out seven and allowed only one run over 5 2/3 innings.
"It can change on you quickly. You just try to work on it and try to figure out a way next time for it not to happen," Lyles said. "I stood up here two starts ago saying the same thing. Obviously I need to figure it out."
So do the Pirates. They have lost four straight games and 10 of 12 since the All-Star break, falling a season-worst nine games below .500.
"These last two weeks have been hard. There's no other way around it," manager Clint Hurdle said. "Leading into that, everything was trending up. There's a lot of positive narrative, a lot of good things going on. The last two weeks have been hard, and a lot of that's shifted in two weeks. The men's focus hasn't shifted."
The night began well enough for Lyles, as he struck out two batters in a perfect, 15-pitch first inning. Then it got ugly in a hurry.
Rookie Kevin Newman began the second inning by committing his first error at shortstop since a three-error inning at Wrigley Field on April 8. Paul DeJong then clubbed a 2-1 slider from Lyles -- a pitch he said he didn't regret -- out to left-center field. Kolten Wong and Yairo Munoz hit consecutive doubles before Andrew Knizner launched his first Major League home run.
After one out, a walk and two more hits, Paul Goldschmidt came to the plate for the second time in the inning and homered for the third consecutive day at PNC Park. That was a fastball, Lyles said, that he wanted back as soon as it left his hand.
"That's been the problem in my career, one inning here or there that snowballs. I wasn't able to get out of it tonight," Lyles said. "Didn't do my team any service. I wasn't good. I stunk it up. We'll go from here."
Out went Lyles, and in came rookie reliever Luis Escobar. The Cardinals tacked on another run with two more doubles, running their extra-base hit total in the inning to eight -- five doubles and three homers -- to tie a Major League record that they last achieved against the Cubs on July 21, 2012.
Escobar wound up allowing five runs on five hits and four walks while needing 60 pitches to record only six outs. But his short appearance ultimately led to a moment of levity for a Pittsburgh team in need of one.
Hurdle asked corner infielder José Osuna to pitch the seventh and eighth innings and backup catcher Jacob Stallings to work the ninth.
#Pirates pitching two position players in the same game for the first time in team history (since at least 1908)

(via @baseball_ref)

— Joe Block (@joe_block) July 25, 2019
"I'm just glad we had two guys who were willing to do what they needed to do to help our team and keep our bullpen intact," Hurdle said. "Both of them, they handled themselves very professionally in not an easy situation."
Osuna, the 26-year-old who thought he'd sign out of Venezuela as a pitcher a decade ago, was a step above professional. Featuring a fastball that touched 93 mph and a full four-pitch mix, Osuna worked a clean seventh inning before giving up a homer to DeJong -- the All-Star shortstop's third of the night -- in the eighth. Stallings retired the side in order on seven pitches in the ninth.
"It's fun," Osuna said. "The only thing that's not that fun is a homer."
Adam Berry covers the Rays for MLB.com and covered the Pirates from 2015-21. Follow him on Twitter @adamdberry.