In 2016, this player was unlikely Nats hero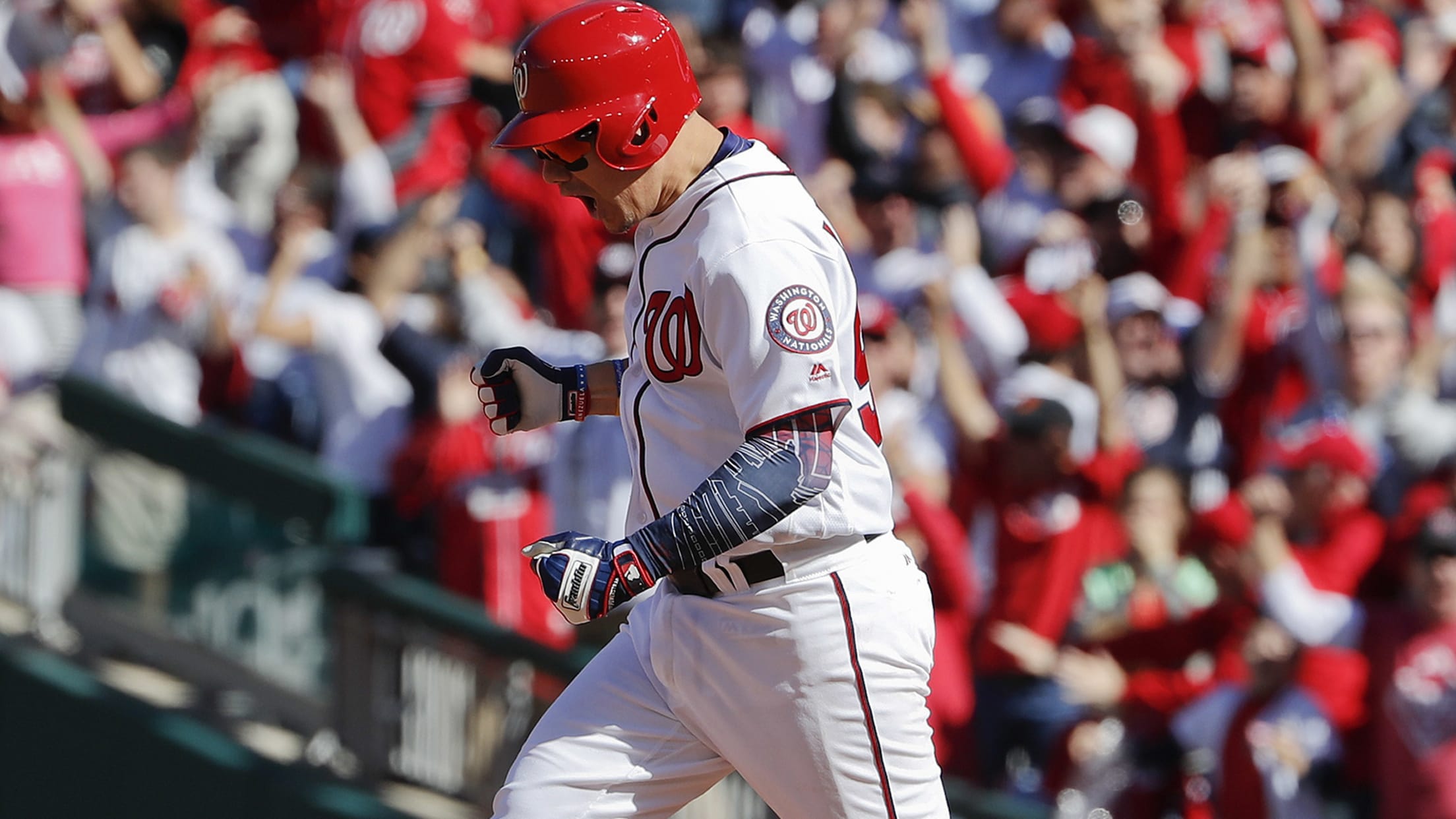 Washington Nationals' Jose Lobaton reacts as he circles the bases after hitting a three-run home run off Los Angeles Dodgers starting pitcher Rich Hill during the fourth inning in Game 2 of baseball's National League Division Series at Nationals Park, Sunday, Oct. 9, 2016, in Washington. (AP Photo/Pablo Martinez Monsivais) (Pablo Martinez Monsivais/AP)
WASHINGTON -- An ankle injury limited Jose Lobaton to play in just 12 games over the final two months of the 2016 season, and it especially bothered the switch-hitting catcher when swinging right-handed. So, Lobaton recalled his surprise when then-Nationals manager Dusty Baker told him he would be starting in
WASHINGTON -- An ankle injury limited Jose Lobaton to play in just 12 games over the final two months of the 2016 season, and it especially bothered the switch-hitting catcher when swinging right-handed. So, Lobaton recalled his surprise when then-Nationals manager Dusty Baker told him he would be starting in Game 2 of the National League Division Series, with Dodgers left-hander Rich Hill set to take the mound.
"[Baker's] like, 'Well, you're playing tomorrow.' I was like, 'You said I'm not supposed to play,'" Lobaton recalled earlier this month. "He was like, 'Well, can you hit?' I'm like, 'Yeah, I can hit. It's bothering me, but it's not like it's going to break.'"
Baker's decision led to an improbable home run when Lobaton launched a hanging curveball from Hill through the gusting wind at Nationals Park and over the left-field fence for a three-run shot to catapult the Nationals to a 5-2 victory and cementing Lobaton as the most unlikely hero in Nationals history.
"That's something that I'm always going to remember," he said.
• Each team's most unlikely postseason heroes
Lobaton, now playing for the division-rival Mets, endeared himself to fans and his teammates during his four seasons in Washington, quickly becoming a fan and clubhouse favorite for his humorous actions and antics off the field. But on the field he was valued more for his defense and pitch-framing ability than his bat. He hit 12 home runs in four seasons with the Nats and never posted an OPS higher than .692.
And then with one swing, Lobaton reminded everyone of the unpredictable nature of baseball's postseason, where seemingly anyone can emerge as a difference-maker.
"When you're playing, you're waiting for those moments," he said. "You're waiting for the opportunity to do something better."
Lobaton shared a similar moment while playing for the Rays, hitting a walk-off home run in Game 3 vs. the Red Sox in the 2013 ALDS, but this homer was even more improbable.
The only reason he was starting this game is because the Nationals lost their starting catcher, Wilson Ramos, to a torn ACL in late September. In his absence, Washington used a combination of Pedro Severino and Lobaton to get through the NLDS, but Severino was supposed to start against left-handers. However, Baker looked at Lobaton's career numbers against Hill -- 3-for-3 with two doubles -- and decided that small sample was good enough to warrant a start.
Furthering how improbable Lobaton's heroics truly were, he had just one hit off a left-handed pitcher during the entire 2016 regular season -- a home run against Scott Kazmir. The wind at Nationals Park was howling, reaching speeds of 39 mph during the game, and several players did not believe anyone could hit a homer to left field.
And Lobaton was perhaps the most unlikely candidate of all to do so.
"For Lobi to hit a home run, I don't want to say you wouldn't expect it," Nats first baseman Ryan Zimmerman said. "He's hit home runs before, but really cool moment obviously for the team and for him. I think just more the joy.
"He would always say, 'I don't get to play that much, but when I do get to play I try and do something every time to help the team win.' He was such a good guy. For him to be able to do something like that in the game on that stage was awesome."