Quintana excited for Classic with Colombia
White Sox left-hander is expected to start Pool C opener vs. Team USA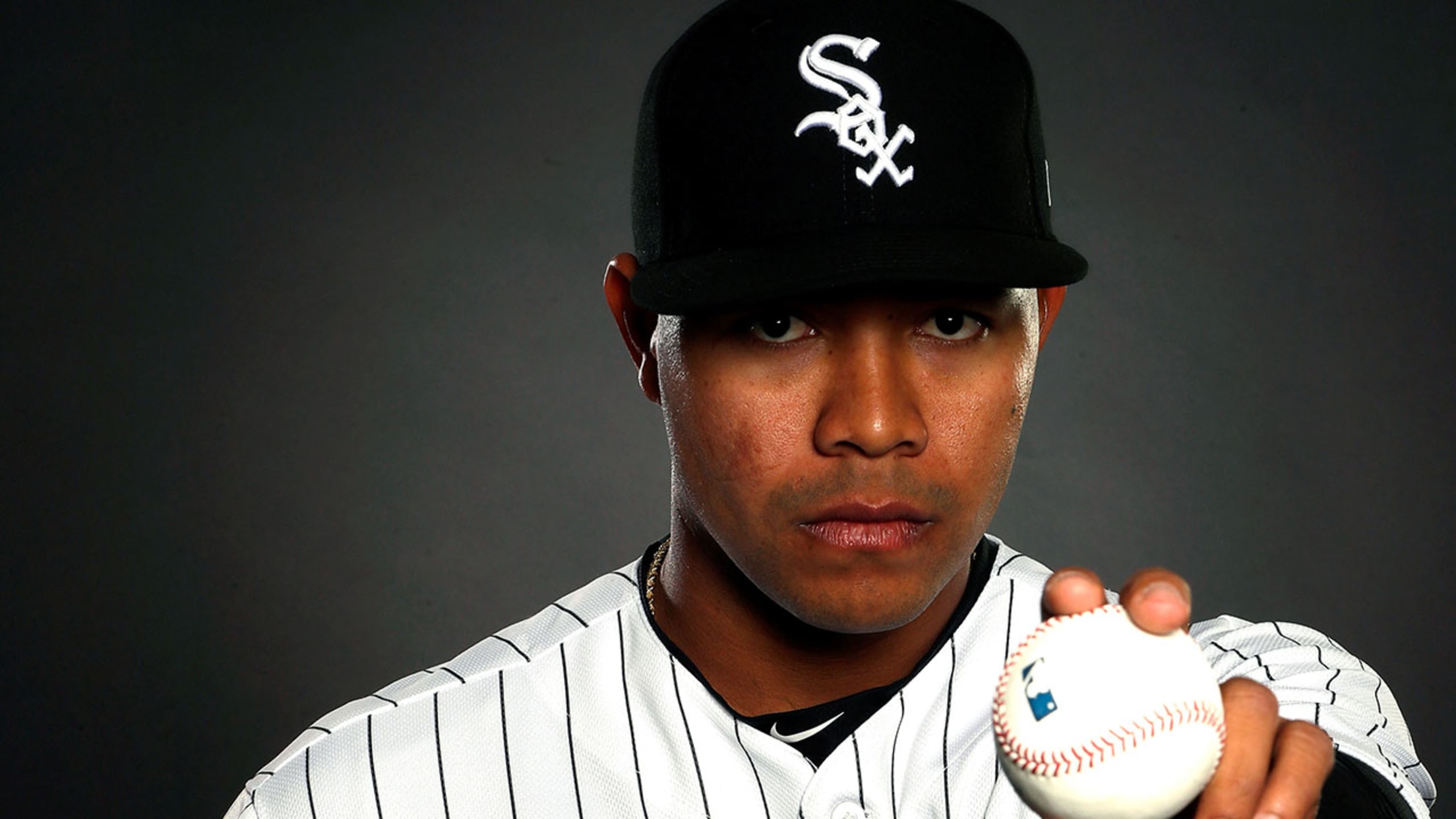 White Sox left-hander Jose Quintana had a career-low 3.20 ERA and a career-high 13 wins last season. (Getty)
GLENDALE, Ariz. -- The World Baseball Classic is upon us, and no one is more excited about it than White Sox left-hander Jose Quintana, who is targeted to start for his native Colombia against Team USA in the Pool C opener at Marlins Park on Friday at 6 p.m. ET."I'm
GLENDALE, Ariz. -- The World Baseball Classic is upon us, and no one is more excited about it than White Sox left-hander Jose Quintana, who is targeted to start for his native Colombia against Team USA in the Pool C opener at Marlins Park on Friday at 6 p.m. ET.
"I'm ready, I'm ready," Quintana said this weekend in the White Sox clubhouse at Camelback Ranch after throwing 45 pitches in a simulated game. "I'm ready to go Friday. It's a pleasure to be there for my country, and I can't wait."
Colombia is one of two countries making its first Classic appearance, along with Israel. As well as starting the opener against Team USA, White Sox manager Rick Renteria said the left-hander is a leading candidate to start on Opening Day.
:: 2017 World Baseball Classic ::
"It'll be a great experience for him," said Renteria, who managed Team Mexico in the 2013 Classic. "The tournament has a lot of energy. I know it was designed originally to show that baseball extends beyond all lines, but when the players are there performing, they're intent on success. It'll be exciting for him. I think he's excited about representing his country."
For the Colombians, Quintana and Braves starter Julio Teheran are the only members of the team with extensive Major League experience. The pressure is certainly not on the upstart Colombians. Alongside Teheran in the rotation, Quintana believes Columbia has a chance to make an impact in Miami, where at least one very good team will not advance.
"We have a good chance," Quintana said. "We just have to do the small things in the games: pitch well and play good defense. I think those are the points for us to hit to make it to the second round."
Their tough pool also includes Canada and the defending champion Dominican Republic. Colombia faces Canada on Saturday and the Dominican Republic on Sunday. The top two teams will move on to Pool F at San Diego's Petco Park from March 14-19. The championship round is at Dodger Stadium from March 20-22.
Colombia qualified for the tournament by winning the qualifier over Panama last March 20 on an eighth-inning homer by Dilson Herrera, who is on the Colombian roster.
Quintana is one of four White Sox pitchers headed to the Classic. Miguel Gonzalez is off to Team Mexico, which is training this week in Peoria, Ariz., and relievers Player Page for David Robertson and Nate Jones are leaving on Monday for Team USA's camp in Fort Myers, Fla.
Quintana made one Cactus League start on Feb. 26 against the Rockies, allowing one run and one hit while striking out two and hitting a batter in two innings. He said he felt sharp, as he did during his three innings during Friday's simulated game.
"It was a good way to practice," Quintana said. "You could control your stuff and throw any pitch you want to throw. That's the reason why I liked it. I threw three innings and felt pretty good."
Quintana, 28, is coming off the best season of his five-year Major League career with a career-low 3.20 ERA and a career-high 13 wins. He is now ready to move onto pitching for his country.
"I think it'll be a different feeling," he said. "I'll be doing this for the first time. That in itself is a little different. It's the same game as when you pitch for the White Sox, but in this, there's a lot of pride.
"It's an honor for me and I'm really excited to pitch in this huge tournament."
The World Baseball Classic runs from Monday through March 22. In the U.S., games will air live exclusively in English on MLB Network and on an authenticated basis via MLBNetwork.com/watch, while ESPN Deportes and WatchESPN will provide the exclusive Spanish-language coverage. MLB.TV Premium subscribers in the U.S. will have access to watch every tournament game live on any of the streaming service's 400-plus supported devices. The tournament will be distributed internationally across all forms of television, internet, mobile and radio in territories excluding the U.S., Puerto Rico and Japan. Get tickets for games at Marlins Park, Tokyo Dome, Gocheok Sky Dome in Seoul, Estadio Charros de Jalisco in Mexico, Petco Park, as well as the Championship Round at Dodger Stadium, while complete coverage -- including schedules, video, stats and gear -- is available at WorldBaseballClassic.com.