Marlins transfer Urena to 60-day IL
Prado placed on 10-day injured list with right hamstring strain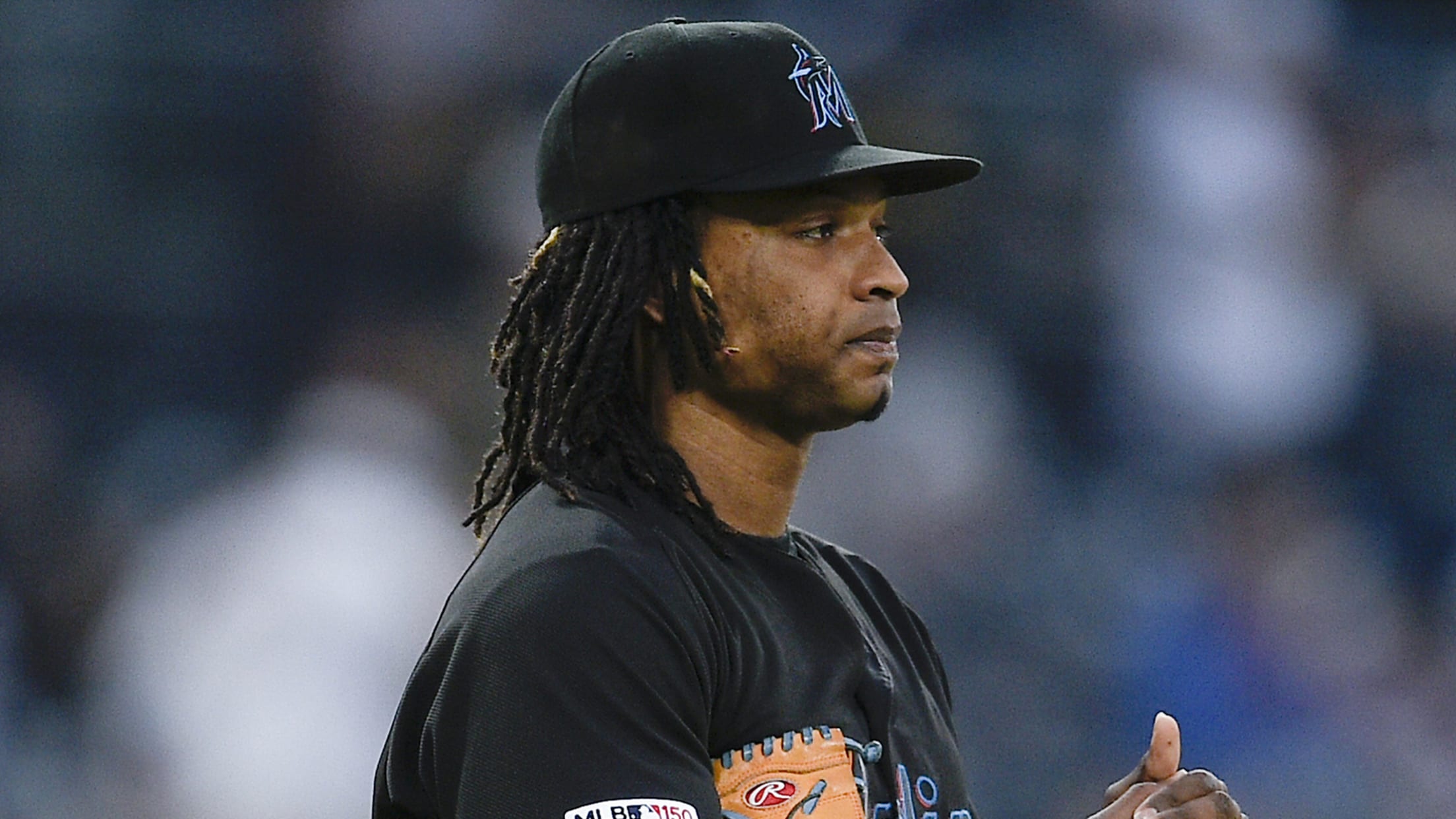 MIAMI -- The Marlins will be without their Opening Day starter for a least a couple more months. On Friday, the club announced right-hander José Ureña has been transferred to the 60-day injured list due to a herniated disc. The decision was made after the 27-year-old was placed on the
MIAMI -- The Marlins will be without their Opening Day starter for a least a couple more months.
On Friday, the club announced right-hander José Ureña has been transferred to the 60-day injured list due to a herniated disc. The decision was made after the 27-year-old was placed on the 10-day injured list on Thursday.
Urena has been Miami's Opening Day starter in each of the past two seasons, and he has been a durable innings provider for the organization in recent years. In 13 starts this year, the right-hander is 4-7 with a 4.70 ERA in 74 2/3 innings.
"Obviously, that's not the news we wanted to hear," Marlins manager Don Mattingly said before Miami's 11-0 loss to Pittsburgh on Friday night at Marlins Park. "But we'll get him taken care of and get him back on track. … It's something we will deal with, and once this thing calms down, we'll be able to get him back, work him in, and see where it goes."
The Marlins are optimistic Urena will not miss the remainder of the season.
Also on Friday, the Marlins placed infielder Martín Prado on the 10-day IL with a right hamstring strain, and selected the contract of infielder Yadiel Rivera from Triple-A New Orleans.
Miami's rotation had been intact, without change, through the first 64 games of the season. But recently, left-hander Caleb Smith (left hip inflammation) landed on the IL. And Urena was prepared to start on Thursday against the Cardinals, but the day before, he experienced back discomfort after throwing his between-starts bullpen session.
"I always say, you never have enough starting pitching," Marlins president of baseball operations Michael Hill said. "You know going into that stretch, we kept hearing, 'The Marlins have only used five starters.' It's like, 'I'm glad we only used five, but I wished they would stop tempting the baseball gods, because shortly thereafter, Caleb comes up with the hip inflammation, and now Jose with his back. It just speaks to the need of depth, and having guys ready to step in."
Jordan Yamamoto was recalled from Double-A Jacksonville to take Urena's spot, and the 23-year-old threw seven shutout innings in his MLB debut. Miami won, 9-0, against the Cardinals.
Elieser Hernandez pitched in Smith's spot.
If the Marlins decide to go in another direction, prospect Zac Gallen, who is not on the 40-man roster, is at Triple-A New Orleans. Gallen has pitched at a high level for the Baby Cakes, sporting an 8-1 record with a 1.57 ERA with 104 strikeouts and 16 walks in 86 innings.
"He understands, and we've talked to him and to his representatives," Hill said. "They understand how we have to manage our roster. I think all know that it's a matter of time for him. He needs to continue doing what he's doing, and be ready when that time comes."
Since the PCL expanded in 1998, no hitter or pitcher has ever won Player of the Week three times in a season.

Until @zacgallen23.#JuntosMiami https://t.co/c5IKBWgj9A

— New Orleans Baby Cakes (@cakesbaseball) June 10, 2019
Hector Noesi, who is 6-3 with a 2.86 ERA at New Orleans, is another starting candidate. The right-hander has 107 games of MLB experience, with 53 starts.
The decision to place Prado on the IL was expected after he exited after the third inning on Thursday with a tight hamstring. The 35-year-old has appeared in 51 games this year, playing mostly first and third base. He's hitting .239/.264/.303 with one home run and 12 RBIs.
Rivera spent 2018 on the Marlins as a utility player who can play all four infield spots as well as the three outfield positions. In 111 games last season, he hit .173 with one home run and nine RBIs.
Rivera has been a standout at New Orleans, hitting .318/.333/.516 with 11 home runs and 34 RBIs. In his last 10 Minor League games, he's hit .444.
"I feel good, and I feel I can hit in the big leagues," Rivera said. "I want to go out and show them I can compete at this level."
Worth noting
• Smith was examined by the team doctor on Friday to determine when he can start resuming baseball activities.
• Riley Ferrell (right biceps tendinitis) had his rehab assignment transferred to Triple-A.
• Outfield prospect Monte Harrison (hamstring) was reinstated Friday at New Orleans.
• Neil Walker (right quad strain) is expanding his baseball activities. When the Marlins are on the road next week, Walker is expected to head to the Roger Dean Chevrolet complex in Jupiter to continue his progression.