'Happy Happy' will pitch to Bell in Derby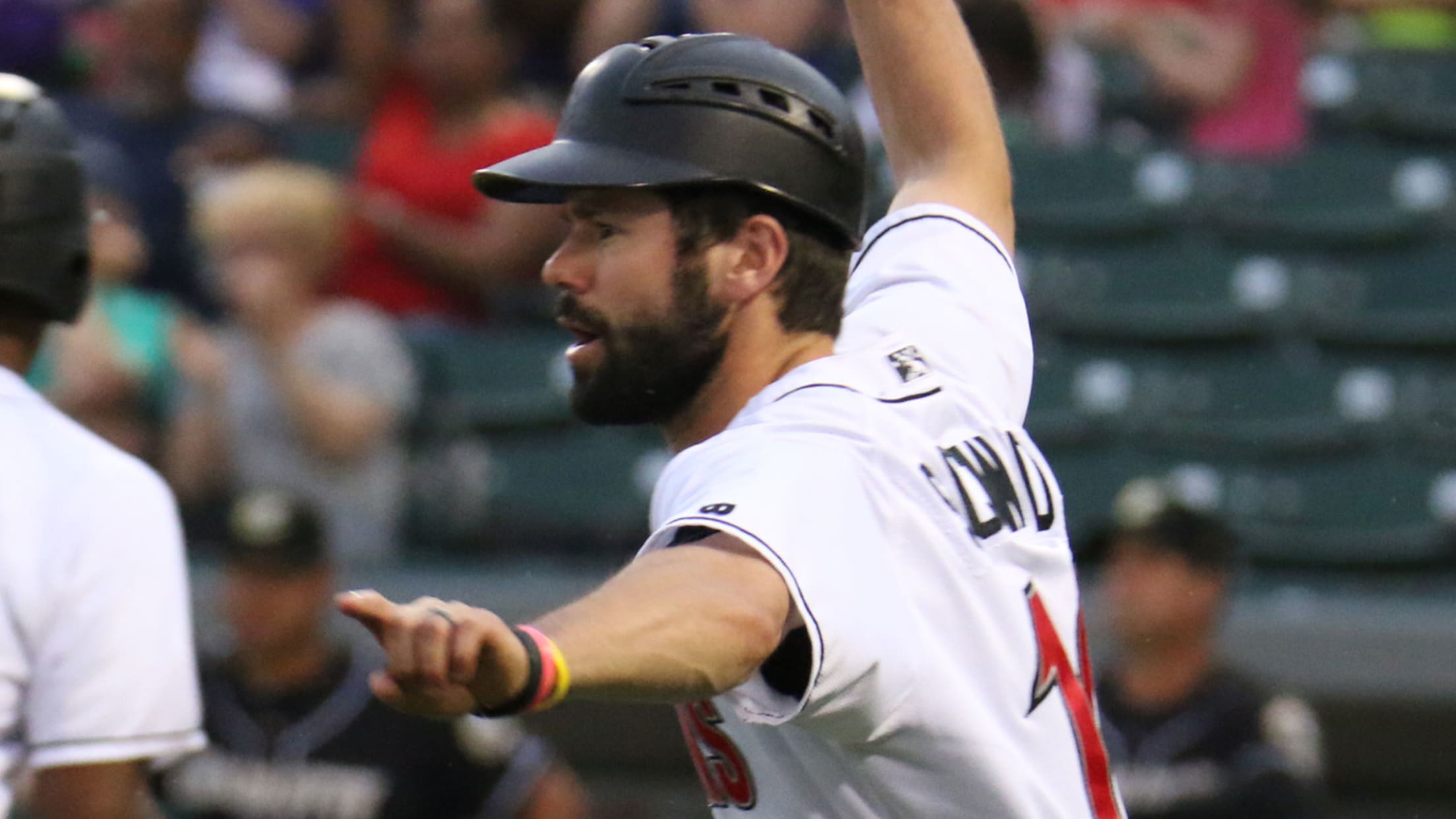 PITTSBURGH -- They met a few months after they were selected by the Pirates in the 2011 MLB Draft, Josh Bell in the second round and Jonathan Schwind in the 41st. Schwind was playing in the Gulf Coast League, learning how to catch after being drafted in a round that
PITTSBURGH -- They met a few months after they were selected by the Pirates in the 2011 MLB Draft, Josh Bell in the second round and Jonathan Schwind in the 41st. Schwind was playing in the Gulf Coast League, learning how to catch after being drafted in a round that no longer exists. It took longer for Bell to sign, but he eventually accepted a $5 million bonus and reported to the Pirate City complex in Bradenton, Fla.
So began a friendship that will take them to the center of the baseball world next week, when Schwind will pitch to Bell in the 2019 T-Mobile Home Run Derby at Progressive Field in Cleveland.
• Bell aims to 'put on a show' for HR Derby
"I'm very excited for him. It's definitely something that I've heard him talk about a lot in the Minor Leagues when we were playing together and something that has been kind of a dream for him," Schwind said in a phone interview with MLB.com. "Just really, really humbled, excited and honored that he would even consider sharing it with me."
It wasn't much of a question for Bell. They talk all the time and know each other's families. Every offseason, one of them visits the other at home. Last winter, Schwind traveled to meet Bell while he worked out in Newport Beach, Calif. At some point after this season ends, Bell will travel north to see Schwind near Rochester, N.Y.
They became close friends during their shared journey in the Minors, one that started on an unfortunate note. While playing for Class A West Virginia in April 2012, Bell tore his meniscus. Less than two weeks later, Schwind broke his arm. They headed south to rehab at Pirate City and wound up hanging out every day.
Schwind was drafted out of Marist College, so he had a little more perspective and life experience than Bell. Schwind is also a relentlessly positive and upbeat person, the product of his faith and family. His cheerful nature helped Bell handle his season-ending injury during his first full year away from home -- and earned a nickname from some of their teammates.
"He kind of scooped me up underneath his wing and made sure I was in a happy place," Bell said. "The younger Dominican cats who didn't speak much English would call him 'Happy Happy.' That was his name for a lot of the guys, so that definitely paints a solid picture."
When Bell and Schwind returned to West Virginia for the 2013 season, they decided to live together. They did the same when they advanced to Class A Advanced Bradenton in '14 and Double-A Altoona in '15. When Schwind got married in '14, Bell performed a reading at the ceremony.
"He probably would have been in my wedding if I had known him for a year longer," Schwind said, laughing. "He always rips on me about it. 'Yeah, I was a guy that wasn't in the wedding. I had to do a reading -- a sympathy reading.'"
Before the wedding, perhaps in a bit of foreshadowing, there was a home run-hitting contest -- the only one Schwind says he's ever participated in. It happened during Schwind's bachelor party at a high school field close to home, and it didn't end well for Bell.
"He was there, and I'm not going to let him live this down," Schwind said, "because I beat him."
"He definitely beat me at that," Bell confirmed, grinning, "but I was swinging a bat that was too big for me."
Their career paths eventually diverged. Bell, 26, moved through the Pirates' system as one of the game's top prospects, finished third in the 2017 National League Rookie of the Year Award race and broke out this season as a power-hitting All-Star first baseman for the Pirates.
"It's not a shock. I'm not surprised that he's having a monster year," Schwind said. "That's the type of talent he is. Combine that with his work ethic, and it becomes a possibility."
Meanwhile, injuries continued to bother Schwind. There was the broken arm and thumb in 2012, the fractured hamate in '14 and the ruptured spleen followed by a splenectomy in '15. In '17, the final year of his contract, Schwind sustained tears in his internal and external oblique muscles. He eventually returned, only to tear another core muscle. The 29-year-old hasn't played since.
"It's not a very uplifting story," Schwind said, laughing. "I don't regret any of it. People ask me that a lot. It was just part of my journey."
And that journey is not over. The Pirates knew from the moment they drafted Schwind that he would have a spot with the team after his playing career ended. Sure enough, after taking the 2018 season off, Schwind returned to Pittsburgh's system as an assistant hitting coach for Triple-A Indianapolis.
"From Day 1, his makeup was off the charts," said senior director of Minor League operations Larry Broadway. "Really, in the Draft room, that was one of the things that was said about him: He was a guy we'd want to stay in the organization in the future. He had always been a leader on the clubs he was on. Even when he wasn't playing, he was watching the game and helping out younger players."
Schwind has a number of responsibilities with Indianapolis. He works with hitters, of course, but he also helps out with defensive positioning and serves as the third-base coach.
Oh, and he throws batting practice almost every day -- just one more reason Bell knows he'll be the right man for the job next week.
"I will say that I do throw strikes. I can usually put it where I want," Schwind said. "The goal is to throw 'em where he wants 'em and get as many pitches within the time limit, and hopefully we come out on the other side."