No. 3 seed Bell faces Acuna in Derby showdown
Pirates slugger rides breakout campaign to national stage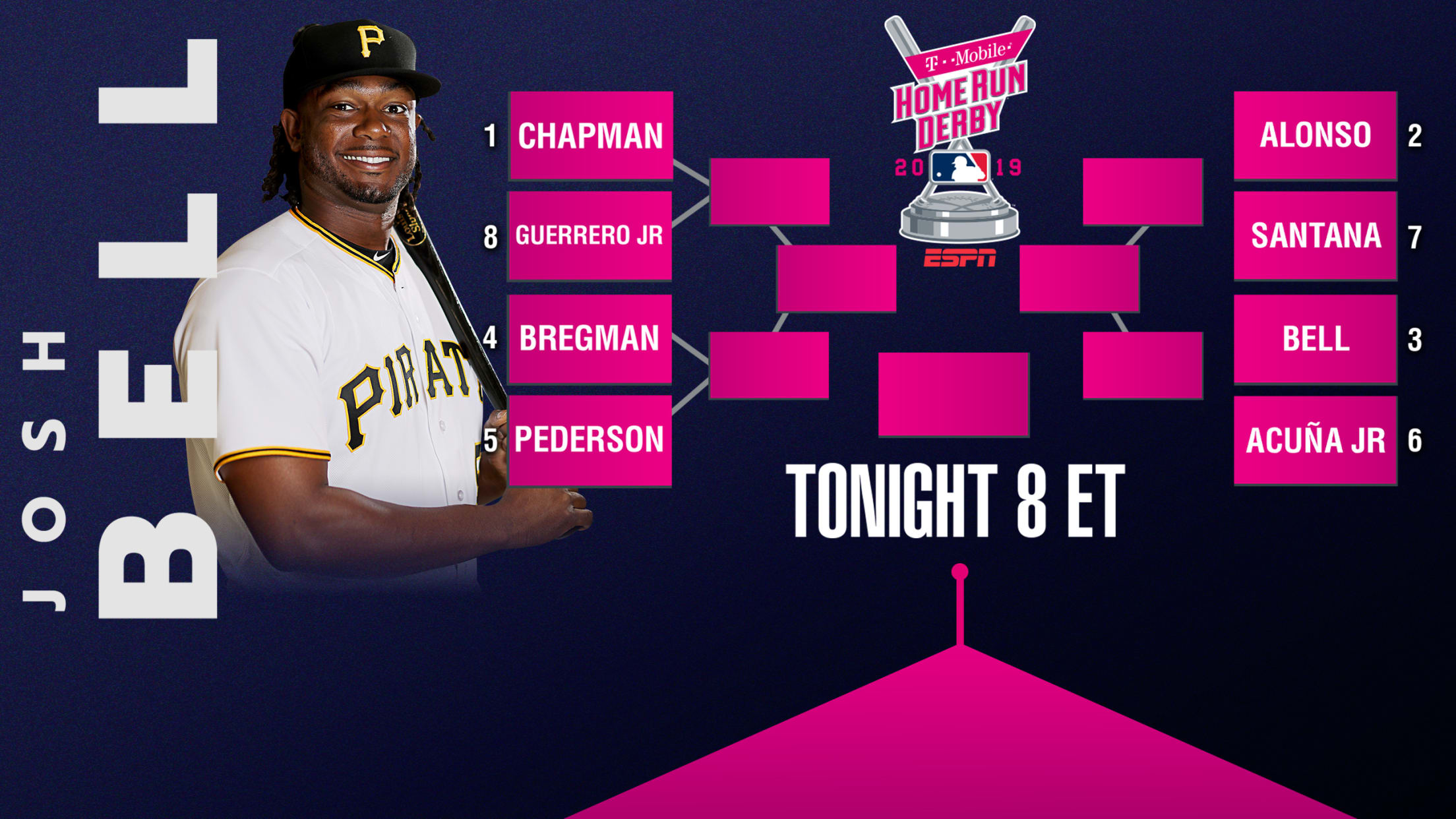 PITTSBURGH -- Before Saturday's game in Milwaukee, Josh Bell caught up with reigning National League MVP Christian Yelich. Television cameras captured the conversation, as Yelich asked Bell if he would be joining him in the upcoming Home Run Derby. When Bell said he accepted the invitation, Yelich offered a piece
PITTSBURGH -- Before Saturday's game in Milwaukee, Josh Bell caught up with reigning National League MVP Christian Yelich. Television cameras captured the conversation, as Yelich asked Bell if he would be joining him in the upcoming Home Run Derby. When Bell said he accepted the invitation, Yelich offered a piece of friendly advice: Don't swing and miss on the first pitch.
• Play HR Derby Bracket Challenge for chance to win $250,000
Though Yelich was ultimately replaced in the Derby by A's star Matt Chapman due to a back injury, Bell will take part in the 2019 Home Run Derby on Monday before playing in Tuesday's MLB All-Star Game presented by Mastercard at Progressive Field in Cleveland. The entire field was officially unveiled on Wednesday night, and Bell learned his first-round opponent will be Braves phenom Ronald Acuna Jr.
"It's going to be fun. It's going to be a great show," Bell said, smiling. "No matter what happens, I'm going to have a blast doing it. Definitely excited."
• T-Mobile Home Run Derby: Monday, 8 p.m. ET on ESPN
This spring, the idea of Bell stepping into the batter's box for the Home Run Derby might have seemed a little silly. He was coming off a 12-homer season in which he posted a .411 slugging percentage, a significant drop after his 26-homer rookie campaign in 2017.
But Bell slugged his way into the conversation, and nobody is doubting him anymore.
"There's so many things you wouldn't believe with how hard he works. Even this Home Run Derby, he wants to win it, obviously," said Jonathan Schwind, Bell's longtime friend and former teammate, who will pitch to him in the Derby. "He doesn't do anything with the intention of just doing it. He wants to win everything. He works his tail off.
"Just really, really excited for him. It's a really good platform to show some young people and other players in the Minor Leagues, the situation we were in when we were playing, that hard work really pays off."
The 26-year-old Bell has hit 26 homers, with 80 RBIs and a .660 slugging percentage through Wednesday. He has hit five homers of more than 450 feet, more than anyone else in the Majors, including two shots into the Allegheny River and one over the batter's eye at PNC Park.
"Before they asked me, I was kind of weighing it in my mind for a little bit. I had my mind made up," Bell said. "It seems like something where it might be a once-in-a-lifetime opportunity. It's my first one. It'd be really tough to turn down."
Bell said he'll think about switch-hitting in the Derby, depending on how it unfolds, but he's planning to primarily use his more powerful left-handed swing. He has hit 50 of his 67 career homers from the left side.
The Pirates have never had a Home Run Derby champion. The last Pittsburgh players to take part in the Derby were Pedro Alvarez (2013), Andrew McCutchen (2012) and Jason Bay (2006). Before accepting the invitation to participate a few weeks ago, Bell reached out to McCutchen.
• Bell to represent Bucs in Midsummer Classic
"He said, 'You've got to do it,'" Bell said. "He said, 'Swing at 70 percent [effort], and it's really exhausting, but it's definitely worthwhile.'"
Bell grew up watching the Home Run Derby. His favorite performance was that of Josh Hamilton, who slugged 28 homers in the first round of the 2008 Derby at Yankee Stadium.
"It's cool. I'm definitely excited for it," Bell said. "It's something I've watched for years now, so it's cool to finally be a part of it."
It'll be an honor for the man on the mound, too. Bell asked Schwind, his Minor League teammate and roommate, to pitch to him. Schwind, who was drafted by the Bucs alongside Bell in 2011, will be ready for the role; as the assistant hitting coach for Triple-A Indianapolis, he throws batting practice every day.
"He was stoked," Bell said. "It was something we talked about in the spring. 'Hey, if you're doing the Derby, I'll throw.' And it worked out. He was the first guy on my list of names.
"I'm really excited. I know it's going to be fun for him and his family as well. Cleveland's an awesome ballpark. Hopefully I can put on a show."