Juan Soto not just good. He's making history
Remarkably, young Nationals outfielder seems to be improving
Juan Soto is having more or less the same season he had last year, and perhaps that's the problem. 2018: .292/.406/.517, a .923 OPS with 22 HR and 70 RBI 2019: .289/.400/.524, a .924 OPS with 20 HR and 70 RBI It's a carbon copy, basically, if slightly less valuable
Juan Soto is having more or less the same season he had last year, and perhaps that's the problem.
2018: .292/.406/.517, a .923 OPS with 22 HR and 70 RBI
2019: .289/.400/.524, a .924 OPS with 20 HR and 70 RBI
It's a carbon copy, basically, if slightly less valuable on a rate basis because offense around the Majors is up this year. If you look at his nine months in the Majors, you'll see nine good-to-great months, no poor ones. It's consistent, and maybe that's unexciting.
There are no cold streaks, so there's no fevered "what's wrong with Juan Soto?" think pieces, like we've done with José Ramírez. There are no wild, Bryce Harper-esque up-and-downs that demand attention. There's just steady, regular, production, the kind of thing that makes Mike Trout so outstanding, and for all of that, sometimes we consider Trout to be boring.
Because we live in a "squeaky wheel gets the grease" kind of world, we don't talk about the guy who's consistently good all the time, and that's a problem worth resolving here. Soto, remember, is 20 years old. He won't turn 21 until Oct. 25. In his first 924 plate appearances over 214 games, his line is .291/.403/.520, making him 42 percent better than league average. (That's using wRC+, a park-adjusted stat which sets "100" as league average, and Soto's is 142.)
Again: He's 20. At 20, Christian Yelich was playing for Jupiter in the Florida State league. Anthony Rendon was a sophomore second baseman for Rice. Kris Bryant was at the University of San Diego. Soto, meanwhile, is off to -- no hyperbole intended here, though it will certainly sound this way -- one of the greatest starts in Major League history for someone this young.
Best hitters in Major League history through age 20, minimum 800 PA, by wRC+
144 -- Mel Ott, 1926-'29
142 -- Soto, 2018-19
142 -- Mickey Mantle, 1951-52
141 -- Ty Cobb, 1905-07
134 -- Tony Conigliaro, 1964-65
134 -- Alex Rodriguez, 1994-96
You have three all-time legends in Ott, Mantle, and Cobb. You have Rodriguez, who deserves to be in Cooperstown by any reasonable standard when eligible, even if his off-field actions may prevent actual induction, and you have Conigliario, who might have been there as well if not for the beanball that cut his career short. The only one to top Soto is Ott, by a rounding error, and who hit his 511 home runs so long ago that he never faced integrated pitching and retired a full decade before the Giants left New York.
We chose a minimum of 800 plate appearances, because Soto has more than that and being productive over a longer period of time adds value, but if you want to cut it down to 400 plate appearances, now you're adding Ted Williams, Trout, Frank Robinson, Jimmie Foxx, Rogers Hornsby and Ronald Acuña Jr., who bested Soto for the NL Rookie of the Year award last season.
This could be the article, by the way. It could stop here. We've just put Soto in a category with Literally Baseball's Greatest Players, as close to baseball royalty as you can get. To do this, at this young of an age, all but guarantees you entry to the Hall of Fame, assuming you can stay healthy enough to get there.
But we can't tell you simply that "he's really, really good" without at least explaining why, so let's go ahead and do that. It's mostly about plate discipline, truly elite plate discipline. Over the last two years, only Trout, Harper and Carlos Santana have higher walk rates. Over the last two years, only seven players, all stars like Alex Bregman, Mookie Betts and Joey Votto, have chased at fewer pitches outside the strike zone.
That's a great start, but in order to truly take advantage of that great eye, you've got to be able to hit the ball hard, too. Soto does -- giving him a combination that's incredibly rare, inhabited by only the best of the best.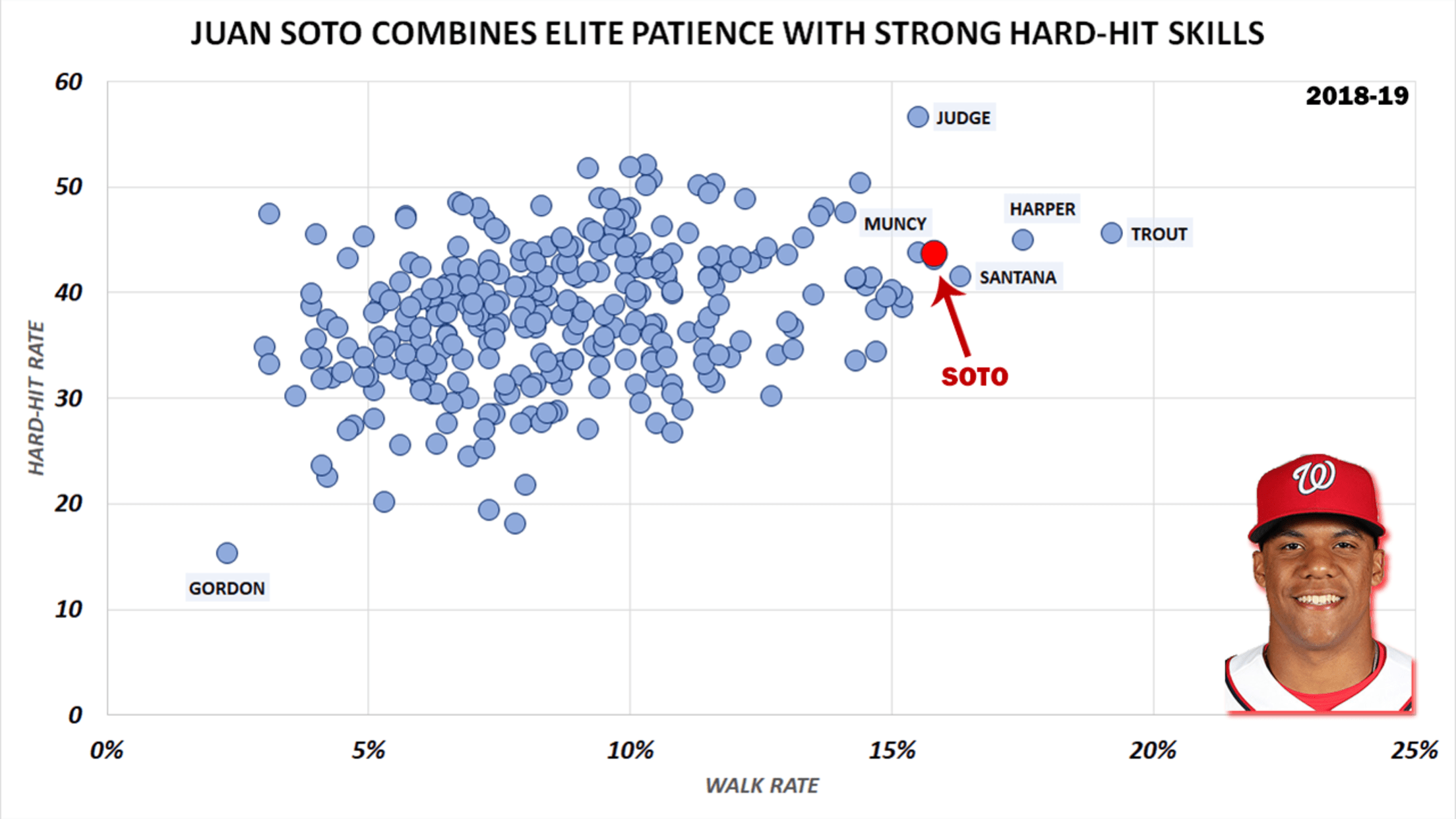 And, for the record, he is getting better, in some ways. If you were to try to find a flaw in Soto's rookie season, you could probably point to two things -- first, that he struggled hitting non-fastballs, and second, that his defense wasn't terribly impressive.
Well, about those things ...
1) Soto is crushing non-fastballs.
In 2018, Soto ate fastballs for dinner. There were 378 hitters who had at least 100 plate appearances end on a fastball, and no one -- no one! -- was more productive than Soto, who had a .486 wOBA, just ahead of Max Muncy, J.D. Martinez, Harper and Trout. (Soto had a .347 average on fastballs, and a .693 slugging percentage.)
The problem was on breaking and offspeed pitches, where Soto was just the 183rd-most productive, similar to non-stars like Daniel Palka and Scott Schebler. He hit .229, with a .309 slugging percentage. It wasn't great. Teams know that, and over the first two months of this season, only two regular players had seen more breaking and offspeed -- or not-fastball -- pitches than Soto. He had to prove he could handle it.
As MLB.com's Jamal Collier reported in April: "the Nationals are giving Soto something like a crash course on offspeed pitches during his batting practice sessions: 100 curveballs on Tuesday, 100 sliders on Wednesday, 100 changeups planned on Thursday."
"I've never seen that many [offspeed pitches]," Soto said at the time, "but I'm getting used to it. I've seen a lot now. After seeing, seeing, seeing I'm getting better. Just wait and trust the process."
Guess what: It's worked. Soto is still mashing fastballs, though somewhat less than he did last year. The trade-off is that the rookie who couldn't touch pitches with movement last year is now crushing breaking and offspeed pitches; that .229 average and .309 slugging have jumped up to a .271 average and a .453 slugging, 23rd best in baseball -- tied with Betts.
Oh, and there's this, too: No one in baseball, at least among those with 400 plate appearances in each of the last two seasons, has cut their ground ball rate by as much as Soto has, from last year's 53.7% to this year's 41.4%.
2) Soto is getting better on defense.
Last year, Soto was worth -6 Outs Above Average, putting him in just the 16th percentile of outfielders. (A simple way to think about it: An average outfielder would have been expected to catch 86% of the opportunities he received, but Soto caught just 83%, a deficit of 3%.)
This year, Soto has been worth +4 Outs Above Average, putting him in the Top 25. While he'll never be considered a truly elite fielder like his Nationals teammate Victor Robles, Soto has gone from a negative to a mild plus. He's again been expected to catch 86% of the opportunities he's received, but now he's catching 88% of them, a swing of plus-five percentage points from last year.
This catch he made on June 30 in Detroit had just a 35% Catch Probability, the best catch of his brief career.
It's not that Soto got faster, because he didn't; his Sprint Speed of 27.2 feet per second has been identical in both seasons, and is just a tick faster than the Major League average of 27.0 feet per second. It's that he did, well, exactly what he said he'd do back in Spring Training.
"The more I work on my defense, the better my future will be," he told Collier in March. As Collier detailed, Soto and Nationals coach Bobby Henley would "work on drills designed to quicken [Soto's] first step."
We can measure that sort of thing now, and it's worked. Last year, Soto's jumps -- feet covered in the right direction in the first three seconds -- were completely average. This year, he's gone from the 52nd percentile to the 78th percentile. His reaction time (feet covered in the first 1.5 seconds) is now baseball's third best, behind Jackie Bradley Jr. and Ramón Laureano. Like Trout always seems to do, he found something to get better at ... and he did it.
Soto wasn't a first-round Draft pick, because he signed as an international free agent. He wasn't Rookie of the Year, because Acuña put up a pretty historic season of his own. He wasn't even an All-Star this year, because Yelich, Cody Bellinger and Acuña were worthy starters and the players, perhaps blinded by batting average, selected Charlie Blackmon, David Dahl and Jeff McNeil as reserves ahead of him.
All of this is because Soto is just day-in, day-out outstanding, without the peaks and valleys that draw attention, and because he might not even be the best hitter on his own team (Rendon) or the biggest star on the roster (Max Scherzer) or the most exciting defender in his own outfield (Robles), and maybe that's OK.
But if you look past Soto because he doesn't capture the headlines, that's a problem for all of us. He's not just one of the most exciting young hitters in the game, right now. He might be one of the most exciting young hitters we've ever seen. He's earned that praise, at least.
Mike Petriello is an analyst for MLB.com and the host of the Statcast podcast.